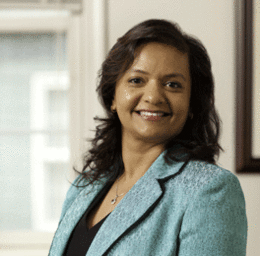 Swati Kothari, Esq
In Your Corner: Swati Kothari, Esq., helps clients stand up for their rights.
Every year, hundreds of thousands of people immigrate to the United States. The reasons behind their moves vary—perhaps they're looking for a new start, are hoping for financial stability, or have a family commitment—but for each new immigrant eager to make a life in the United States, Swati Kothari, Esq., believes there remains one constant: an overwhelming uncertainty of what is to come.
"[Immigrating] is always overwhelming," she says. "Regardless of whether the immigrants have the appropriate sponsorship or not, it is never an easy process. Up until they are granted the status, there is always a looming sense of uncertainty."
Having gone through the immigration process herself when she and her husband moved their family to the United States from India more than two decades ago, Kothari is familiar with the questions and concerns people have when they are working through the process themselves. As their attorney, she is able to share her own experience with her clients, and help them better navigate the uncertainties that can arise. "Because I personally have gone through the process, I know what it requires," she says. "Emotionally, and financially, it takes a toll on the family as well as the individual. However, in the end, the ability to live and work in the United States makes it all worthwhile."
Kothari first began practicing law in India, where she received her legal degree (LL.B) from Government Law College in Bombay, India, and is still a member of the Bar Council of Maharashtra and Goa, India. She says she knew from the young age of 5 that she would be a lawyer when she grew up, after seeing her father perform his own duties as one. "As far as what motivated me afterward; the fact that I really believe everyone should stand up for their rights, and I believe the legal system can assist you in doing that," she says.
After moving to the United States, in order to be able practice law in New Jersey, Kothari returned to law school and gained a second law degree (JD) from Rutgers University School of Law in Camden. With two young children at the time, she recalls how lucky she was to have her mother here to assist with their care. She is now licensed to practice law in both New Jersey and Pennsylvania.
Kothari has built a tremendous résumé of professional experience since she has been practicing. Kothari was a former Deputy Attorney General (DAG) at the New Jersey Division of Law, where she was originally assigned to Tort Litigation and later transferred to Health and Human Services as General Counsel for the New Jersey Department of Military and Veterans Affairs (DMAVA), a position she says was the "best experience I could have ever had." As the only DAG assigned to DMAVA, she represented and advised the department on disciplinary actions at the OAL, contract and construction law, guardianship petitions in Superior Court, veterans leave entitlements and USERRA law in federal court. She also provided advice on policy drafting and review for nursing homes, and requests made under the Open Public Records Act.
While she appreciates the positions she has held, and they provided her with experiences that have helped her become the attorney she is, Kothari admits her major goal had always been to start her own practice, so in 2009, that's exactly what she did. She specializes not only in immigration law, but also employment law, family law, business transactions, municipal defense, real estate and tax appeals.
What's more is that the Law Offices of Swati M. Kothari, LLC, offers Kothari the opportunity she has always wanted to help those who may not be able to stand up for their rights on their own. "If you don't stand up for your rights, no one else is going to do it," she says. "We have a saying in my language, that, when loosely translated, says, 'When you commit an injustice, you are at fault. When you suffer the injustice, you are equally at fault.'"
Kothari recognizes that her practice is varied, which she says some people have advised against, but she believes in offering as many services as she can so that she can help as many people as possible. "Many times, when you're in private practice, people say it's best to specialize in a specific area, but when you have more to offer, you don't limit who you can help," she says. "I gained a lot of experience at the Attorney General's office that has provided me with a great foundation to build on which I have been able to transfer to my private practice."
A good number of Kothari's clients are women and minority owned businesses and nonprofit organizations. She has prevailed in defending the rights of many, such as a partner in a failed business venture winning a settlement, despite being unsecured, when an adversary action was filed for her in Bankruptcy Court against the majority partner who had declared personal bankruptcy; to a father who was in the armed services and was wrongfully charged with domestic violence; to helping an elderly grandmother attain her dream of becoming a United States citizen despite being unable to satisfactorily answer the civics test questions. She will help anyone who may need her services, though, and most of her clients are either returning for more advice or have been referred by a friend. She says she believes the most important part of her job is helping people receive the justice they deserve.
"I enjoy what I do," she says. "I am very passionate. I will do whatever it takes to help my clients. I channel this passion into my research and preparation for each case to achieve the best results for my clients, making me their strongest advocate. What a lot of people don't realize is that if you have a lawyer in your corner, no one can take advantage of you."
Law Offices of Swati M. Kothari, LLC
Strawbridge Professional Center
212 Route 38, Suite 200
Moorestown
(856) 359-6699
SMKLawOffices.com
Published (and copyrighted) in South Jersey Magazine, Volume 10, Issue 9 December, 2013).
For more info on South Jersey Magazine, click here.
To subscribe to South Jersey Magazine, click here.
To advertise in South Jersey Magazine, click here.