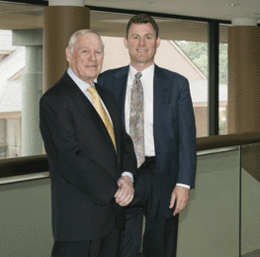 SHM Financial
A trusted adviser to help you tackle today's most daunting financial concerns
With 55 years of experience in financial planning and asset management, Stanley H. Molotsky has seen just about everything you can imagine in the industry. Through it all, the founder, president and CEO of The SHM Financial Group remains as passionate as ever about his job and has no plans of slowing down any time soon.
"Fortunately, I love what I do," he says. "To me, retirement is out of the question.
The business has changed so much and there are so many unique things available to people that they didn't have before. It makes coming to work enjoyable. I don't even consider this work."
That fervor and knowledge make Molotsky the perfect source for your financial needs. A moderate-sized firm, SHM believes in providing personal attention to each of its clients and specializes in investment management and analysis, asset protection and tax reduction. SHM's team of advisers—which includes Molotsky's son, Lee—stresses education of the client and wants each person to take an active role in the process.
While clients have different goals and objectives depending on their age and life experiences, there are certain factors in today's economic environment that apply to everyone, no matter what stage of life they are in. Molotsky and his team can help educate you and tackle each of these daunting issues.
Longevity: With life expectancy continuing to rise, it only makes sense that you must plan your finances accordingly. "Fifty years ago when you retired, you didn't have to worry past 68 or 70 because you didn't live past that age," Molotsky says. "Now, everybody knows somebody who's in their 90s, and a lot of us know people who are even in their 100s. Twenty years from now, people will live even longer. So you have to be prepared to have your money last a heck of a lot longer than in the past. You have to have the right kinds of assets so you don't go backward; you can only go forward to protect yourself."
Social Security: While most people are counting on Social Security as part of their retirement plans, it's no secret that the system is in flux and could look different in 20 or 30 years. Molotsky warns that Social Security shouldn't be your only source of retirement income, but he also doesn't think the outlook is as bleak as some say. "That's more of a headline-grabbing thing," he says. "Social Security will always be there. It may not increase as much as it has in the last 30 years, but it will always be there in some form no matter what age you are right now. You should never rely on it totally, but it will be there in some shape or form. When we do the planning process for our clients, we basically utilize it as something that's there. It becomes your inflationary hedge against what the cost of living may possibly be, or something extra that you want to provide for children or grandchildren."
Start planning ASAP: Molotsky understands that saving can be especially hard for young families. He still urges you to make the best effort at putting something aside for the future, even if retirement is many years away. "The earlier you start, the more you're going to have and the less you're going to have to do later in life. Our philosophy and what we stress to clients is that you put aside a certain amount religiously from every single check, no matter what the amount is, into some sort of investment or savings," he says.
Education: Molotsky calls a client's first meeting with SHM's team a two-way interview. Each side is finding out about the other to discover if a working relationship is the right fit. In addition to being knowledgeable about investment possibilities, clients should know all about their advisers. "Know who you're dealing with, know where your assets are being held, and also it's very critical to know how your advisers are being compensated," Molotsky says. "We're a totally independent entity; we have no product line. Our job is to sit down with the client and have a conversation. We present a variety of different things, we explain why it makes the most sense for them, we explain how we get compensated, and then we go from there."
SHM has also had a weekly radio show for the past eight years, and now they have a weekly TV show every Monday at 7:30 p.m. on WMCN (check your cable provider for exact stations), or feel free to call their office at 1 (800) MONEYSHM.
Taxes: As Molotsky points out, taxes—whether it's income tax, property tax or sales tax—continue to play a major factor in your financial portfolio. They affect the kinds of investments you make, such as tax-free or tax-deferred investments, an IRA or a Roth IRA. "Taxes are a major consideration; that's why we have an accountant that we work with at our practice, and a national accounting firm for more complex issues," Molotsky says. "We also have an in-house lawyer that works with the client's lawyer, and that saves the client a lot of aggravation. It's part of what we provide that a lot of entities do not."
Life events: When thinking about your financial plans, it's always wise to consider the curveballs that life inevitably throws at us. That could mean getting laid off from work, a health issue or damage to your home by a storm like Hurricane Sandy. "Events occur, and when they occur you have to make an adjustment in what you're trying to accomplish," Molotsky says. "Things are constantly changing, and that's why it's important for us to constantly meet with our clients and discuss those changes. If your adviser isn't meeting with you that often, then they're not the right adviser. You can't just put things away and forget about them. Those days are long gone."
Exit strategy: When dealing with investments—especially when risk is involved—it's crucial to know when to get out. "Right now, the stock market is at an all-time, all-time, all-time high," Molotsky says. "Therefore, if you have a position in the stock market, and your positions aren't at an all-time high, then maybe you're in the wrong things. And if you're in the market, you always have to have some kind of exit strategy so that you don't all of a sudden suffer like people did in 2008 and 2009, a 50 to 60 percent hit to their investment portfolio. You have to say, if this thing drops X percent, I'm going to drop out a while and let things die down."
Molot$ky on Money
The SHM Financial Group invites you to watch them on TV, Mondays at 7:30 p.m.
Verizon FIOS - Channel 19
DIRECTV - Channel 44
DISH Network - Channel 44/8165
Comcast - Channel 794
The SHM Financial Group has three convenient locations in South Jersey: Collingswood, Voorhees and Toms River. Its main office, the SHM Building, is located at 100 Richey Ave. in Collingswood. For more information or to schedule a complimentary financial stress test, call 1 (800) 666-3974 or visit SHMFinancial.com.
Published (and copyrighted) in South Jersey Magazine, Volume 10, Issue 9 December, 2013).
For more info on South Jersey Magazine, click here.
To subscribe to South Jersey Magazine, click here.
To advertise in South Jersey Magazine, click here.