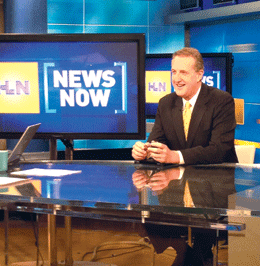 Law Offices of Gold & Associates
South Jersey justice on the National Scene
South Jersey attorney Jeffrey Evan Gold heads a four lawyer criminal defense firm, and has been practicing his courtroom craft for more than 30 years, but during the last 14 years he has also become well known as a nationally recognized TV legal analyst covering most of the major criminal cases garnering national attention. Most of that time had been in the TV studio, until the last two years that is, when Gold ventured out to cover trials live in the field.
Gold covered the sex assault trial of Penn State coach Jerry Sandusky in Pennsylvania, then the murder trial of Illinois Police Sgt. Drew Peterson, accused of murdering his second wife (and suspected of murdering his third, too). Gold analyzed the Aurora movie massacre live from the scene in Colorado. Next, Gold went to Arizona for what started as only a week of coverage of the Jodi Arias murder trial and then he ended up doing about three and a half months of live trial coverage from Phoenix. Then right on the heels of Arias, Gold was down in Sanford, Fla., for the trial of George Zimmerman for the murder of Trayvon Martin.
Gold has appeared on Fox News, CNN, Headline News, NBC, ABC and more. "I did this from afar for a long time, but two years ago I went to cover the Sandusky trial at Penn State and I caught the news bug. It was different than just studio legal analysis.
Reporting breaking news was more of a journalist's role, and the adrenaline rush of being involved as news is being created, combined with the analysis, really intrigued me," Gold says.
Gold says the communication skills he has refined through years of litigation experience contribute to his on-air talent. "Being good on TV requires the same skills as being a good courtroom attorney," he says. "You need communication skills to go in front of a judge or jury and on TV, it's a just half a million people you are explaining to. But either case, you need to communicate your points clearly in a simple and direct way."
Gold says the media has a major effect on cases, like Zimmerman for instance. "The media can stir things up. It wasn't until the media covered Zimmerman that people took notice, and the result was a national furor," he says. "The Zimmerman trial evoked basic feelings in people, especially among African-Americans who bring a different viewpoint and set of experiences."
Even after 30 years as a criminal defense attorney handling more than 8,000 criminal cases, Gold says he learns from the experiences of covering these media trials on a national stage. "I am a TV personality on the side, but of course my trade is still being a criminal defense attorney, and when I'm analyzing these big national cases, I'm absorbing the lessons of these cases, the way they think about evidence, etc. And these popular cases form a data bank of what people, judges, jurors, prosecutors, think about in a criminal case. The perspective I bring helps me in my own practice and ultimately, every client I represent."
Gold continues analyzing legal cases in news in the studio between big cases. He appears regularly every week on CNN and HLN (Headline News) as well as Fox News, NBC and ABC when called upon.
To keep up with Jeff Gold's latest analysis, you can follow him via his various social media accounts:
YouTube.com/User/JeffGoldLawfirm
Facebook.com/JeffreyEvanGold
Twitter.com, @JeffGoldESQ
JeffGoldLaw.com
The Law Offices of Gold & Associates, P.C. is located at 1847 Route 70 E. in Cherry Hill and can be reached at (856) 424-4494. For more information, visit JeffGoldLaw.com.
Published (and copyrighted) in South Jersey Magazine, Volume 10, Issue 9 December, 2013).
For more info on South Jersey Magazine, click here.
To subscribe to South Jersey Magazine, click here.
To advertise in South Jersey Magazine, click here.