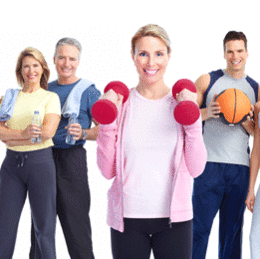 Cherry Hill Health and Racquet Club
Fun & Fitness for the whole family: Cherry Hill Health and Racquet Club has something to offer for everyone.
There was a time when Cherry Hill Health and Racquet Club was simply known for being the premier tennis facility in South Jersey. More than 40 years after its founding, it still holds true today—with seven indoor courts and six more indoor/outdoor courts under dome structures, the club has year-long instruction, tournaments and leagues for children and adults, and some of the best high school players in the area hone their craft there.
But if tennis isn't your game, this can still be the perfect place for your athletic endeavors. Unlike many of the other fitness centers in South Jersey, Cherry Hill Health and Racquet Club is geared toward the entire family, and there truly is an activity for everyone.
"I think people know us here in the area, but sometimes I have folks come through my front door and say, 'Wow, I've seen your name, but I had no idea that you had all of this,'" says Brian Kosa, general manager at the club. "People don't know all of the options and all of the programs and services we have under our roof. People may have visited our club many years ago, and at one time we were tennis only, so they think we're the tennis club. Yes, we're the tennis club, but we're a lot more now."
CHHRC, which opened in 1971 and has been under its current ownership since 1983, began as tennis and racquetball only, but became the sprawling center it is today with a million-dollar renovation in 2003. "Everything that we designed was designed around programs and activities that could meet the needs of families: adults, teens and children," Kosa says.
It all starts with the fitness center, which has more than 20,000 pounds of free weights and more than 65 cardio machines, each with its own TV so you can watch ESPN or a news channel to make the time pass by quickly. There is also a women's-only fitness center for those intimidated by gyms, although most people find the entire club to be a welcoming place with a courteous and helpful staff. "We have a very comfortable atmosphere and we've got a very diverse population that comes to our club," Kosa explains. "It's not the jock, it's not the musclehead; it's the average person who is either in shape or out of shape and trying to improve their quality of life.
"When people join our club, I think the main thing they're joining for is weight loss, and also to tone up, and we try to assist them and give them direction. We have an integration process, so if you join today, you're going to go through at least two meetings with a fitness coach. We customize the workout with what your specific needs and goals are. If you attend those first two sessions, you're given one free training session each month for the next year, complimentary."
Group classes are always popular in fitness clubs, and CHHRC has plenty to choose from, including Zumba®, Insanity®, Pilates, Indoor Cycling, Group Core®, Group Power® and Group Kick®. The club has four studios for classes, including the Namaste Yoga Studio, which is a customer favorite. "We've found that there's a very large population that goes a million miles an hour all day long, and they need that down time," Kosa says. "They're either working hard to support the family, caring for others around them, or they're dealing with life's daily tasks, and they need to get into that yoga studio to relax and reconnect, and they walk out revitalized." If sports are more your thing, the sport court has a full-sized basketball court for leagues and pick-up games, and is also used for volleyball. There is also a martial arts studio, and members have access to the Jersey
Wahoos Indoor Swim Club during designated hours. Of course, tennis is always popular, even with youngsters in the 10-and-under tennis program. The program is geared toward beginners, and players use a denser ball, a smaller racquet with a larger hitting area, and a smaller court to encourage more volleys. "Everything is modified, and we're finding that kids are learning and gaining a lot of skill level so much quicker than if they were using adult racquets and balls," Kosa says. "It has taken off big time. The kids are hitting and rallying and they want to come back. It's amazing."
Kosa also recommends the Parisi Speed School for young athletes between 7 and 18. It was started in North Jersey by former track star Bill Parisi, who has worked with USA Track and Field and several NFL teams, and has now spread his techniques across the country. "We teach you to get faster, quicker and more agile as it relates to your specific sport, and no matter what sport you do, you can benefit from the Parisi Speed School," Kosa says. "One of the best benefits is that these kids really gain self-confidence. When they start following the coaches and what they're teaching, they walk out with their shoulders back and saying to themselves, 'Maybe I'm going to get picked a little higher when we choose teams at school.' That's so important at that age."
The Parisi Speed School, which is held on a large indoor turf field, is also popular for other reasons. "We do bar and bat mitzvahs, and we probably have five to 10 birthday parties every weekend," Kosa says. "They have options of using the sport court, and recently they've really loved using the turf, which is the Parisi Speed School area. They can play flag football or soccer on the turf, they can play general games or obstacle courses. We have a dedicated party room where they can have their cake and ice cream. Parents love it. We tell them, 'We don't want you to do a thing. We've got it.'"
CHHRC also hosts Cherry Hill East High School's Project Graduation every year, which is just one small aspect of its community involvement. For the last five years, it has sponsored the Teen Fitness Connection, providing free club membership in July and August for kids between 12 and 17 in the Cherry Hill area to encourage physical activity. For the middle school or high school with the most students who signed up, CHHRC donated $250 to the phys ed program, and for every child who worked out 16 times during the summer, the club donated $20 in that student's name to his school.
"We're very community-focused and we help a lot of different organizations in our community, from the local schools to the local food bank," Kosa says. "We've supported over 86 local organizations over this past year. Our donations, both from a financial standpoint and in-kind donations, are over $25,000, and we're just a single, stand-alone club, so we think that's pretty significant."
Becoming part of CHHRC is an easy task. The club has terrific rates for singles, couples and especially families, and with the new year approaching, now is a great time to learn about all it has to offer. "We may have started as a tennis-only facility," Kosa says, "but we've evolved into a true multi-purpose health and sport club."
Cherry Hill Health and Racquet Club
1820 Old Cuthbert Road
Cherry Hill
(856) 429-1388
CHHRC.com
Published (and copyrighted) in South Jersey Magazine, Volume 10, Issue 9 December, 2013).
For more info on South Jersey Magazine, click here.
To subscribe to South Jersey Magazine, click here.
To advertise in South Jersey Magazine, click here.