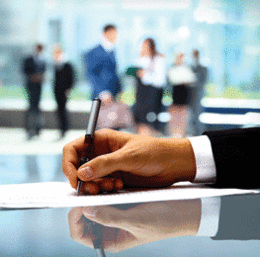 Legal Counsel
A Special Advertising Section from the pages of South Jersey Magazine
Have a legal question? Turn to these topnotch South Jersey attorneys for the answer.
Will restricting patients' ability to file lawsuits save everyone money?
The savings from preventing medical errors run into billions of dollars. Medical negligence costs amount to less than two percent of health care spending, and government economists estimate restricting all patients' restitution would only lower health care cost by 0.5 percent or less. Preventable reforms that focus more on the medical industry rather than the legal system are a key part of making health care more affordable and accessible.
Andres & Berger
Michael Berger, Esq.
Haddonfield
(856) 795-1444
AndresBerger.com
How effective is the mediation process?
Mediation can be very effective in some cases. In mediation, the parties meet with a mediator for several sessions in an effort to get the case resolved. Therefore, the cases that succeed in mediation are those in which the parties are able to put aside emotions, sit in the same room for what may be many hours and make compromises. There also has to be "equal bargaining power," which means that both people have to feel free to express themselves without fear of being overwhelmed or manipulated by the other person.
Capehart Scatchard
Amy C. Goldstein, Esq.
Mount Laurel
(856) 813-4132
Capehart.com
How can parents help children better cope with divorce?
Children need to know that the divorce is not their fault and it's an "adult" issue, and parents should reinforce that the child is loved by both of them and they are not being "divorced" by either parent. Children may become involved when custody is at issue and the child/children are at an age when their opinion may be a factor. However, the overwhelming goal is for children to be kept outside of the divorce process.
Charny, Charny & Karpousis
Judith S. Charny, Esq.
Mount Laurel
(856) 905-1700
CharnyLaw.com
Is there a "healthy way" to divorce?
Absolutely. In a "healthy divorce," the parties are able to replace their understandable feelings of hurt and anger with their commitment to share the pain, focus on the kids and help one another move forward. Counseling and mediation permit the two child-centered parents to transform, rather than destroy, their family.
Davis & Mendelson, LLC
Howard S. Mendelson, Esq.
Voorhees
(856) 627-0100
CamdenCountyMediation.com
What is a class action?
A class action is a court device that simply allows one or two people to file a lawsuit involving many people who have been aggrieved or harmed in a similar way. The class action device allows a mass case involving many people to proceed in an efficient, economical manner.
DeNittis Osefchen
Stephen P. DeNittis, Esq.
Marlton
(856) 797-9951
DenittisLaw.com
How can I avoid a costly business breakup?
Whether your business partner is your sibling or best friend, partnerships frequently don't work out. To avoid costly litigation down the road and ensure smooth day-to-day operations in what will hopefully be a long-term business relationship, spend time up front preparing a solid partnership agreement which spells out what happens if you part ways, as well as other operational matters.
Flaster/Greenberg, P.C.
Tami Bogutz Steinberg, Esq., Shareholder
With offices in South Jersey, Pennsylvania and New York
(856) 382-2218
FlasterGreenberg.com
If the police call me and say they have charges on me and want me to come down to the station, do I have to go?
No, but I would speak to an attorney about going just to surrender without discussing the alleged offense at all. Surrender shows that you are a low flight risk and that, therefore, your bail should be low. But remaining silent is not as easy as it sounds, even when advised of your rights. Police can be persuasive, often using their input to judge as to the bail as subtle persuasion. Having an attorney call and fax a letter that makes clear that you will be surrendering and asserting your right to remain silent is often the best route.
Law Offices of Gold & Associates, P.C.
Jeffrey Evan Gold, Esq.
Cherry Hill
(856) 424-4494
JeffGoldLaw.com
Are all citizenship applicants required to take the English and Civics test?
All citizenship applicants, with some exceptions, are required to demonstrate knowledge of the English language and American history. Applicants who have a learning disability/impairment that prevents them from taking the English and/or Civics test may receive an exemption. The applicant must submit a medical certification completed by their treating physician with specific details about the cause and potential time period of the impairment/disability that prevents the applicant from taking the tests. The impairment/disability must be permanent, lasting or expected to last for at least 12 months or more to qualify as an exception. This is not an automatic exemption and will require a decision from the USCIS.
Law Offices of Swati M. Kothari, LLC
Swati M. Kothari, Esq.
Moorestown
(856) 359-6699
SMKLawOffices.com
How do I protect my assets in a divorce?
Divorce laws of New Jersey call for an equitable distribution of marital assets. This does not always mean an equal division of property. Your attorney needs to be skilled and creative in negotiating property settlements. An extensive background in real estate law is an added advantage.
Michael J. Stein, Attorney-at-Law
Moorestown and Mount Holly
(856) 642-0400
SouthJerseyDivorceLaw.com
What happens if you don't respond to a Complaint for Divorce in New Jersey?
Failure to respond can result in extremely adverse consequences to your rights regarding children and livelihood. The court may proceed without your involvement in deciding custody, child support, asset/debt division, retirement distribution and more. Later attempts to reverse the damage done will be more costly and oftentimes unsuccessful.
Musulin Law Firm, LLC
Christopher Rade Musulin, Esq.
Mount Holly
(609) 267-0070
MusulinFamilyLaw.com
Why should anyone contemplating a divorce do an initial consultation with an attorney?
During a consultation with a qualified attorney, an individual can find out about their own unique rights and risks and obtain sound, objective guidance, tailored to their personal situation and needs. When someone is faced with the prospect of a divorce, their family and friends are often quick to comment and "put their two cents in." However, even if well-intentioned, those individuals usually speak from limited experiences—their own or those of someone they know. Their suggestions may not be applicable as there is no "one-size-fits-all" advice when it comes to a divorce; every family is different, and so too is every divorce.
Weinberg Kaplan & Smith, P.A.
Brandon R. Croker, Esq.
Haddonfield
(865) 795-9400
WKSNJLaw.com
Does my small business need an Employee Non–Compete Agreement?
Yes. If client lists, pricing methods, intellectual property and other trade secret information that your company can identify are legitimate interests which are worthy of protection, a Non-Compete Agreement is essential. Each employee may be required to sign the agreement as a condition of employment. The agreement may restrict a departing employee's ability to solicit current employees or customers.
Weir & Partners LLP
John C. Eastlack Jr., Esq.
Cherry Hill
(856) 662-1018
Consult these firms for additional answers to your questions:
Adinolfi & Lieberman, PA
Haddonfield
(856) 428-8334
SJFamilyLawyers.com
Archer & Greiner, P.C.
Haddonfield
(856) 795-2121
ArcherLaw.com
Burnham Law Group
Marlton
(856) 751-5505
BurnhamLawGroup.com
Ciardi Ciardi & Astin
Woodbury: (856) 368-2001
Philadelphia: (215) 557-3550
Wilmington: (302) 658-1100
CiardiLaw.com
Feldman Shepherd Wohlgelernter Tanner Weinstock Dodig LLP
Serving South Jersey
(888) 275-0296
FeldmanShepherd.com
Fendrick & Morgan, LLC
Voorhees
(856) 489-8388
FendrickMorganLaw.com
Graziano & Flynn
Cherry Hill
(856) 755-9800
Family-Law-GrazianoLaw.com
Law Offices of Cooper Levenson
Cherry Hill
(856) 857-5526
CooperLevenson.com
Lavan Law Firm
Moorestown
(856) 235-4079
JLavanlaw.com
Law Offices of Mark A. Fury, PC
Mount Holly
(609) 518-8980
MarkFury.com
Legome & Associates, LLC
Haddonfield
(856) 429-2200
LegomeLaw.com
Liebling Malamut, LLC
Cherry Hill
(856) 424-1808
LMSLaw3.com
Martine, Galemba and Katz Scanlon, P.A.
Voorhees
(856) 396-9500
FamilyLawMGKS.com
Sklar Law, LLC
Voorhees
(856) 258-4050
SklarLaw.com
Trabosh & Trabosh
Laurel Springs
(856) 228-3200
TraboshLawOffice.com
Underwood & Micklin
Cherry Hill
(877) 580-2200
SouthJerseyLawyers.com
Published (and copyrighted) in South Jersey Magazine, Volume 10, Issue 9 December, 2013).
For more info on South Jersey Magazine, click here.
To subscribe to South Jersey Magazine, click here.
To advertise in South Jersey Magazine, click here.