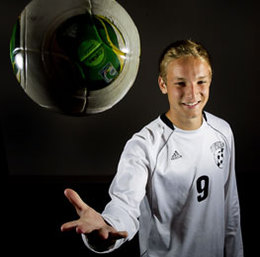 Star Watch
The other prime performers to keep an eye on this fall season
Burlington County
Tyreek Robinson, Moorestown football
The senior quarterback/defensive back is a star on both sides of the ball, and was first-team all-conference last year on offense.
Anthony DiOrio, Shawnee football
DiOrio was first-team all-conference and third-team all-South Jersey at linebacker in 2012.
J.T. Bretschneider, Moorestown boys soccer
One of the best goalies in the area, Bretschneider had 10 shutouts in 2012, including the South Jersey Group III final. He was named third-team all-South Jersey.
Alexandria Felt, Seneca girls tennis
A four-year varsity player and three-year first singles, the senior went 26-8 and reached the conference final as junior.
Danielle Smith, Cherokee gymnastics
A four-year gymnast, Smith has qualified for states in all three of her seasons with the Chiefs so far. Last year, she was all-South Jersey in beam.
Natalie Cooper, Moorestown girls cross country
Just a junior, Cooper took fourth in South Jersey and 23rd in the state in Group III last year. She also finished fourth at the Burlington County Open.
Marissa Toci, Lenape gymnastics
Toci, a senior, was named South Jersey Gymnast of the Year last year. She was first-team all-state and was the South Jersey sectional champion.
Mara Schiffhauer, Seneca girls cross country
Schiffhauer placed second in South Jersey and 16th in the state in Group III last year and helped Seneca win the South Jersey title.
Melissa Lutz, Cherokee girls volleyball
Lutz was named all-South Jersey first team and helped the Chiefs capture their third-straight Olympic Conference American Division championship.
Camden County
Adonis Jennings, Timber Creek football
A senior wide receiver, Jennings helped the Chargers to their second straight South Jersey title in 2012. He has committed to Rutgers.
Brendan Werner, Haddonfield boys soccer
A four-year varsity player, he scored 10 goals last year and led the Bulldawgs to a conference title.
Christiana Ogunsami, Cherry Hill West girls soccer
Ogunsami is in her third year as the starting goalie for the Lions and has been named all-conference in her first two seasons. She will head to Vanderbilt next fall.
Miranda Konstantinides, Eastern girls soccer
A senior known for her defense, Konstantinides also had four goals and eight assists and was first-team all-South Jersey last year.
Maria Petrongolo, Gloucester Catholic girls soccer
Named first-team all-South Jersey as junior and second-team as a sophomore, Petrongolo is one of the top defenders in the area.
Sarah Furey, Bishop Eustace field hockey
Furey, who will move on to Duke, was third-team all-state as junior, when she had 11 goals and 24 assists and helped the Crusaders win the Group II state title.
Tara Vittese, Camden Catholic field hockey
Vittese had 42 goals and 16 assists as junior. She was first-team all-state.
Austyn Cuneo, Eastern field hockey
All Cuneo has done in her brief career is lead the state in goals in each of her first two seasons. The junior has already committed to North Carolina.
Amanda Lanciano, Haddonfield girls tennis
Lanciano posted a 40-2 record as a junior and had an 89-9 career record entering the season.
Victoria Martinez, Haddonfield girls tennis
Another star with the Bulldawgs, Martinez went 34-1 and is 111-3 for her career entering this season.
Ben Dillon, Cherry Hill East boys cross country
A senior, Dillon took fifth in South Jersey Group IV and 10th at the Olympic Conference meet last year.
Gloucester County
Ray Lawry, Kingsway football
A senior running back, Lawry rushed for 2,225 yards and 28 touchdowns as a junior. He has committed to Old Dominion.
Andrew O'Neill, Washington Township football
O'Neill, a senior running back, scored 11 touchdowns as a junior and was the Minutemen's leading rusher. He was named second-team all-conference.
Gerald Owens, West Deptford football
Owens has rushed for 53 touchdowns over the last two seasons in leading the Eagles to back-to-back South Jersey Group II championships. He will continue his career at Michigan State.
Marquis Little, Williamstown football
A standout for the Braves' South Jersey Group V championship team in 2012, the senior running back/defensive back has committed to Old Dominion.
Joe Casaletto, Washington Township boys soccer
The senior forward had 10 goals and four assists as a junior and was second-team all-South Jersey. He helped the Minutemen win the South Jersey Group IV title.
Gavin Bright, Clearview boys soccer
Bright, a junior forward, broke out last season with 17 goals and four assists and was named all-conference. He led the Pioneers to a 14-5-2 record.
Maria Kirby, Kingsway girls soccer
A starter since her freshman year, this senior goalie broke her own school record with nine shutouts last season.
Tori Miller, Delsea girls soccer
As a sophomore, Miller poured in 20 goals for the Crusaders and was named first-team all-conference.
Lexie Taylor, Washington Township girls cross country
Taylor, a senior, placed fifth in South Jersey and 24th in the state in Group IV last year.
Brittany Reedman, Williamstown girls tennis
As a junior, Reedman won the Tri-County Conference Tournament and finished with a 29-3 record at first singles.
Published (and copyrighted) in South Jersey Magazine, Volume 10, Issue 7 (October, 2013).
For more info on South Jersey Magazine, click here.
To subscribe to South Jersey Magazine, click here.
To advertise in South Jersey Magazine, click here.