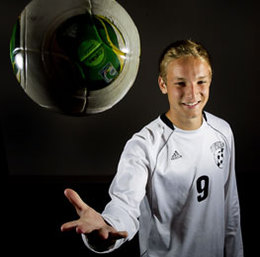 Game Changers
…From the pages of South Jersey Magazine…
Meet eight high school student-athletes scoring big in their sport and in the classroom.
Click here for photos.
Rodney Williams
Cherry Hill West football
A senior quarterback and defensive back, Williams has been playing varsity and starring for the Lions since his freshman year. He is looking to experience his first winning season at West before continuing his career at Syracuse University.
SOUTH JERSEY MAGAZINE: You've been playing varsity since your freshman year. Is it hard to believe that you're a senior now? Has is all gone by pretty quickly?
RODNEY WILLIAMS: A part of me feels like I've been a senior for about three years now. But I remember my first game on varsity my freshman year, it was against Camden Catholic. It's definitely flown by. I watched the seniors before, and I didn't really understand what it meant or the drive that they had. I really understand it now that I'm a senior and I'm motivating my team and pushing them forward.
SJM: It must be weird going up against certain teams for the final time. Do you try to keep the focus on the game itself and save the sentimental side of it for after the season?
RW: We had a couple speakers come in during the preseason, one being Eric LeGrand [the former Rutgers player who suffered a serious spinal cord injury during a game in 2010]. The situation he went through, and is still going through, that just showed us that any play can be our last. We do what we have to do on every single play, but he told us that the best memories are the ones in the locker room when you're joking around after practice, after all the hard work you put in as a team. So we have to enjoy every moment and do the best that we can.
SJM: As a team, you have made great strides since your freshman year and have a strong chance to post a winning record this year. Do you feel like you're leading the program to respectability?
RW: Definitely. … I believe in my team. We have a couple tough games, but I think we can pull them out and I think we'll have a home playoff game this season. I don't expect anything less from my teammates.
SJM: You not only have a lot to prove around South Jersey, but are you also trying to turn people in your school into believers?
RW: Yeah. On gamedays in previous years, I thought every game was a winnable game, but of course you have to go out and execute. This year, I think everyone has the belief in our coaches and our teammates that we can do it. Even if our peers don't believe it in school or around South Jersey, when the paper comes out the next morning, they'll be shocked. I have a lot of trust in my coaches and my team.
SJM: You've been able to make an impact throughout your career on offense, defense and special teams. What's your favorite aspect of the game?
RW: I would like to say safety, because I get more action this year than last year, when I was a cornerback and I would just take the receiver out of the game. Now I'm over the top and I can come up and make tackles and get involved in the passing game. But I might have to say kick return or punt return. When they kick me the ball, and I have so much open space and a great blocking scheme set up, that's just exciting.
SJM: That's definitely an exciting part of the game but I guess you also have to be a little crazy to be a returner.
RW: It's not that bad.
SJM: You hear a lot about player safety nowadays, especially in the NFL and college football with concussions and everything. Do you feel like they're going in the right direction and doing a better job of protecting players?
RW: I definitely believe that the rules that have been put in place are going to change the game for the better. Especially in the NFL, the guys are humongous and they're freaks of nature running at you full speed. It will be a little tough to adapt to, but I think it's going to change the game for the better.
SJM: When you're playing defense, does that change the way you play? Do you have to think about not leading with your helmet?
RW: You always have to go back to the fundamental techniques and you have to make textbook tackles. Coach is always reminding us to keep our head up. If you lead with your head, it could also hurt you. It's a collision sport, but we have to be safe at all times.
SJM: What was it about Syracuse, the program and the school, that made it your college choice?
RW: A lot of people ask me why I chose Syracuse or why I pulled the trigger so early. Because I missed six games last year, I didn't get the offers I expected to get. So I had a heavy camp circuit and I went to a lot of schools. A couple schools were going to offer me [scholarships] during the summer, probably four or five at least, and I probably would've gotten a couple more during the season. But when I went to Syracuse, I got the offer right at camp. The campus was amazing and the Carrier Dome, I can't wait to play there. The education is very good, and they have a lot of assistant coaches and tutors and stuff like that. I also know one of my dad's best friends, Dave Holmes, who played for the Dolphins and the Lions [in the NFL], he went to Syracuse. It was such a high comfort level with the coaches and the players and the atmosphere that I knew it was the right place for me. It was an instant connection.
SJM: They have a new coaching staff this year at Syracuse. Did you hit it off with them right away?
RW: Yes. Scott Shafer, he was the defensive coordinator before and now he's the head coach. It's amazing that our head coach is a defensive guy. He's a little crazy, he's a hardnosed guy. He's going to coach you hard and he wants you to play fast. But he does have a soft spot for family and he also emphasizes giving back to the community. He says you might get that pick-6 in front of 50,000 fans, but later that week he wants you to go to foster homes and have a catch with the kids. He's a great guy overall and my parents really liked him, which is a good thing.
SJM: Syracuse is about five hours away. Do you think your parents will get up there a lot to see you play?
RW: Definitely. They come to all of my football games and most of my basketball games, so I think they'll make it up there, even if I'm not playing. But I'm definitely going to try and get on the field my freshman year and build from that.
SJM: Speaking of basketball, I remember somebody who played both football and basketball for a little while at Syracuse—Donovan McNabb. Would you ever consider trying to do both?
RW: People keep asking me that. I really want to focus on football, because I believe for the next four or five years if I keep working hard and do what the coaches tell me and put the extra work in, I have a chance to get to the next level. So I'm going to focus on that, as well as school, which comes first. I believe I'm going to major in business, but I'm taking psychology classes now so I might do a double-major or minor in psychology. I'm going to have a lot on my plate.
SJM: Are you trying to graduate early so you can enroll in Syracuse in January and join the team for spring practice?
RW: No. I was going to do it, but our school doesn't allow it so I'm going to enjoy the memories that I make this year with my friends and when I get to Syracuse next year, there's no turning back.
SJM: Are you still going to play basketball at Cherry Hill West this year?
RW: Yes, I believe so.
SJM: Playing defensive back was always important, but even more so today with how much everyone throws the ball in college and the pros. Are schools really focused on putting strong athletes back there to help slow down these high-powered offenses?
RW: Yeah, I believe so. These offensive guys that are coming out, you'll see a guy who's 6-6 with great strength and speed. I believe playing basketball helps me with football, like for jamming [a receiver at the line of scrimmage]. You have to use your feet first, you play it like you're guarding a ball handler.
SJM: Do you have a favorite player or someone you try to model your game after?
RW: Everyone loves Tyrann Mathieu—he's a really good player and a big-time playmaker. But after making the jump to safety, I would have to say Eric Reid, who was at LSU last year and plays for the 49ers. … Also, I can't leave out Shamarko Thomas, a safety out of Syracuse last year who is now with the Steelers. He's about 5-8, 215 pounds, has 4.3 speed. He can come up and lay the wood, he tackles like a linebacker, and he's one of the hardest-working people that I've ever seen in my entire life. But I believe Eric Reid is great in man coverage and zone coverage and can come up and fill the holes and make the tackle. I would like to play like Eric Reid, he's a great player. I'm a Dallas Cowboys fan and we had the 17th pick and gave it up, and that's who they got, Eric Reid. That kind of got to me. We could've had Tyrann Mathieu with the 49th pick and we gave that up, too. I wasn't a happy camper on draft night.
SJM: Do you think you have to gain weight to play safety at the next level?
RW: Right now I'm about 190. I was about 160 at this point last year. I'm probably going to lose some weight during the season, but I'm going to try to get to 195 or a solid 200 for next year and keep my speed at a high 4.4 in the 40. It's going to be tougher at the next level because the guys are freaks of nature, but it's more heart than anything.
SJM: In South Jersey, are there any other players who you respect or like to watch?
RW: I have a lot of friends in South Jersey who are big-time players, such as Adonis Jennings and Kareem Ali from Timber Creek, Marquise Little from Williamstown, Ray Lawry from Kingsway. There's a bunch of guys that I'm cool with, but I would have to say my favorite and the best guy who I ever played against is Eli Woodard, now Eli Apple. He went to Eastern and now he's at Ohio State. He's just a freak of nature, his speed and athleticism are just unmatched.
SJM: It's cool to see the area producing so many big-time college players.
RW: Yeah, definitely. We have Anthony Averett at Alabama, his best friend Corey Clement at Wisconsin, Zaire Williams at Temple. It's awesome to watch college football and see guys you know play as freshmen. I'm looking forward to being in that position next year.
Tom Flacco
Eastern football
Flacco, a senior quarterback, had a historic season in 2012, tossing 25 touchdown passes and throwing for 2,957 yards, the fourth-highest total in South Jersey history. Along with Pennsville's Dylan Cummings, he is on the verge of reaching 6,000 career passing yards, which nobody has ever done in South Jersey.
SOUTH JERSEY MAGAZINE: Eastern made great strides last year, going 7-4 and reaching the South Jersey Group V semifinals. After getting off to a strong start this season, are you excited about what this team can accomplish?
TOM FLACCO: Yeah, we're definitely very excited. I think the school is starting to get a buzz around the football team, which is always great. We're having a lot of fans come to our games, which is awesome. I think all the guys on the team realize how good we can be and how good we are, and everyone's starting to get excited. We're all happy and we know what we're capable of, but we're still taking it game by game.
SJM: When you transferred in after one year at Camden Catholic, Eastern football was in a transition period [after winning just one game in 2010]. Did you think it would be possible to get to this point by your senior year?
TF: Yeah, of course. Honestly, I wasn't even sure what they were until I got to Eastern and found out they went 1-9 the year before that. With the guys they had, I was surprised they went 1-9. I don't know what they were missing, but we went 4-6 that first year and last year we had a lot of great seniors. I felt like they modeled what my class needed to do. Each year we've taken another step, and I think this the year we take the biggest step to get to the state championship, which is what we're trying to do.
SJM: Last year you had a nice playoff run, but it was a tough ending with a close loss to Southern in the South Jersey semifinals. Did that loss kind of fuel you through your offseason workouts?
TF: Yeah, we have a lot of guys back and some of them were starting and playing both ways in that game. Everyone knows the feeling of coming close to the championship game, and we just want to get back to that point. That playoff run was so fun, just the way the atmosphere was in school and everything and how we won those games the way we did. I think everybody wants to get back to that point and maybe they did work a little bit harder. I know I never really thought about that, but I think some guys might have worked a little bit harder during camp.
SJM: Have you been able to reflect on your individual success from last year, since you put up some historic passing numbers for South Jersey?
TF: I definitely … checked out the stats and saw where I was, but that's about it. I was really excited for the beginning of this year because last year we really turned it up offensively for our last four or five games. I was excited for this year because I thought we would start like we finished last year, and kind of pick up where we left off.
SJM: So does the 6,000 mark for career passing yards mean a lot to you? Is it something you're really shooting for, or is it no big deal?
TF: Honestly, I think I've got that in the bag [laughs]. I'm not even looking at 6,000, because I know the other guy, Dylan Cummings, is going to get there first. We sat down next to each other when we were getting honored and we talked the whole night, so I'm rooting for Dylan. He might get to 7,000 or 8,000. I'm not even worried about that, I'm just worried about this year and getting the amount of yards I need to win the game.
SJM: So you don't think you can beat him out for career yards?
TF: He's doing his thing, he really is. I'm not really worried about it, but I'd be surprised if I did beat him.
SJM: Do you consider running a big part of your game, too?
TF: Last year I had [a nerve injury in my foot] and it was really bad in the first couple of games and got a little better toward the end of the season. This year, I'm more mobile and healthy and I've been running around and extending plays and picking up some yards. It's an aspect of my game that makes it harder for teams to prepare for us. If you play man and have everybody covered, you still have to worry about me running. That's why I like it.
SJM: Obviously some people know from baseball season that speed is a big part of your game in baseball, but do you think it surprises some of your opponents in football when you take off running?
TF: Yeah, I think it does surprise some guys. Washington Township, they dropped a lot of guys into coverage [in the season opener], I don't think they knew what I was capable of, running out of the backfield. Timber Creek, in the first half I think they were a little surprised, but in the second half they started blitzing more. I think I do surprise some guys because I'm deceptive. I look at myself on film and I think I look like an idiot running, but I know I'm fast when I'm out there.
SJM: I know you get a lot of questions about your brother Joe [the Baltimore Ravens quarterback who was the MVP of last year's Super Bowl]. At this point are you sick of talking about it, or is it just something that you're always proud to talk about your brother's accomplishments?
TF: I'll never get sick of it, man. You never get sick of being proud of your brother for being in the NFL. Of course I'm proud of it. People always ask me, 'What's it like to be a Flacco?' It's awesome. You always root for your brother and I'm proud to be a Flacco. … I appreciate it when people say, 'Good luck to your brother,' or something like that.
SJM: Well, it's worked out great with him being in Baltimore and not too far away.
TF: Yeah, we're a very close-knit family, so that it is great.
SJM: You have four older brothers and an older sister. How did you feel about growing up in a big family?
TF: Well, let's just say that I'm planning on having like, eight kids. I loved it. I have five best friends, and we're all pretty close in age. My brother Joe just had his second kid and they're only a year apart and they're two boys. That's what you want, to go to high school with your brother. That's something I want for my family when I get older. You all sit down at the table and make fun of each other.
SJM: Are Joe's kids your only nephews so far?
TF: Yep, they're the only two, little Stephen and now Daniel Joseph.
SJM: Did the whole family get to go to the Super Bowl last year?
TF: We brought our whole family and all of Audubon [laughs]. We don't want it to be a once-in-a-lifetime experience, but it could be. So we took whoever wanted to come. We had a bunch of rooms filled and it was chaos the week before trying to plan. But once we got down there, everybody was partying and having a great time in New Orleans. That was one of the best experiences of my life.
SJM: And obviously it was an exciting game that came right down to the wire.
TF: Yeah, and he had a hell of a game, too. After the game, they walked us down to the field and that was cool. The confetti was still coming down and his car was on the field. I didn't know he was getting a car [for being named Super Bowl MVP].
SJM: You didn't tell him you were turning 17 and getting your license and could use the car?
TF: [Laughs]. That's what I told him, but I definitely haven't gotten it. I would love to be driving that.
SJM: For your career going forward, you're probably going to have to make a decision between football and baseball.
TF: Yeah, I hope I have a decision to make. That would be great, to have a bunch of opportunities. I just found out from my coach that Temple offered me [a scholarship] for football, so that's great to have a big-time offer like that. We'll see for baseball. I'm going to talk to my baseball coach and see what schools are interested or if any [major-league] scouts are talking about me. That will be a fun decision to make. Me and my dad will sit down and see what the best opportunity is.
SJM: Do you like one sport over the other?
TF: When it's football season I like football; when it's baseball season I like baseball. It's like that, honestly. I play basketball, too, but baseball and football are my favorite.
SJM: Last baseball season was great for Eastern, too, as you guys won the first state championship in program history.
TF: That was my first state championship and it was Eastern's first state championship for baseball. That was an awesome run, that's something I'll be telling my kids about. My dad tells stories about him winning the state championship in high school. It was great being a key guy and our whole team was key. I think it helps for football, because right now I know what needs to be done and I know that it's possible.
Kylie Kirk
Haddonfield girls soccer
A senior midfielder who has started for three years for one of the top programs in South Jersey, Kirk will continue her soccer career at Indiana University next fall. Before that, she is hoping to bounce back from an injury-plagued junior season.
SOUTH JERSEY MAGAZINE: Are you more excited or sad for your senior season at Haddonfield?
KK: It's a little bittersweet I guess. Not having last year, it seemed to make everything shorter. Senior year is always sad because it's the last time doing things like this, but I just hope we can have a successful season so I'm happy when I move on.
SJM: How much did you get to play last season with your injury issues?
KK: I sprained my ankle at the end of September, so I was out the whole rest of the season until our last game, where I got to play 40 minutes.
SJM: And then you got sick after that, right?
KK: Yeah. I went to a tournament over Thanksgiving with my club team and just felt so tired and awful. I went to the doctor and found out I had mono, so I was out again. It's no fun and it lasts forever, it seems like.
SJM: So did you miss a lot of the club season, too?
KK: I had other tournaments coming up—the CASL Tournament was that next weekend—and I still ended up going to all of them. I played at CASL and I played at Disney with mono. I missed a lot of practices just to get some rest, but the tournaments were important because they were showcases and also because they were [important for the team]. So I definitely wanted to be there and I did my best. It was hard, but I was finally better for the Las Vegas Tournament, which is in March I think. It took a while to get back, but I stuck with it as much as I could.
SJM: When you go through something like that, does it make you appreciate the times when you're 100 percent that much more?
KK: Yeah, of course. I had never really been injured before last year. I remember seeing teammates being injured and sitting on the sidelines and not really knowing what they were going through. To have that happen to me two times in a row, it definitely gives me a greater appreciation for when I am healthy and able to play. When you can't, it's very frustrating.
SJM: Hopefully you used up all of your bad luck last year.
KK: Hopefully [laughs]. I should be good for a while.
SJM: Did you hurt your ankle during a game?
KK: No, it was actually during practice. We were scrimmaging on our field and I stepped in a hole, because it's not the best field out there. I twisted it weird. I didn't even have the ball or anything, no one was around me. I guess it was just an awkward movement that caused it to happen.
SJM: Moving past your bad luck, what's it like to be part of a program like Haddonfield? When you joined the varsity as a freshman, were you thinking about how the program has stood out for so long and accomplished so much over the years?
KK: It was definitely nerve-racking in the beginning, just because I wasn't really sure where I fit into the team. I remember specifically this one moment when I was doing one of the testing runs and Coach [Glen] Gess kind of gave me some confidence. He said he needed me to do well in the run to prove that I could do just what any girls soccer player at Haddonfield could do. And I think one of the biggest things I learned that year was something one of our assistant coaches used to say: 'Play like a senior, for a senior.' It meant playing our hardest for everyone around us, and I think it got me through being nervous about the high expectations everyone had for Haddonfield. We could get through it together as a team.
SJM: Did you grow up hearing about the high school program and going to the games?
KK: Actually, not too much. I remember going to a couple of their big games, but I never really played for Haddonfield when I was little. When travel first started, which was maybe around third grade, I was on a travel team in Cherry Hill. Then I moved to a team in Mount Laurel, then Philly and all of these other places other than Haddonfield, which I guess kind of disconnected me a little bit from their high school team. But I still knew a couple family friends who were on the team and went to some games, and I guess it is exciting growing up and realizing that one day that will be you.
SJM: Since you've joined the program, which games would you say are the rivalry games, the ones you get up for the most?
KK: I would say the top one would be West Deptford, because they always give us a hard game. My freshman year, we lost to them at their home field at night, 4-0. Ever since then it's been a big rivalry for me personally, almost to get back at them for that. Another rivalry would be Haddon Heights, it's always close with them, too, and we have a lot to prove against both of those teams.
SJM: You talked about Coach Gess earlier. What was it like when he stepped down after last season [following a very successful tenure]? Did you know that was coming?
KK: I did not know it was coming, but I understand. His kids are growing up and he wants to be a part of their athletics, he wants to see their games. So I understood it was probably going to happen sooner or later. It's hard because he's been the coach for so long and everyone is so used to him being there, but I think having someone like Coach Q [Lori Quintavalle] here is great. She's been with the program for so long and she knows how it works. I think she's filling his shoes nicely.
SJM: Has she pretty much kept things the same as they've always been, as far as the system and how she runs practices?
KK: Yeah, I would say it's pretty similar. There are a few stylistic differences here and there, because people have their own style of doing things. But for the most part, we have the same goals and we do a lot of the same things to get there.
SJM: But is she as loud as he was during games?
KK: [Laughs]. He was pretty loud, but she can be loud, too.
SJM: Looking back at last year, obviously you had your injury, and then the season ended with an upset loss early in the playoffs to Cinnaminson. Do you think that loss is kind of fueling you this year?
KK: I think it's definitely important to remember what happened so we can build from that and know that we don't want to have that feeling again. But I also think we need to take it one game at a time and not look past anything. We have to focus on little things until we get there, because we're not there yet.
SJM: Soccer is one of those sports where the best teams don't always win, because sometimes you have days when you can't find the net. So when you get to the playoffs and one loss ends your season, how do you stay focused and not worry about the breaks and all the stuff you can't control?
KK: I think during the normal season we have our struggles and we push through them because we know it's going to make us stronger in the end. For example, the other day we beat Woodbury, 2-1, and normally they're not such a tough opponent. But they definitely came at us and maybe we weren't prepared for it. But having that happen to us is kind of an awakening and we realize that we have to work hard each game. If we do that, it's going to prepare us for the playoff games.
SJM: Switching gears a little bit and looking ahead to college, can you explain what you liked about Indiana, both soccer-wise and school-wise?
KK: I had visited Indiana the summer going into my junior year and met the coach at the time. I saw the campus and completely loved it. Then I was sending out emails to coaches before the Las Vegas Tournament, and I realized Indiana had gotten a new coach. So I looked into it more and figured I would send her an email because I loved the school. My mom is from Indiana and both of my grandparents graduated from IU. So it sounded like a pretty good idea. I sent her an email and she came to one of my games. She told me that she wanted to come to my next set of games, which was the PDA Tournament. They did, and after that I was offered a spot. I had not met any of the coaches in person yet, so I went to Indiana and met with the coaches and saw the school again and met some of the girls on the team. I just loved it and it seemed like the perfect place for me, so I committed there.
SJM: It's going to be different, going from a small high school to a huge college like that.
KK: Yeah. My parents both went to bigger colleges and I've always liked the feel of a bigger school. My sister is at Penn State now, and whenever I visit her I just love it, so I think it's the perfect fit for me.
SJM: Do you still have family in Indiana?
KK: Not anymore, my grandparents have moved to Florida now. I think there are still some family friends that my mom has known since she was a kid, but I personally don't know anyone out there.
SJM: So you'll be pretty far away, about a 10-hour car ride. Does that worry you?
KK: Distance has never really bothered me. I know I'll still get to see my family. I'll be able to see them for games at Rutgers or Maryland or Penn State.
SJM: Do you know what you're going to study in school?
KK: I don't, that's something I've been trying to figure out. Nothing has really grabbed me yet. Maybe something in the sciences, but I haven't exactly pinpointed it yet.
SJM: Would you like to stay involved in soccer somehow?
KK: Yeah, I definitely want to stay involved in athletics in some way. Maybe some type of physical therapy or training or something like that. It's been a part of my life for so long and I think it would be weird to forget about sports altogether after I graduate from college. To have it as my job would be pretty cool.
SJM: Is there anything you need to work on to get ready for Division I soccer?
KK: I think there's a lot I need to improve on before I get there. I think one of the biggest changes will be the physical play and being able to play against bigger, stronger girls. But I've worked hard my whole life, training with the best coaches I could find at that moment. I think if I continue to do that and work hard on my own and with my teams, I think I'll get there.
SJM: Will you play another club season after the high school season?
KK: Yep. I'm not exactly sure how many tournaments we'll be going to, but I think we're still in the National League, so we have to go to the CASL Tournament again and I think we might go to Las Vegas again. … We definitely have to keep playing. We might all be going to college, but we have to keep working hard and get ready for when we do go.
SJM: What's the name of the club team you play for?
KK: The PDA Ginga, it's in North Jersey. PDA is the big soccer club and I've always trained with Mike O'Neill, who is one of the coaches up there. I've always loved their style of play and how they do things. They were my big rival when I was like, 10 years old. I'm not sure how long ago it was, but they created a PDA South, which is a lot closer to us, and I played on that team for a season. Then I heard about the PDA Ginga team being made, and the coach is Glenn Crooks, who is also the head coach at Rutgers. So I figured I would go and try out because it would be a pretty neat opportunity to be coached by a college coach. So I tried out and made the team and decided to leave PDA South for PDA North. It's a solid hour-and-15 minute drive there on Tuesday and Thursday nights and the weekends, but I think it was worth it in the end.
SJM: Speaking of Rutgers, the South Jersey products like Madison Tiernan from Eastern are doing well up there. What do you think about South Jersey having an impact on the college game, and even the national team with Carli Lloyd?
KK: I think it's cool that there are so many girls from New Jersey who are having an impact. Knowing that Madison is only from a couple towns over and next year that could be me, I think it's cool and it shows that other people can do it, too.
Michael Kassak
Moorestown boys soccer
A senior forward, Kassak enjoyed a breakout season in 2012 with 20 goals and 17 assists as he helped the Quakers win the South Jersey Group III championship.
SOUTH JERSEY MAGAZINE: What's it like to know this is your last season at Moorestown?
MK: It's definitely [bittersweet]. I'm really excited, but at the same time I don't want it to end.
SJM: You're coming off a huge season, both personally and for the team. Do you think you can duplicate what you did last year?
MK: Definitely. We have a lot of players coming back and we did really well last season. Our JV team was actually awesome last year, too, and we have a couple good players from that team who are going to help us out. They won the equivalent of the Coaches Tournament for JV.
SJM: Did you consider last year a breakout season for you?
MK: Yeah, definitely. I started every game my sophomore year, but I was an outside midfielder because we had other forwards. Last year I played the forward position and did really well. It's my natural position.
SJM: Is soccer your only sport?
MK: It is now. I committed to it once I got to high school and left everything else behind.
SJM: What do you love most about the sport? Would you rather score a goal or set one of your teammates up to score?
MK: Either way is fine. I had 20 goals and 17 assists last season, so I love both. We have another forward, Michael Handlan, who helps me out so much because he's such a good athlete.
SJM: You and Michael Handlan both scored 20 goals last year. Does having another scorer like that make it easier for you to find space?
MK: Absolutely. If we didn't have Michael in the game, or if I wasn't in the game, they could just double-cover one of us. When we're both in the game, they can't do that. It just opens up so much space with his speed and athleticism. We've got a great center midfielder coming back, too, so that will help.
SJM: You're only 5-foot-9, but you're still pretty strong in the air going for headballs. Do you consider that a big part of the game?
MK: Yeah. For my size, I surprise a lot of kids. Our goalie, J.T. [Bretschneider], has a great punt and we score a lot of goals off that.
SJM: Who do you see as the biggest competition this year, both in your league and Group III?
MK: In the league, it's always Delran High School. It felt great to beat them last year; we beat them 7-3 at home, it was awesome. Outside of the league, in South Jersey Group III, Timber Creek is a team that always gives us problems.
SJM: The rivalry games can get physical. Do you like that?
MK: Yes, I actually prefer that. That's my favorite part of the game. Soccer can get very physical, especially in the air. And there's no pads for us.
SJM: Are you a big fan of the game internationally?
MK: Yeah, I don't have that much time to watch soccer, but I watch as much as I can. I like the Premier League.
SJM: And what about the World Cup, do you get into that?
MK: Yep, definitely. The U.S. national team really turned it around recently. I think they're on a 12-game winning streak with their new coach, something like that. That's exciting.
SJM: Is there any particular player you look up to or try to steal moves from?
MK: Not really. I love watching Ronaldo play for Real Madrid. [Lionel] Messi, too, he's awesome.
SJM: Your season ended last year with a 2-0 loss to Princeton in the state semifinals. Do you think about that game a lot?
MK: Absolutely, yeah. That was tough. One of our best defenders, Trevor Hall, tore his MCL or something and just completely ignored it. I guess he thought it was fine and he went into the game and it just broke down on him. They got two early goals and just sat on the lead.
SJM: So after coming so close to a state championship and the Coaches Tournament title, how do you rank the team goals this year?
MK: I'd say the most important thing is the state tournament, then the Coaches Cup and then the league.
SJM: If you guys can win South Jersey again, what's it going to take to get over the hurdle and bring home the state championship?
MK: Princeton is always tough. I know a lot of kids up there because I play club soccer with them. They're a really tough team and that's usually who we end up playing. Their coach is our coach's brother, too, so he doesn't like losing to them either. They don't really talk or anything. I think they try to avoid each other that day.
SJM: How does club soccer prepare you for the high school season?
MK: You can tell right away during preseason and when you get into the league which kids are club soccer players and which kids aren't. They can't really compare. The game moves fast, and the kids who don't play club really can't keep up with it.
SJM: I know you want to play soccer in college. How's the search going?
MK: I'm all over the place right now. I don't have anything narrowed down, but I definitely want to play. Lehigh University [is one of my top choices], but I'm straddling Division I and Division III. It can go either way. A lot of the schools I like, because of the size and academics, turn out to be Division I schools. But there are some Division III schools I like, like TCNJ and Stevens Institute of Technology.
SJM: So it sounds like you hope to stay close to this area.
MK: I don't know. My sister lives up in Massachusetts, so I might like to go up there. I've gotten some interest from UMass up there. I don't necessarily need to stay around here, but I wouldn't mind it.
SJM: Do you know what you want to study?
MK: I haven't decided on a major yet, but something math or science related. That's my strong suit.
SJM: Getting back to your senior year, do you have any personal goals? Do you have a number of goals in mind?
MK: No. Last year I had 20 goals and 17 assists. This year, I could have five goals and 30 assists. It depends on how it works out and how the team needs me to play this year.
Amelia Ying
Cherokee girls tennis
An outstanding player since entering the varsity lineup as a freshman, this junior is coming off a 34-4 season in which she reached the round of 32 in the state singles tournament and helped Cherokee win its first-ever South Jersey Group IV championship.
SOUTH JERSEY MAGAZINE: You've already had two really good years of high school tennis. What are your thoughts and expectations heading into this season?
AMELIA YING: I hope that it's going to be a good year. We have really good players and I hope I'm going to do well. I know my second singles and third singles will do really well. It might not be as good as last year, though.
SJM: What was the feeling like to make school history last year with the South Jersey championship?
AY: I'm so happy that we made it that far; we were the first in Cherokee history. I'm just hoping we can go back this year.
SJM: So after playing first singles as a freshman and second singles last year, you're back at first singles this season. How big of a difference is it between the first and second spots?
AY: First singles is a lot more pressure and second singles is a lot more relaxed. But first isn't bad, I don't mind playing it. I have to put my best game out there to beat everyone, because I know how good they are.
SJM: What did you learn from Lauren Tracy [last year's No. 1 singles player at Cherokee]?
AY: What I took from her is her spirit. She's a great team player and she was definitely very motivated and very serious.
SJM: How old were you when you started playing tennis and how did you get involved in the sport?
AY: I actually followed one of my mom's friends, her daughter, into tennis. I was 6. I was interested in the sport because it looked really, really fun, and it is. I enjoy it very much.
SJM: What do you think is the strongest part of your game?
AY: I definitely think it's my forehand. It has a lot of power.
SJM: Is there anything in particular you need to work on or that you want to add to your arsenal?
AY: I think I definitely need to work a little on my consistency. I'd like to improve before the season really gets underway.
SJM: Do you have personal goals for this season, such as number of wins, getting to a certain round in the state singles tournament or winning the county championship?
AY: My personal goal is to try and get the team as far as we can go and to try my best in any tournaments or matches that I play.
SJM: After winning two matches in last year's state singles tournament, will you draw on that experience to help you get even further this year?
AY: Yeah, it's definitely nice to have that experience with all of the pressure and excitement. I'm hoping to go back, we'll see.
SJM: Is there anybody in this area who you really admire when it comes to tennis?
AY: I really admire my [personal] coach, Young Kwon, because he's a great inspiration. He motivates me to work harder. I really enjoy working with both of my coaches. My high school coach, Coach [Dave] Haney, gets me to work with the team, and my other coach motivates me to get better.
SJM: Are there any professional players you look up to?
AY: I really look up to Li Na. I like her strokes and her consistency.
SJM: Do you follow the pro game closely?
AY: Oh yeah, I watch it a lot on TV and I went to the U.S. Open this year and last year. It's really fun and exciting. I love watching professionals up close.
SJM: Outside of tennis, what do you like about going to Cherokee?
AY: I just love the environment. Everyone is so friendly and nice. I don't think I've ever met anyone here who is really mean.
SJM: I know you have two more years, but have you started thinking about college yet?
AY: A little bit, but not in depth. [Tennis] is a possibility. I really don't think I can get that far, but I do enjoy playing the sport.
Delaney Cahill
Shawnee gymnastics
The Renegades junior is coming off a sophomore campaign in which she won the state championship on bars and was all-South Jersey in the all-around and vault. She is also a standout for Will-Moor Gymnastics in Mount Laurel.
SOUTH JERSEY MAGAZINE: How old were you when you started gymnastics?
DELANEY CAHILL: I was 3.
SJM: Wow, that's young. You don't even remember that, do you?
DC: Not really. I was just put in mom-and-me classes at Will-Moor.
SJM: So was your mom a gymnast, too? Is that why she signed you up?
DC: No, my mom wasn't a gymnast. I just did a lot of sports when I was younger. I always stuck to gymnastics. It's the only sport that really worked out for me.
SJM: Why do you think that is? What do you like about it that you couldn't find in other sports?
DC: I like how it's really challenging and you're always learning. You can't stop learning, because there are so many skills to learn.
SJM: Do you think you were a natural at gymnastics and were you always good at the sport as far as you can remember?
DC: Definitely, but sometimes it was really hard. It's a really tough sport, you just have to stick with it because in the end it will pay off.
SJM: I know you train year-round, but do you ever get a break?
DC: I have a week off in the beginning of the summer and a week off at the end of the summer, but other than that we don't really get breaks.
SJM: That sounds tough. Are there ever times when you don't want to train?
DC: There are a lot of days when I'm really tired and I don't want to go, but for the most part I'm used to it. I've been doing it since I was 3 and I go 20 hours a week. I go every day during the week except Wednesday, and Sunday is my other day off. And in the competition season, I go in on Wednesdays for two hours.
SJM: Does training with Will-Moor help a lot when it comes to the high school season?
DC: Yeah, it really does. … Me and my friend Danielle [Doolin], who's on the high school team, do club gymnastics together.
SJM: I was going to ask you about Danielle, who is also a standout gymnast for Shawnee. What's it like having her on both teams with you?
DC: I love it because we've been best friends since kindergarten and we do everything together. She's basically my sister. I sleep over her house a lot and we hang out all the time.
SJM: Do you feel like you learn a lot from her and you two push each other to get better?
DC: Yes. She just committed to [the University of New Hampshire] for gymnastics. We don't do the same skills, we do different skills. But sometimes I watch her and it helps me to do that skill.
SJM: I know you just took a college visit yourself. Where did you go?
DC: I took an unofficial [visit] to Towson. It was really nice there.
SJM: Where else are you looking?
DC: William & Mary, GW [George Washington], Southern Utah, Northern Illinois. That's some of them.
SJM: Not New Hampshire with your best friend Danielle?
DC: No, because they don't have any more scholarships for our year.
SJM: What kind of things are you looking for in a college?
DC: Some of the gymnastics programs are better than the others, but academics are important, too. I definitely want a school where I can get a job right out of college. I probably don't want to go too far away, although Southern Utah is pretty far. I might get homesick if I go too far away, because I've lived in Medford Lakes my whole life, in the same house.
SJM: What do you like most about growing up in this area?
DC: I feel like everyone is close together and Medford Lakes is a nice town. I feel safe in it and I know a lot of people. I've had the same friends for a while and once I got to Shawnee High School, I met people from Medford and made new friends.
SJM: What do you think you will miss the most when you get to college?
DC: I'll miss Danielle, my parents and my dog. He's a Pomeranian, Husky, Poodle and Eskimo.
SJM: Obviously, you still have two more years of high school. Is it important to make the college decision soon?
DC: Yeah, because a lot of schools are giving out their scholarships earlier and earlier each year. So I just want to get known and hopefully get a scholarship soon, because I don't want to miss out on it.
SJM: What were the feelings like last year when you won the state championship on bars?
DC: I wasn't expecting that because I had never been there before. It felt really cool, because I usually don't win a lot in gymnastics. So it was awesome.
SJM: After you competed, did you feel like you nailed the performance and had a good chance of winning?
DC: I was one of the first people to compete in the first rotation. The scores are posted on the wall in the lobby, so I kept going to check on it. I was like, 'Wow, I'm in first.' I knew there were a lot of good girls going in the last rotation, so I just kept my fingers crossed and I kept checking the scores.
SJM: Is the bars your best event?
DC: I would say in high school they are. In club gymnastics, it's probably beam—if I stay on.
SJM: Well, in a lot of those events it seems like you need a fearless attitude.
DC: Yeah, a lot of the girls on the team don't do it year-round, so they show up in the fall and do back handsprings on the beam. I think that's kind of amazing, because I do it year-round, and if I don't do a skill for a week I kind of get nervous to do it again. I always have nervous moments.
SJM: Are you challenging yourself to go out and win another state championship? Do you set goals like that?
DC: Yeah, I definitely do. I know I have good competition this year with Danielle, because last year she was coming back from multiple injuries. Now that she's well, she's doing really good. I know I'll get competition from her, as well as gymnasts from other schools. But I'm going to try to win it again.
SJM: Team-wise, Shawnee has made great strides in the last several years. What's it like to be part of a rising program?
DC: It's a good feeling to help the team out like that. It's really fun. The coaches are awesome, they're really nice and supportive, and all the girls are supportive.
SJM: Do you think people are starting to realize that Shawnee is now a program to be reckoned with?
DC: Yeah. Last year was the first year we made it to states in a while, and I think we made the coaches proud. Hopefully we can be first in South Jersey and go to states again.
SJM: Do you follow the sport closely, like during the Olympics?
DC: Oh yeah, I love watching gymnastics. [The United States team] was so good last year [at the London Olympics].
SJM: Do you have a favorite gymnast, maybe somebody you try to model yourself after?
DC: I think Aly Raisman is probably the most inspirational, because she was kind of the underdog. You didn't expect her to compete in the all-around finals, but she did and she was the most decorated U.S. women's gymnast. No one could have guessed that—everyone felt Jordyn Wieber and Gabby Douglas would be first and second, but Jordyn didn't even qualify for all-around.
SJM: Aly Raisman's parents were memorable for their nervous reactions during her routines at the Olympics. I've asked other gymnasts this question, so what are your parents like when you're competing?
DC: [Laughs] I know my parents do get nervous, but I don't know if they move around like that. They're especially nervous during beam, because you're most likely to fall on beam. So they probably just bite their nails.
Julian Greco
Lenape cross country
As a junior in 2012, Greco consistently performed well at all of the big meets, taking second in Burlington County, third at sectionals and 12th at states. One of his goals for his senior season is to become a South Jersey champion.
SOUTH JERSEY MAGAZINE: Last year was a really good year for you personally. What are your expectations for your senior season?
JULIAN GRECO: As far as goals this year, a top five finish at states would be cool. For the Meet of Champions, I'd like to be top 20 or even higher.
SJM: Is it important to you to win a South Jersey individual championship?
JG: Yeah, I really want to win sectionals this year. Out of returning runners, there are some strong competitors, but nobody who's going to be way ahead of me.
SJM: Were you able to learn a lot from going up against guys like Shawn Wilson of Cherokee and Kyle Leonard of Washington Township [seniors last year who were the only runners to finish ahead of Greco at the South Jersey Group IV meet]?
JG: Yeah, definitely. I raced Shawn Wilson for two years, and it was good and bad. You knew he was probably going to win—and he did most of the time—but I would try to hang on as long as I could. He definitely made me better.
SJM: When you go into a race, do you have a style that you use every time, or does your strategy change depending on the course?
JG: For cross country, my style is to go hard the whole time. I have a good kick in track, but it's sometimes not there in cross country. So I try to evenly pace it through the race, but I like going out pretty hard. I don't like playing games and sitting back to see how it goes. I always say I'm going to chill and let somebody else do the work, but most of the time it's me.
SJM: Do you like running at Holmdel, the site of the state championships?
JG: I feel like I've gotten a lot better at Holmdel. At states I got my PR at Holmdel by 30 seconds, and then I came back a couple days later for the Meet of Champions and ran a little bit faster, so it wasn't just luck. I've definitely gotten better there. I've learned to not start that out fast, because I've tried that numerous times and it did not work out well. If you're not moving by the end, that last mile, you're going to have a really bad time. My style there has to change. I can't be aggressive there, I have to wait.
SJM: Have you always been a distance runner?
JG: It really started off because of basketball. All my friends play on the Lenape team, and I would always try to compete with them. Offensively I couldn't, but defensively I could guard them for like, six hours. So I always knew I had more endurance than them. Then, running the mile in gym, I would run low 5s. So in middle school, I was on the track team and cross country team. Eighth grade was a big year for me, and then I came to the high school team.
SJM: Do you still play basketball?
JG: I love playing basketball in my spare time, but I usually have to train. I thought about trying out for the freshman team, but cross country season my freshman year went well, so I had to back off.
SJM: What about winter track?
JG: Well, sophomore year I got hurt and missed the whole winter. Last year, it was complicated, but I basically trained on my own for the spring season. It kind of worked, there were some pros and cons, but this year I think I'm going to run winter track.
SJM: Can someone who's more of a natural sprinter be made into a good distance runner, or is it something you're born with?
JG: It's kind of more natural. I just always felt like I could go longer, like in basketball. I wasn't training at that time. When I started adding the hard work, in my freshman year, I got beat up real bad. I wanted to be the best, so every day I was going real hard and I saw how huge that was in dropping time. The talent was always there, but I started working harder and harder and I saw where it was going.
SJM: What kind of training do you do in the summer to get ready for cross country?
JG: In the summer it's base training. I think I peaked at 50 miles a week. It's hot, so I tried to run at night, really late.
SJM: Is there anyone on the team that you use to push yourself?
JG: Yeah, definitely. Every year it's always somebody. … This year it's Danny O'Leary. He's one of my friends in my class and we've been running together since freshman year. He's getting really good, so I practice with him. We're always together.
SJM: Distance running seems to be getting more and more popular, with people running 5Ks and half-marathons and marathons. Do you hope the sport is part of your future after this year?
JG: I don't know, a marathon seems like a lot. It's hard to say, I have no idea, but I guess I would run a marathon just to say I did it. Training for a 5K is a lot, I can't imagine training for a marathon. I think I could do the Ironman, I like that triathlon-type thing. I can see myself doing that.
SJM: Do you want to run in college?
JG: Yeah, it looks like I'm going to be running for Fairfield University [in Connecticut].
SJM: Any idea what you want to study?
JG: I think business would be cool. I'm into clothes and stuff like that, so any kind of design thing would be cool. I'm pretty good at math, too, so anything math-related.
SJM: Aside from sports, what's it like starting your senior year?
JG: It's crazy, it's flown by so fast. … We're already talking about prom and stuff like that. It's been great. I've known these kids for so long. It's going to be weird leaving them, but I'm trying to enjoy senior year and make it the best.
SJM: What do you like about going to school at Lenape?
JG: Well, I wish our football team was a little bit better. But I like that it's big, and that's why I wanted to go to a big school for college. I think it's cool that you can see people in the hallways that you've never seen before even though you go to school with them for 180 days. I like the teachers, they're great. I've had some really good teachers who have helped me, and the coaches are great, too. They definitely made me better.
Shea McGee
Washington Township field hockey
A senior midfielder, McGee is coming off a junior season in which she recorded 11 goals and 17 assists as the Minutemaids went 12-7. She will look to lead a young squad to another winning campaign before continuing her career at the University of Massachusetts.
SOUTH JERSEY MAGAZINE: Is it hard to believe that your senior season is here already? Does it feel like things have flown by?
SHEA McGEE: Yeah, it's really weird. It feels like yesterday was my first day of tryouts. I remember every year but it feels like it's gone by so quickly.
SJM: Is it sad to play certain teams for the last time?
SM: Yeah, it's weird to think I'm never going to play against Timber Creek or Camden Catholic again. I'm happy that I'm a senior, but I'm also sad because I want to keep it going.
SJM: Are you taking on a leadership role, especially with a lot of young players around?
SM: Yes, I feel like I have to step up more and stay positive and encourage everyone, because we do have a really young and inexperienced varsity team. You want to make sure everybody is confident and comfortable on the varsity field.
SJM: Your head coach [Jeannine O'Connor] talks about how much energy you bring at both ends of the field and the intensity that you have. Do you agree that you have an intense style to your game?
SM: I do try to hustle no matter where I am on the field. If the ball is in our end, I try to get back quickly and help out our defense. I always make sure that I'm supporting the offense when they're in the circle and trying to get corners or see who's open and make a play.
SJM: As an offensive player, obviously you have the ability to score, but you also set up your teammates a lot. Do you prefer one over the other?
SM: I like to score like anyone else, but I feel it's more important to make the pass first than always look for the shot. I feel even better when I make an assist, because you set up the play. You did all of the work and you're just happy that your teammate was able to put it in the goal.
SJM: The team lost a big scorer in Jessica Hughes, who isn't playing this year. How did you take that news?
SM: She wants to focus on softball. I was sad to see that she wasn't playing. I texted her when I found out and she said she wished she could play but she just didn't have the time. We're definitely going to miss her on the field, she was a big finisher for us last year. But I think a lot of people are stepping up and trying to score and take her spot.
SJM: With a young team, do you feel like you'll be a lot better in October than maybe you are right now?
SM: I believe we are getting better. Even from game to game, I can see improvement. If we just stay on this path and keep working hard at practice and trying our best, we will peak in the playoffs and go as far as we can.
SJM: Everyone knows about how strong of a program Eastern has—they're known around the country—and you have to play every year, sometimes twice a year. What's it been like to have that experience throughout your career?
SM: I think it helps to see just how good other people are. It's almost a humbling experience—you can go into Eastern feeling really good and then your confidence can get beat up. You just have to look at it as helping to get you better for the next time. There are parts of your game you can work on that you might not be able to against a less skilled team.
SJM: Have you been part of any wins or ties against them?
SM: No. My freshman year, I wasn't on varsity but I was at the game when we almost beat them. It was 4-3. I was on the roster, but I didn't play. It was exciting, but it was heart-breaking, too.
SJM: Is that a friendly rivalry or is it pretty intense?
SM: It's pretty intense. It's dog eat dog out there, both teams are going hard and it's not like a friendly competition. I know a lot of players on their team. I played with some of them on club and when we were little, and I'm going to college with one of the girls that plays for Eastern.
SJM: Speaking of college, what was it about the program and the school that made you pick UMass?
SM: It's a new Division I program. I went up there to visit and I really like the campus, and the coach was really nice. I met some of the girls, and I just felt comfortable there. That's what I wanted to feel, that the coach and the players would accept me. I felt like it was a good environment that I would fit into.
SJM: It also seems pretty cool to be part of a program that's building into a Division I team.
SM: Yeah, that's exciting, too. This is their first season of Division I, so I'm going to be part of their second team and help build it for the future.
SJM: Are you nervous to be that far from home?
SM: I am nervous, because it's like five and a half hours away and I'm really close with my mom. It's going to be hard, but I'm hoping that it will be good for me to spread my wings and get out on my own and separate me from my family, not be so dependent.
SJM: What do you think you're going to miss the most about the South Jersey area?
SM: Well, they don't have Tastykakes up there, so that's going to be weird. I guess I'm going to miss the Philly environment and just how people are here. It seems like a much slower environment there. Where we're always on the ball and have to go, go, go, they seem calm and relaxed up there.
SJM: That's funny about the Tastykakes. You might have to stock up before you go to school.
SM: Me and my friend actually brought [the UMass players] Tastykakes and Philly soft pretzels when we went to see the La Salle game, so they like us.
SJM: What is your favorite Tastykake, while we're on the subject?
SM: Butterscotch krimpets.
SJM: What do you like about Washington Township and going to school there?
SM: I like how it's big, but you can go into ShopRite or something and still see someone you know. The school is really big, but I feel like we're a big family. Everybody has Township pride and we're always together. You can always find somebody to talk to and meet somebody new.
SJM: Looking ahead to the rest of the season, what would be a happy ending on an individual level and a team level?
SM: I just want to lead the team in a good way. I want to distribute the ball and be the best leader I can be on the field. I want to leave my mark on Township. For the team, I really want to beat Shawnee, that's one of my main goals. I feel like we have the ability to do it. We had a tough loss against them [early in the season], but if we work hard I think we can beat them. And I want to make it far in the playoffs, farther than we went last year.
Star Watch
Click here for the other prime performers to keep an eye on this fall season.
Published (and copyrighted) in South Jersey Magazine, Volume 10, Issue 7 (October, 2013).
For more info on South Jersey Magazine, click here.
To subscribe to South Jersey Magazine, click here.
To advertise in South Jersey Magazine, click here.