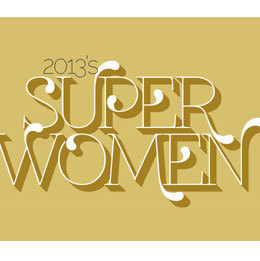 2013's Super Women
You don't have to look far to find a strong woman in South Jersey. From philanthropic business leaders who donate and raise thousands of dollars for worthy causes, to those who demonstrate tremendous civic pride in an effort to better our local communities, we are surrounded by wonderful ladies deserving of the recognition they'd never ask for.
After receiving hundreds of nominations, here we introduce you to 29 Super Women, including a salon owner who takes her elderly clients to their doctors' appointments, a former WNBA player and author who started a confidence-building foundation for young girls, and this year's Woman of the Year—a nurse credited with helping dozens of area families cope after confronting their greatest fear, losing a child.
Woman of the Year: Ann Coyle
Ask anyone who knows Ann Coyle, and they'll tell you she has a gift that's more than bedside manner. They'll also tell you that she doesn't like being in the spotlight; she's touched hundreds if not thousands of lives through her position as a NICU nurse at Virtua Voorhees, but it's an impact she prefers to make from behind the scenes. That's just one reason why this past year has been anything but ordinary for Coyle. It started when she received a phone call last fall letting her know she was among 10 finalists in the annual Johnson & Johnson Campaign for Nursing's Future Amazing Nurse Award—recognition she had no idea her nurse manager had nominated her for. She was thrilled, though she figured it would end there. "There was another nurse nominated who donated an organ to her patient," Coyle says. "I thought she would get it, hands down." Her humble nature didn't go unnoticed by Johnson & Johnson, nor did the impact of the recently unveiled Angel Garden at Virtua—the brainchild of Coyle, who for the previous three years had held grassroots-level fundraisers to raise $30,000 to build the rock garden and waterfall in memory of babies lost at birth. With more than 80 plaques inscribed with infants' names, it serves as a peaceful sanctuary for parents—whether their babies were born at Virtua or elsewhere—to come, remember and reflect on a life cut short. "Giving back is an important part of who I am," says Coyle, of Audubon. "I have received so many blessings in my life; I need to share them with others." One of those blessings came last October, when she found out that she not only won the national award, but she was invited to the annual CNN Heroes: An All-Star Tribute broadcast that December in Los Angeles. It's an honor her friends, family and coworkers knew was long deserved. A nurse for more than 30 years, Coyle has watched Virtua's NICU grow from four beds at what was then Garden State Hospital to its now 46 beds at the new Voorhees hospital. She always knew she wanted to work in maternity, and the stillbirth death of her sister—and future stillbirth of her nephew—likely played a role in that. Both of their names are among the 83 in the Angel Garden. She acknowledges that she works in a specialty where although miracles happen every day, tragedy can strike, as well. That led her to become trained as a bereavement counselor, but it was also after her first husband passed away and she experienced the compassion of a support group that she knew she wanted to help others in a similar way. So 10 years ago, she began leading the HOPING (Helping Other Parents in Normal Grief) support group at Virtua, a network for parents who lost a child either because they were stillborn or they passed away before their first birthday. As the facilitator of the group, she's also the first person parents speak with at the hospital if their baby does not make it. With those parents serving as her inspiration, Coyle says she's using the momentum of the garden's unveiling last fall, as well as the ensuing recognition, to take things further and start an Angel Parents Foundation, which will do two things: provide support and education to help parents through the grieving process, and pay for funerals for their child so that a proper memorial can be held. In the meantime, Coyle held a rededication ceremony on Oct. 6—and will continue to do so every year—for the new names that have been added to the Angel Garden.
Super Women 2013
Maria Grasso
Grasso lost both her father and grandfather to colon cancer—a disease that is 90 percent curable if caught early. That statistic inspired the Mount Laurel woman to take action by raising money to fight the disease and ensuring the public is educated on the importance of screenings. She founded Get Your Rear in Gear Philadelphia, a local event supporting the Colon Cancer Coalition, in 2009, which has since raised more than $1 million for education, research, treatment and patient care in the Philadelphia region through its annual 5/10K, two-mile remembrance walk and kids' fun run. What attracted just a few hundred runners in its first year brought in 4,000 participants last year to Fairmount Park. It's a fitting tribute for Grasso's family, which she credits with instilling in her the importance of giving back. "My father was the soccer, baseball and softball coach in our local town," she says. "He left an amazing legacy behind and I hope I can touch as many people in this life as he did."
Judy Sailer
Sailer's resume is anything but lackluster. As resource development director for Habitat for Humanity of Burlington County, facilitator/trainer/consultant for FYI Business Consulting and Outsourcing, director of organizational development for the National Association of Women Business Owners South Jersey, board member of the Alice Paul Institute and volunteer for the YMCA, there's little this Tabernacle woman doesn't do. While her commitments are broad and involved, her reason for dedicating herself to so much is not. "Yes, I do a lot, but my goal is still to make a positive difference in the lives of those around me. I want to make sure that I am following my parents' model of caring about my community, and if that means being named a Super Woman, whether out front in the limelight or by helping others shine, I'll take it … as long as it makes a difference." Her next venture, Smart 7 Strategy, is a company she's starting to help other small business owners.
Ann "Teddy" Thomas
Becoming president of one of the first Ronald McDonald Houses in the nation—Ronald McDonald House of Southern New Jersey in Camden—was an unexpected career turn for Thomas, who earned her bachelor's in mathematics and economics followed by an MBA from Widener. But after volunteering with a group of leaders to found the location at Cooper University Hospital in 1983, it became her mission to help those in need. The charity, which provides a "home away from home" for the families of seriously ill children receiving treatment, now helps more than 800 families a year between the main location in Camden and 11 "Family Rooms" in hospitals across South Jersey. The organization has expanded from a 10-bedroom Victorian home to a newer 22-bedroom facility, and the staff has grown to a team of seven full-time and eight part-time staff, and more than 700 volunteers. A resident of Haddonfield and proud grandmother of 12, Thomas has also been involved in other organizations such as Friends of the Haddonfield Library, Haddonfield youth soccer and softball leagues, and the Board of Trustees of The Cooper Foundation. "You often cannot repay those people who give you a helping hand along the way," she says, "but you can pay it forward by helping others."
Loretta O'Donnell
O'Donnell's attitude toward cancer started off typical. Diagnosed with stage 4 colon cancer in March 2010, she felt paralyzed with fear. However, after leaving her position as public information officer for Burlington County to undergo surgery and chemotherapy, the Mount Laurel woman found a way to use her skills to spread inspiration. O'Donnell began writing about her experiences for the Cooper Cancer Institute's newsletter and the newsletter for the American Chronic Pain Association, and started volunteering for other outreach organizations. Now 59, she volunteers for the Colon Cancer Alliance and the nonprofit Yes! Beat Liver Tumors. She also recently edited survivor stories for a book local photographer Donna Andrews is working on, and contributed her own story for a textbook her meditation instructor at Lourdes Wellness Center is working on for UPenn's Positive Psychology program. She is still undergoing treatment, as her cancer has spread to her liver and lymph nodes, but she hasn't lost her positive attitude. In recognition of that, she was presented with the first-ever Loretta O'Donnell Courage Award by the Burlington County Freeholders this past spring, an award that will be now given out in her honor every year. "There is a saying that, 'If you have your health, you have everything,'" O'Donnell says. "But love is the most important thing to me. Since cancer, I have been able to give and receive more unconditional love to a growing circle of friends."
Valerie Still
An illustrious basketball career may have put Still on the map—she broke the record for points and rebounds by a male or female at the University of Kentucky, participated in the first NCAA basketball tournament for women and played professionally on two continents, among other accolades—but it is the path she took after stepping off the court that is helping her make headlines today. Founder of The Valerie Still Foundation, a nonprofit organization that assists youth in their development, the Palmyra resident is also the author of a children's book series that traces her family's lineage in America, and, through the Dr. James Still Preservation Trust, she is working with the state of New Jersey to restore its first acquisition of an African-American historic site, previously owned by Dr. James Still, one of her family members, so that it may be turned into a national museum and historic monument in Medford. Still is also helping restore the basketball court in Camden where she played as a girl, is helping to make scholarships available through the Dr. James Still Preservation Trust, and is currently filming a realty television series that will air on the Oprah Winfrey Network later this year that she says will "bring awareness to my great, great grandfather's property, and also my family history, which includes the great abolitionist William Still."
Kim Fortunato
Reducing childhood obesity and hunger in Camden by 50 percent is a pretty ambitious benchmark, even without the 10-year timeframe, but it's a goal entrusted to Fortunato, the director of Campbell's Healthy Communities Program since 2010. The $10 million corporate initiative is the first of its kind for a food company and, in just the first two years, it invested more than $2.1 million. Fortunato has a long history of philanthropy—beginning technically at age 6 when she would participate in and then help organize neighborhood fundraisers for various causes near to her family as she grew up with a severely disabled sister, whom she refers to as her inspiration. Later, she would found Social Venture Partners Delaware, a philanthropy organization investing in early childhood education. She came to Campbell's from her position as president of Operation Warm, Inc., which provides new winter coats to children in need. She also currently sits on the boards for the Camden Food Security Advisor Board and the One Warm Coat organization. For her work, she was awarded the Nathan Asbell Humanitarian Award last year by the United Way of Camden County.
Ann McIntyre
Haddonfield resident McIntyre has been the chief financial officer for Partnerships of America, a nonprofit organization that works with other nonprofits to help strengthen their outreach, for the past 20 years. McIntyre says she appreciates the position because it "allows me the ability to work with a super group of volunteers and to help parents, grandparents and caregivers of today's children, who are tomorrow's leaders." It was with Partnerships of America that McIntyre developed Cuddle Me, a nonprofit mother and child advocacy group with administrative offices in Cherry Hill, after she had a first-hand experience with a teenaged mother in need eight years ago. What started as a local endeavor has now gone nationwide, and the program is now part of the National Diaper Bank Network. Partnerships with other nonprofits along the East Coast have also formed. Last year alone, the program distributed 112,792 diapers, 76,237 wipes and 4,892 cans of formula, and provided clothing and baby equipment to more than 600 children in South Jersey.
Renee Sutin
As owner of the New Jersey School of Music in Cherry Hill and Medford, music is Sutin's job. But it's also a part of her personal life and her passion to share it with people extends beyond 9 to 5. Not only does she work with Medford's M-Town Jazz and the Keep the Beat organization to create scholarships for Medford middle school students interested in music, but she has also sponsored music teachers with student visas and helped them obtain legal citizenship, assisted with band booster projects, and organized performances at local nursing homes, town functions and fundraisers and benefits. Sutin also currently performs in the SJ Pops, an all-volunteer local orchestra founded in 1969. Music aside, the Westampton resident also helps raise money for those in need, volunteers her music school as a pick-up/drop-off location for a local farm co-op, and contributes to local police and firefighters.
Deborah Hays
For more than 20 years, Voorhees resident Hays has volunteered as troop leader and service unit manager for the local Girl Scout Council. "I became involved with Girl Scouts because it promoted life skills and values that I wanted to foster in my own daughters," she says. Hays also serves as chairwoman of the board of directors of the Entrepreneurs' Forum of Southern New Jersey, as vice chairwoman of the Board of Trustees of the Wetlands Institute in Stone Harbor, and on the board of directors of the Central and Southern New Jersey affiliate of the American Heart Association, where she is instrumental each year in the local Go Red for Women luncheon and related initiatives. Hays also volunteers to serve as general counsel to the Chamber of Commerce of Southern New Jersey. Along with her volunteering commitments, Hays is a partner at Archer & Greiner, where she shares her 25 years of experience in corporate finance law and routinely handles transactions exceeding $100 million in value.
Jeanette Stephens-El
Breast cancer touched Stephens-El's family in more ways than one—she, along with three of her four sisters, was diagnosed with the disease. Happily, all four survived, but Stephens-El is doing what she can to be sure no other family has to go through what hers has. Now a nine-year survivor, the Moorestown resident has become an advocate for health awareness—"Early detection and knowledge really does save lives," she says—and she has been featured in local and national media, has spoken to audiences along the East Coast, and for the past three years served as race co-chair and fundraising chair for Philadelphia's Susan G. Komen Race for the Cure, helping to raise more than $9.9 million during her time as chair; following the 2013 event, she was named ambassador to the race. Under the pen name "Raining Deer," Stephens-El has also authored two books on breast cancer, and she has received numerous awards for her advocacy, including 2012 Woman of the Year from the National Association of Professional Women.
April Maska
Maska took an interest in community involvement as a teenager when she joined the Girl Scouts and the Sea Scouts, a division of Boy Scouting. Committed to providing the same experiences she had as a youth to those who have come after her, she is still a part of the Girl Scouts today. In fact, girls in South Jersey have Maska to thank for the Hessian Woods Girl Scout Camporee, which she founded in 1984, and is now in its 29th year. She also started the first Daisy Troop of Gloucester County when her daughter was old enough to join the organization but could not because there was not a troop in the area. A school teacher for the past 23 years, Maska is also co-founder and co-president of the West Deptford Historical Association, president of the West Deptford Free Public Library Board of Trustees, and chairwoman of the Gloucester County Juvenile Conference Committee, as well as co-author of the West Deptford history book from Arcadia Publishing.
Dr. Karen Harkaway
For the past three years, Moorestown resident Harkaway has been a volunteer with Hopeworks 'N Camden, an organization focused on the development of area youth. Through the organization, she has mentored and helped young people prepare for their GED or the SAT, while also acting as a sounding board when they simply need someone to talk to. "At times, I volunteer as their unofficial dermatologist, being that almost none of them have any insurance," she says. "One time I removed a large disfiguring birthmark from the cheek of a young woman, because of course no plastic surgeon would do it." This January she will travel to Mexico with the organization for a service project. When she is not volunteering with Hopeworks, Harkaway runs her own dermatology practice in Delran, and is a lecturer/trainer for Allergan Aesthetics, Pierre Fabre Dermo-Cosmotique, Alma Lasers, and on the Clinical Advisory Board of ThermiAesthetics. She has also served on the board of directors for the Burlington County Chapter of the American Red Cross, is a member of the Moorestown Religious Society of Friends, and has volunteered in orphanages in Lima, Peru, with Global Volunteers.
Maria Nadelstumph
For more than 17 years, Nadelstumph's focus has been Alzheimer's disease, a disease she became all too familiar with after watching her grandmother and her grandmother's sisters suffer from dementia, and while working at a nursing home as a teen. Since then, she has developed programs and therapeutic approaches for those with cognitive deficits in residential settings that she has shared on local and national settings. Currently serving as vice president of organizational development and program excellence at Brandywine Senior Living, Haddonfield's Nadelstumph says her position there "has been and continues to be my platform for developing quality programs for seniors and individuals with memory care needs. I develop programs that support our mission that are innovative and focus on the person, not the disease." For the past eight years, Nadelstumph has also been a board member for My Father's House, an outpatient nonprofit organization for individuals and families suffering from the disease of addiction.
Margaret Van Brunt
Certified public accountant Van Brunt believes "it is important for individuals to use their professional backgrounds and talents to assist and inspire others." Thus, for the past 10 years, the Cherry Hill resident, along with student volunteers, has donated her time to the Volunteer Income Tax Assistance Program (VITA) at Rowan University, helping prepare basic federal and state income tax returns for low- to moderate-income taxpayers who cannot prepare their own tax returns, as well as for senior citizens, individuals with disabilities and others. Van Brunt not only oversees the VITA tax preparation process, but also trains and manages the student volunteers, and together they invested thousands of hours last year to prepare nearly 500 federal and state income tax returns. As assistant dean at the Rohrer College of Business at Rowan, she also serves on the Chair's Council, Undergraduate Policy and Curriculum Committee, Assurance of Learning Committee, and the Admissions Committee. She is the faculty adviser to the Bureau of Business Associations and the Dean's Student Advisory Board and also coordinates the Rowan University Employee Charitable Campaign.
Laura Bishop
Bishop says she stands by the philosophy that you reap what you sow in life, which is why she puts her professional skills to work both with her PR firm—Laura Bishop Communications—and in the community. "There is a great deal of need in our communities," she says. "We can't meet those needs and maintain a strong society without getting involved." Specializing in education and environmental issues, Bishop, who lives in Winslow, has put that knowledge to use in her position as president of the Rancocas Conservancy, a land trust that has preserved nearly 2,000 acres in the Rancocas Creek Watershed. Similarly, she recently completed two terms on the board of the Partnership for the Delaware Estuary. On the education side, Bishop serves as president of the New Jersey School Public Relations Association and is a member of the National School Public Relations Association. She serves on the board and chairs the education committee of the Gloucester County Chamber of Commerce, and she also serves on the Archway Foundation, the fundraising arm of Archway Programs, which serves children and adults with special needs.
Cheryl Pliskin
When Pliskin founded Mitzvah Magic two years ago, her hope was to create a different kind of networking/charity event. "There are plenty of networking functions on any given day/evening," she says. "I wanted one that would connect the business community for a cause … a mission to go beyond Buy Local and Shop Local, to Donate Local. The concept of being able to have a huge impact right here in South Jersey for 18 nonprofits in our backyard annually was the goal and one that was accomplished. It was intensely gratifying." In fact, Mitzvah Magic has raised more than $50,000 worth of items and $19,000 in donations since its inception. The owner of a gift basket company, which started as a home business in Mount Laurel and now has a showroom/warehouse in Lumberton, Pliskin also raises Seeing Eye puppies with her daughter, is active with working with Operation Yellow Ribbon, sleeps out annually to raise funds for Bridge of Hope to end homelessness, and is on several committees for the Burlington County Chamber of Commerce. She also serves as secretary of the board for the Jewish Business Network and is on the membership committee for the Jewish Business Network of Philadelphia.
Gail Furrer and Erika Johnson
Stephanie Furrer died two years ago at the age of 30. Suffering from a rare genetic disorder, intellectual disability and uncontrolled seizures her entire life, she left behind close friends and family, including her mother, Gail, and sister, Erika. While they lost a daughter and sister, Gail Furrer and Johnson were not intent on losing Furrer's memory. So a year after her passing, on what would have been her 31st birthday, the duo held the 1st Annual Stephanie B. Furrer Campership Benefit, an event meant to raise money so others like Furrer could participate in the activity she loved most—camping. Over the past two years, the Stephanie B. Furrer Foundation has helped send 20 campers to the Arc Gloucester's Camp Sun 'n Fun in Williamstown. Gail Furrer, a Delran resident and fiscal officer at the New Jersey Council on Developmental Disabilities in Trenton, and Johnson, a Riverside resident and preschool aide in the town's school district, are looking forward to being able to sponsor more campers in the future, and keeping Furrer's memory alive.
Paula Brickner
Brickner was only 21 when she opened her family-owned hair salon, Hair Quarters Unisex Family Salon in Mantua, a company that continues to thrive some 26 years later. Though she refers to that as one of her proudest accomplishments, customers will quickly tell you there's much more to her than that. After all, how many hair stylists are known to take their elderly clients to doctors' appointments, travel to the local nursing home to do their hair, or raise $4,000 in a client's name for a Baltimore hospital? Those are just some of the good deeds Brickner is known for doing for her clientele, who have become extended members of her family through the years. Her philanthropic efforts extend to charities as well. Her mother died of breast cancer in 2002, and so she donates to the American Cancer Society every year in the salon's name. She has also raised money for a Mullica Hill family in need that could not afford to have Christmas, and she participates in Mullica Hill's Relay for Life.
Sara O'Brien, Bridget Mink, Katie Bogle, Anne O'Brien-Fleck & Megan Lewis
A close-knit group of five sisters, Sara, Bridget, Katie, Anne and Megan were just 15, 21, 12, 24 and 21, respectively, when they lost their mother Tyanna to breast cancer in 1990. Their desire to prevent other women and families from going through the same experience led them to start The Tyanna Foundation in 1999, which works to increase awareness and funding for services, education, treatment and patient care. The main fundraising arm of the foundation is BreastFest, which started as a single event in Georgia but is now held annually in Athens, Ga., Baltimore, Md., Dewey Beach, Del., Philadelphia, and the O'Brien's hometown of Haddon Township. The events have raised more than $600,000—90 percent of which stays local—with 10 percent going to the foundation to fund scholarships, community education projects and wellness programs. In New Jersey, BreastFest benefits the Virtua Breast Health Program. In 2012, the foundation made a donation to Virtua to create and sustain a Breast Care Comfort Fund. In recognition of their gift, Virtua dedicated the Virtua Voorhees Women's Health Unit in memory of Tyanna earlier this year.
Julie LaVan
There were many reasons LaVan began her own commercial law firm—LaVan Law in Moorestown and Philadelphia—in 2007, but one of the driving forces was her desire to take advantage of her success in a male-dominated field to be a role model for young women. One of the ways she does this is by mentoring young female attorneys to help them understand that it is indeed possible to achieve their career goals and raise a family at the same time. LaVan herself balances her career with family life (she has two children and coaches their field hockey team on the weekends). She also serves on the board of trustees for the Moorestown Community House and the Board of Directors for the Associated Builders and Contractors, New Jersey Chapter. Other organizations she's involved with, whether it's through volunteering, sponsoring events or offering pro bono services, include Twin Oaks Community Services, The Alzheimer's Association, CASA, CARES, and Perkins Center for the Arts, among others.
Lori Katz
Diagnosed with Parkinson's disease in March of 2005, Katz did not take the diagnosis sitting down. Instead, she hit the ground running, doing everything she could to educate herself and others about the disease. Since then, this Cherry Hill resident has become a nationally known face for the cause. In addition to volunteering at the Parkinson's Movement Disorders Center (PDMDC) at Pennsylvania Hospital, she founded the Patient Advisory Council at PDMDC, sponsors a team for the annual Stamp Out Parkinson's Walk in Philadelphia, is a research advocate for the Parkinson's Disease Foundation, and helped establish a Dance for Parkinson's program at Virtua and the William G. Rohrer Center for HealthFitness in Voorhees. She also started an e-newsletter providing information about events, activities and programs for people coping with PD, has advocated for political support in Washington, D.C., and in 2012 was named a Parkinson's Superstar by the National Parkinson's Foundation.
Cheri Cowperthwait
As with most executives, on any given day Cowperthwait, CEO of Lourdes Specialty Hospital of Southern New Jersey (LSH), has a number of commitments to attend to. What makes her stand out is her dedication to her community, and her efforts to ensure the people served by Lourdes are receiving the best care available. Along with handling her duties as CEO at LSH, where last year she helped complete a $9 million, 40-bed expansion, Cowperthwait is also a member of numerous professional associations and contributes to several charitable health care foundations. A Southampton resident, Cowperthwait also supports the Burlington County Food Bank, and has helped coordinate the collection of donated toys for the Providence House in Burlington County. She says her most memorable volunteering moment came in February 2012 when she helped put together a community job fair for Willingboro residents. "Almost 1,000 participants came to our job fair and stood in a line that wrapped around the inside of the Kennedy Center. On that day I realized how much the recession had impacted our community. I was humbled and honored to share that day with our residents."
Dana Collins
Haddon Township resident Collins may be executive director of Childcare and Camp for the YMCA of Burlington and Camden Counties, but it's more than just a job for her—it's a way of life. "The Y has become such a critical part of my life and for so many in the community through our commitment to youth development," she says. "The Y develops and cares for children during critical developmental ages and provides a safe and nurturing environment. Most important to me is our commitment to make Y programs accessible to every child in the community through our financial assistance program; this makes us unique." Collins has expanded the Y's services to 18 different schools and 18 day camps, and raised $190,000 through grant writing and solicitations last year. She also helped bring the Horizon Foundation for New Jersey Healthy U initiative, the state's largest initiative to address childhood obesity in the after-school setting, to all Y afterschool and child care programs. Collins is also a member of the Mount Laurel Rotary, captain of Heather's Heroes, Mount Laurel's Relay for Life Team, and a volunteer soccer coach for Haddon Township.
Published (and copyrighted) in South Jersey Magazine, Volume 10, Issue 7 (October, 2013).
For more info on South Jersey Magazine, click here.
To subscribe to South Jersey Magazine, click here.
To advertise in South Jersey Magazine, click here.