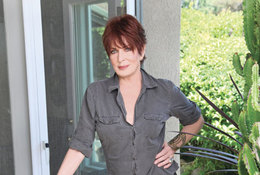 Unexpected Role
Joanna Cassidy didn't plan on becoming a fixture in Hollywood, but she certainly earned her place.
Though it was more than four decades ago, Haddonfield native Joanna Cassidy can vividly remember her "welcome to Hollywood" moment. It occurred during her time on the San Francisco set of her first film, 1968's Bullitt, starring the legendary Steve McQueen. The budding model turned fledgling actress got the role not because she nailed an audition, but for reasons much more superficial. "They hired me as an extra because I had a fur coat and I looked good," she quips. Not to mention a Mustang convertible. Both Cassidy and the car would make a key appearance during a party scene in which she was lined up behind several luxury automobiles that were to pull up in front of a mansion, drop off a guest to the fictional soirée and drive off.
As the director reset the scene countless times, the clutch suddenly gave out on Cassidy's car causing her to strike the vehicle in front of her, resulting in a chain reaction made more problematic by the sloping San Francisco street. That's when McQueen decided he'd become acquainted with the young redhead. "Steve McQueen jumps off the porch and pushes me over, hops in the driver's seat and saved my car from going all the way down the hill," recalls Cassidy. "That was quite a moment for me."
It turns out, that was just the beginning of many moments for the 68-year-old actress who traveled from Haddon Avenue to Hollywood Boulevard with the greatest of ease; even if that wasn't always the plan. Though she grew up surrounded by and loving the arts, an acting career was not something she ever gave any thought. But, after a divorce left her as a single mother of two children, Cassidy saw acting as a means to supplement her modeling career with much-needed extra income.
Today, her résumé reads like an encyclopedia of television and film credits that would make any actor envious. She's starred in or made appearances in hit shows ranging from Taxi and Charlie's Angels to Dallas and The Love Boat. She once roller skated her way onto Johnny Carson's couch and will forever be known for her role as Zhora in Ridley Scott's sci-fi classic film Blade Runner. She's been a bartender in Who Framed Roger Rabbit, a twisted parent on Six Feet Under, and more recently was introduced as David Boreanaz's estranged mother on Bones.
For someone as accomplished as Cassidy, she remains understated. Unlike the new generation of actors, you won't catch her on TMZ or in the supermarket tabloids. At this point in her career, she prefers the privilege of privacy over the need for attention. It's one of the reasons she's both respected and admired in the industry, and it's kept her working constantly since that chance encounter with Steve McQueen all those years ago.
South Jersey Magazine spoke with Cassidy during a break from filming the new season of Bones to talk about her Haddonfield childhood and her unexpected career in Hollywood, and we discovered why her success has everything to do with astrology.
SOUTH JERSEY MAGAZINE: So, you were born here in South Jersey and grew up in Haddonfield. Tell us about South Jersey then and any fond memories you have of your childhood.

JOANNA CASSIDY: I was thinking about this the other day, going through all the houses that my parents built [in the area]. They had a little house on Cuthbert Boulevard, and then we were on Treaty Elms Lane in Haddonfield. I just remember those days with great fondness. Haddonfield was quiet and very serene. As a kid, I used to walk all over town; I collected butterflies, always had my net with me and little backpack that my mother made for me so I could keep my specimen jars in it. I had my people I visited around the neighborhood, elderly folks. It was very eccentric behavior for a kid if you think about it, but I'm still eccentric.
I had a couple of friends with houses on the golf course at Tavistock Country Club. We would put our boom boxes in the backyard and roll down the hills of the golf course.
Another friend, her father had a golf cart and we used to take spins on the greens … silly things.
SJM: Any favorite old haunts from growing up?
JC: There was a singing joint, Frank Sinatra used to perform there [the Latin Casino in Cherry Hill]. I saw Ray Charles there when I was 15. I shouldn't have gotten in! I wore a brown velvet dress and danced on the table tops.
SJM: When was the last time you were back in the area?
JC: I think it was 10 years ago. Around 2003, I helped my parents pack up their last home they built and got them ready to move to Florida. I'm coming back for my high school reunion, though I won't tell you which one [laughs].
SJM: Did you go to Haddonfield Memorial?
JC: Oh yeah, I played hockey; right wing.
SJM: You came from an artistic family that encouraged you to explore your own creative outlets. Did you ever feel pressure to follow in their footsteps?
JC: The only pressure I got was to be secure, marry someone safe. Do the safe things, it was all about safety. Some women are absolutely driven to marry someone wealthy. That's not what my parents taught me and to this day I look up to their sense of morality. They were more into kindness … make sure you find someone who is a nice person, someone who is generous and cares about other people. I find that honorable, but I didn't stick to it, I am a bad-boy girl [laughs].
SJM: Art can be very emotional, both to create and to behold. What do you appreciate about it most?
JC: Everything! I go to museums, art shows. Growing up, I was very lucky to have parents take me [to these places]. We would go together just to see what people can conjure up out of their minds. That is magical to me. I can do it sometimes, but you have to practice like everything else.
SJM: You went on to major in art at Syracuse. How did you envision your career after school?
JC: I didn't know where it would go. I didn't know enough. Some people envision being art directors, creating cartoon characters, or sitting in a loft somewhere in New York and banging on a piece of marble. Life was a passion for me. I was interested in science—I always wanted to work for National Geographic and be one of their photographers. I never thought of myself sitting at a desk. Things do play out, don't they?
SJM: Around this time, you moved to San Francisco and started modeling to help your then-husband pay for medical school. How did that come about?
JC: When I got married, I married a medical student and we were very poor. I didn't grow up in a wealthy family, but this level of poverty was a little too much for me. People told me I was pretty, and I thought maybe I could parlay that into something for a little extra money.
SJM: Did you enjoy the modeling work and, at that point, was an art career out the window?
JC: It kind of was; I never went back to it. I did enjoy modeling; then I was doing commercials, so it became live, not just standing in front of the camera. But I had an ease to it, I seemed to be fairly comfortable. I liked it, I had a healthy ego and it seemed to fit.
SJM: And you were living in San Francisco at a very exciting time during the '60s. What was that like?
JC: It was incredible, just with the music. It's all part of that artists' world. My husband did his internship there, and he had a lot of patients … all the people from Jefferson Airplane. Janis Joplin was a patient, so we would get invited to her shows. I sat front row and center for Jimi Hendrix.
SJM: After your divorce, you packed up for Los Angeles where I've heard you say that you "backed into acting." Can you elaborate on how that happened?
JC: I think I really had my back to it, literally and figuratively. I wasn't running toward it. I had opportunities to do theater in San Francisco, but it was way beyond my thinking. I didn't envision that at all. It was like pulling teeth [to consider acting]. I knew I had to work; I separated from my then- husband and had two children, so I had to earn a living.
SJM: Did you see acting as just another unexplored creative outlet to be your naturally artistic self?
JC: That's a very good way of putting it, I did. It was great at the time, it was just fun. I didn't look at it as a business. I wasn't raised with that kind of head, a business head.
SJM: It was also paying the bills, but after you got a taste for acting, did something click where you said, "This is what I'm supposed to be doing?"
JC: Acting is like a drug; once you're in it, it's really hard to say goodbye to it. When you are winning, it's fabulous, and when you're not, it's very tough. I think my career will go on for the rest of my life; I can work until the end. I'm not finished yet in terms of what I'm doing next.
SJM: Walk me through what it was like just getting your feet wet in the business, working on some films and then nearly a decade later, you are one of the most popular actresses, turning up in several of the biggest TV shows of the late '70s and early '80s.
JC: One of the things I noticed today is what kids don't have is a mentor. I never had anyone explain it to me and all the managers I have had over the years, not many took the time to explain to me how the business works.
SJM: Is it true that you were originally set to star as Wonder Woman?
JC: I was up for Wonder Woman. I wasn't set in stone; Lynda [Carter] and I were both up for the part. I'm glad that didn't work out; one could get stuck in that part [for their career].
SJM: As far as your films, Blade Runner was your obvious breakout role. At the time, did you realize that it would cement you a place in Hollywood?
JC: I knew that doing a film with Ridley Scott would. I knew it would be an important film and he was an extraordinary filmmaker. I didn't know what the film would really do for me. It's carried me along in a certain way.
I think Under Fire was extraordinary for me; The Package was an amazing picture for me. The public never saw a lot of the stuff that I've done, it's kind of a shame. There's a lot of unseen footage. I did a movie, The American Standards, where I played a woman with early Alzheimer's. It never went anywhere. Alzheimer's wasn't spoken of at that time; it was too new [for Hollywood].
SJM: You've been in the business now for decades. How has it changed, for better or worse, in your view?
JC: It's really a business now. It's creative, just in a different direction. I like a good story. For me what's gone wrong with this business is the Jerry Springer reality stuff; that's so off the mark, that's what changed this business so terribly. There was a day when people made films because they loved making films, not making money. It's become a very greedy world and I don't say that lightly.
SJM: Having so much experience doing both TV and film, do you take a similar approach to both?
JC: TV is just faster. And I think it doesn't give you the time to get to know your character. I'm working on Bones now, and it's only the second [episode] I've done and it's not easy to step aboard a show and be a stranger and find your place. It all levels out eventually, but it's nice to know where you're going. The actors who stay on a show for a long time are very fortunate.
SJM: Do you have a preference between the two?
JC: I would prefer film. You can explore your character and give it depth, that's wonderful.
SJM: You had a very memorable turn on Six Feet Under as Margaret Chenowith. The show had such a cult following; fans just didn't like the show, they loved it. What do you think made the show so successful?
JC: It was so dark. It was because it was kind of a love story, but it was a twisted story and it was all about twisted kind of love.
SJM: More recently, you starred in Body of Proof with Dana Delaney. Was it weird doing a show set so close to your hometown, but filming it elsewhere?
JC: It was interesting, but I wish we had done it in Philly.
SJM: Seemingly no one ever wants to be typecast, but you've had great success in so many varied roles. Why do you think you've been able to transform yourself into these very unique and specific characters with such ease?
JC: Because I'm a Leo.
SJM: That simple, huh?
JC: I definitely have, I hope, morphed into these characters and I really try to make every character different and not be recognizable.
SJM: Looking down your résumé of acting credits and knowing where you started, are you more proud of the quality of the work you've done or the longevity you've sustained in the business?
JC: I think about the women I knew early on and they're pretty much gone. I think the longevity is really the trick to be at the place you want to be.
SJM: This issue is a big women's issue for us and features several local ladies who are making a difference. What can you tell me about the charitable work that is near and dear to you?
JC: I'm an animal activist and I've tried to keep animals out of being used experimentally. I also have a big leaning toward the elderly, which I feel has been absolutely ignored forever. It's pathetic to me that people don't think about their parents; that's very sad to me.
SJM: What else are you working on, anything you can tell us about any upcoming projects?
JC: I've got two films coming out that I just finished and I have a comedy coming out called Night Vet. I am going to do a horror picture when I finish Bones. It's ongoing, I always think I'm finished and there's something new.
SJM: That's what they call a good problem to have.
JC: It's a high-class problem.
Published (and copyrighted) in South Jersey Magazine, Volume 10, Issue 7 (October, 2013).
For more info on South Jersey Magazine, click here.
To subscribe to South Jersey Magazine, click here.
To advertise in South Jersey Magazine, click here.