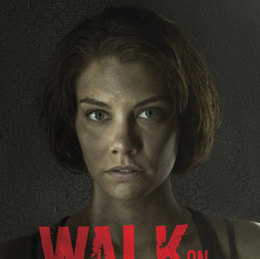 Walk on the Wild Side
Cherry Hill native Lauren Cohan takes on walkers and the role of a lifetime in AMC's The Walking Dead.
Whether you call them the flesh-eaters, walkers or zombies, one fact remains clear: America has gone wild for the undead. During the last few years, people across the country have swarmed on the zombie craze, with fans eating up films like Dawn of the Dead and World War Z.
One of the television shows fueling the zombie fire is AMC's The Walking Dead. The show follows a group of Southern strangers living in a world full of "walkers"—gory, flesh-eating corpses infected with a disease that causes them to go on the attack. The group battles walkers, other humans trying to survive in a post-apocalyptic society, and each other as they rebuild the world that has just been destroyed.
It's a show unlike any other, with an all-star cast of characters that includes Norman Reedus and Andrew Lincoln. And one of those stars is Lauren Cohan, a Cherry Hill native who joined the show at the start of its second season.
Cohan plays the fiery Maggie Greene, the tougher-than-nails daughter of the show's patriarch Hershel Greene [played by Scott Wilson] and the newlywed love interest of the show's young survivor Glenn Rhee [played by Steven Yeun]. Cohan's character is at the forefront of all the drama in a gritty, raw role that's made her one of the more talked about stars of the show.
In real life, Cohan splits her time between filming in Georgia and jumping between family in South Jersey and her home in England, where she's lived since she was a teenager—which is made clear by her acquired English accent.
We chatted with Cohan in anticipation of The Walking Dead's fourth season, which premieres on Oct. 13 at 9 p.m.
The Role of a Lifetime
The first thing I knew about The Walking Dead I learned from reading the scripts for the first episode of season two. I'm kind of slow when it comes to catching up to shows—I just started watching The Wire now. But as I was auditioning, I just fell in love with the script and I thought this is such a dream and it's so right for me to do, and even if I didn't get the chance to play the part, I would be happy just to know that she was a character. I was so in love with the idea.
Auditioning
The scene we did for the audition was when I come out and meet Glenn [Steven Yeun] on the porch, and we have a conversation about what God means to him while living at the end of the world, and I thought, 'Damn this girl is going to be great.' She's figuring herself out, and she knows what she wants and she had her own beliefs. And she's doing all of this at the end of the world. It was so amazing.
Living The Walking Dead
We want to make it real. I think people that haven't seen it yet think it's horror, and they're missing the biggest charm of the show. It's incredibly realistic. The gore is amazing, and the situations seem unimaginable, but the people are so real in such an unimaginable world. That's what makes this show so special and so relatable to everyone.
Accents
I think the most difficult part of becoming the character was learning the accent, and then not thinking about the accent. It's my first time playing a Southern accent and that was my first hurdle. There's a sweetness and a mystery to a Southern accent; it's slower and more relaxed. But luckily, everybody is amazing on set. All the English people that I work with speak with a Southern accent at all times on set. We have to, and it's so helpful. And now, a New Jersey accent would be the hardest one for me to go back to, even though I lived there for so long. It's so hard to get right without sounding like a cliché.
Becoming Maggie Greene
My favorite part of her is that she's really strong and feisty at times. She's become sort of a matriarchal person as we've progressed, in terms of how capable she is. There's so few people in the group that everyone has to be able to lead and do their part in the group, so I've gotten to travel into adolescence and into this very responsible place in this character. She's brave but vulnerable, and I've wanted to play a character that is heroic but can break down. I think that's the strength of women; that they can be powerful, have a good cry, then get things together and do what they need to do.
Behind the Scenes
I really can't describe how it is to be on set. It's intense for every person there—from the script supervisor to the lighting tech. But it's fun, too. After all that emotion, when someone cracks a joke or does something to make us laugh, it's so much funnier.
The Cast
Andy [Andrew Lincoln] is the most amazing leader. He's a coach and a mentor and an example for everyone. We are such a family, and I don't know how else to describe it. Norman [Reedus] is like the kid brother, always pulling pranks. Emily [Kinney] and Scott Wilson and I feel like a real family, and not just because we play one. When you go through scenes and are working on such emotional situations with someone for weeks at a time, you get super close. Scott calls us his daughters; we go and have dinner with his wife and we celebrate things together with each other and hang out outside of work. And I think the creatives managed to do a great job bringing in people who have very similar outlooks.
The Gory Reality
It's not easy to face some scenes. When Lori [Sarah Wayne Callies] died last season, and we were doing the scene with her in that room having the baby, your body doesn't know the difference between what's real and what's not. Afterward, I felt post-traumatic stress. During filming, I would have to walk around the corner because I would get sick and just have to catch my breath. Here I am, I just pulled a baby out of someone's stomach with a pen knife, and I'm holding onto her 12-year-old son. And it's all happening to someone I was so attached to. … Sitting in that room with Sarah—who is such an inspiration to me—and seeing her talk to Chandler [Riggs] with such sincerity, you can see the things that she's done in her past dancing through her psyche. It was such an emotional time. We're so locked into this place. I could see her give everything, and it was such a powerful moment.
Life Away From the Set
You try not to walk back into regular life! I like swimming and walking my dog. I rescued him at the beginning of the year and he's always by my side. I just like to hang. I'm obsessed with card games as well. I always have cards in my pocket. It's the perfect thing to whip out when there's some time to kill.
Fandom
I love the relationship with the show's fans so much. It's awesome. You get to meet hundreds of people that absolutely love your work. Meeting them is the best feeling. Your show makes them super happy and I just want to tell every single one of them how great they are and how much I appreciate them. It's such a beautiful thing. There's a communal loving of one thing and it's such a gentle relationship between The Walking Dead fans, which is funny because it's such a graphic show. It's such a dedicated following, and to be a part of that community is awesome.
Back in South Jersey
I used to go back and spend a month every summer, but we film in the summer now. But we have family reunions every year, so I come back at least once a year to visit family in South Jersey and Pennsylvania.
Family Ties
We're very, very close, our whole family. I always love to surprise my family in South Jersey. The last time I went to visit family in Pennsylvania and at the last minute I decided to come to South Jersey, so before I got back I got in the trunk of the car to surprise my Aunt Vivienne, and she was so scared. We would always go to Big John's on Route 70 and eat their big pickle bar. Last time I came back, my cousin Hannah had just gotten her license and she drove me back to the Philadelphia airport, and we got so lost. I think we ended up in Trenton. But we had so much fun driving around the area; it's just who we are.
Season Four
You're going to see a lot more character insight. You get to know a lot more about people and the new groups that have come into the show. There's a lot more new relationships that you'll get to see. It's the best season yet, and there's a lot going on. It's so painful for us to wait around for the premiere, just like it is for people watching.
What's next for you?
I'm working on so much right now, a movie in the very near future that I'm really excited about. You have to keep busy; you never know when your character's going to bite it.
Published (and copyrighted) in South Jersey Magazine, Volume 10, Issue 7 (October, 2013).
For more info on South Jersey Magazine, click here.
To subscribe to South Jersey Magazine, click here.
To advertise in South Jersey Magazine, click here.