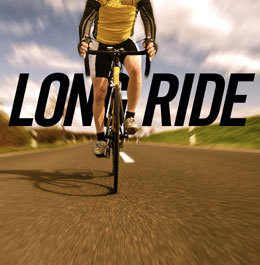 Long Ride
Whether in South Jersey or Spain, some local cyclists can coast for miles and miles.
Like everyone else, Patty Woodworth started by learning to ride a bike.
That's where the similarities end.
Her cycling obsession took off when she and her brother Jim discovered BMX racing; they poured their competitive nature into a quest to see who could go faster. As teenagers, the siblings were selling bike parts out of their parents' basement in Woodbury and running a bike track to foster interest in the sport.
In her adult years, Woodworth's passion has only deepened. She turned to road riding and mountain biking and is on course to ride 7,000 miles this year. Through her Deptford bike shop, Action Wheels, Woodworth routinely leads group rides and this year started a women's race team because "I saw so many strong women on their bikes and I felt like we needed to harness that," she says. A 40-minute conversation with her could easily run four hours, hitting every relevant cycling topic from the rash of bike trail development in the region to the Lance Armstrong effect on the sport. After wrapping up and being pressed to mention anything else, the 49-year-old mother of two replies good-naturedly, "Oh gosh, I honestly don't remember what we talked about. I just ramble when I talk about bikes because I love them so much."
It's a quality common to South Jersey's most hardcore cyclists—people who can ride their bikes for days and talk about it just as long. Their enthusiasm is rooted in the region's thriving bike scene. The growing collection of races and clubs, combined with an endless variety of routes to ride, create an inviting atmosphere for both newbies and pedal veterans alike. "I call cycling the great equalizer," says Sandy Student, captain of the Team Evesham bicycle club. "I got people from 9 years old to over 70 riding with us consistently week in and week out."
The reasons they get into the sport are as varied as their backgrounds. Student took to the bike in his late 40s to reduce the wear and tear on his body from running. Ocean City resident Jim Wheatcroft picked up the sport 25 years ago after he quit smoking. "It was kind of my therapy," says Wheatcroft, a member of the board of directors of the Shore Cycle Club, which draws from all across South Jersey. "When I had that urge for a cigarette, I'd jump on my bike and go for a little ride."
Emma Pollum decided a couple years ago she wanted to become active after her mom ran her first marathon at age 50. "At that point, I could barely run a mile," says the saleswoman and bike mechanic for Erlton Bike Shop in Cherry Hill. Running didn't appeal to her, "but then I got my hands on a nice bike and fell in love with it." The Mount Holly native enjoyed the ability to bike to work or use it to run errands. In September, she took her first long-tour bike ride, riding from Washington, D.C., to Pittsburgh with her boyfriend on the Great Allegheny Passage for nine days and 330 miles.
That distance may seem intense, but Marlton resident Jared Hoover nearly averages that every two weeks, logging about 8,000 miles a year. The 33-year-old started as a freshman in college after injuries derailed his track and cross country running; he got hooked on the sport's interplay of technology and physiology. While many riders throttle down their time on the bike in the winter, the physical therapist remains active, whether riding indoors on a bike trainer or outdoors in the freezing cold. "I will ride all year round," says Hoover, who joins many of the group rides with Woodworth. "We've been out in a high of 17 degree weather."
Keeping up a level of fitness is essential for the early spring bike tours that Hoover and many others take in Europe, riding with groups in places like Spain and Italy. While it may seem extreme, Europe's rich history when it comes to cycling makes it quite attractive to serious riders looking to conquer unfamiliar terrain.
Casual pedalers may seek out trips that include wine tastings and scenic views that make for great scrapbook photos. But for riders like Hoover and Woodworth, their treks overseas are more about "living the life" and getting the chance to experience the same roads that the pros race on television.
"We train all winter long to be fit to handle about four-and-a-half hours a day over rough terrain," says Hoover. "Typically, we ride about 400 miles in six days."
That type of commitment to the cycling culture can be hard for non-enthusiasts to comprehend. "They are typically surprised," Hoover admits of people's reactions. "I try to compare my love for cycling with something that another is passionate about. Cycling isn't just riding; it's a way of life."
While some cyclists enjoy the chance to ride on their own, the sport also creates a healthy social dynamic with larger groups. It's just part of the reason why the cycling crowd remains so close knit. "There's such a community of conversation," Hoover says. "When you're on the road for two, three, four hours together, you get to know people very well. You don't get that in running. It's not common to go for a four-hour run, and even if you do, it's not in a capacity where conversation is really convenient. You develop a lot of great friendships this way."
Bike shops and clubs throughout the area welcome newer riders and bring them up to speed on the tools of the trade. Team Evesham teaches people how to ride in a group and touches on everything from what to wear to how to eat. Daily group rides are plentiful if you know where to look. "We want people to ride, not just own bikes," says Woodworth, whose store offers group rides several days a week.
The most fervent of riders tend to spend a lot on their hobby. (If you include cross-Atlantic trips, the total can reach several thousand dollars.) Rookies do not have to spend that much, but it is roundly agreed that investing in a quality bike is a must. Gains in distance and speed can be made quickly if riders have the will and persistence. And with so many places to ride and people to ride with, there is no excuse to avoid getting back on the bike. After all, says Student, "Everyone knows how to ride a bike. You'll never forget."
Published (and copyrighted) in South Jersey Magazine, Volume 10, Issue 7 (October, 2013).
For more info on South Jersey Magazine, click here.
To subscribe to South Jersey Magazine, click here.
To advertise in South Jersey Magazine, click here.