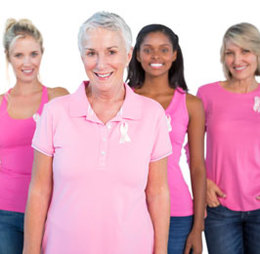 Positive Steps
Routine exams and medical advancements help give hope to the breast cancer fight.
When Liz D'Amato was diagnosed with breast cancer last year, it wasn't because she had any lumps or her gynecologist had noticed something unusual. It was because she was diligent about her yearly mammograms, which helped doctors pinpoint D'Amato's cancer early and make a tremendous difference in her ability to beat it. Today, only a month after her last treatment, D'Amato says she's doing wonderfully. Now she wants to urge other women to be aware of the importance of that yearly mammogram.
Early detection
Life gets busy and, frankly, many people find a mammogram uncomfortable or even scary. But a yearly exam is a lifesaver. "Those of us who read these mammograms know just how important it is to go every year," urges Dr. Catherine Piccoli, director of women's imaging at South Jersey Radiology Associates. "It can be easy to miss a subtle cancer one year and, if you skip your next year's treatment, you've just missed a lot of opportunity to start treatment early. From a radiology perspective, it's a difficult thing to find in the first place, so you're giving yourself the best chance of early detection by going regularly."
D'Amato's cancer was difficult to see but her radiologist gave her a jump start on treatment. "The radiologist saw something abnormal and called me back and I ended up doing nearly three hours' worth of mammography," D'Amato recalls. "It was really small and I have a lot of calcification, which made it tough to see. The breast surgeon gave my radiologist great credit for finding it so early."
Many patients are called back for possible abnormalities but it's important to remember they're not always cancer, adds Dr. Kathleen V. Greatrex, chief of radiology and nuclear medicine at Our Lady of Lourdes Medical Center. "In about 10 percent of cases, we do call the patient back for further views," she says. "That can be scary but it doesn't mean you have cancer—it just means we need to see more."
The latest in screening
The American Cancer Society's recommendation is to begin yearly mammograms at age 40—unless you have risk factors. Those patients may begin yearly testing around age 30. But it's important to remember that even without a family history, women are at risk.
"Mammograms don't prevent breast cancer but they can save a life because, when caught in stage one, your chance of survival is greater than 95 percent," says Dr. Greatrex, whose mother lost her battle to breast cancer. "Get the best quality mammogram you can find, which is a digital mammogram. It's at least 27 percent more sensitive than film and is also better for those with dense breast tissue."
Many imaging centers are also adopting new technology called digital tomosynthesis, which creates a 3-D picture using X-rays. That technology is a little more sensitive and may also be a good fit for women with dense tissue where screening is more challenging. "Studies have indicated that dense breasts may be a risk factor for breast cancer," says Dr. Dahlia M. Sataloff, a professor of surgery at University of Pennsylvania and the chair of the department of surgery at Pennsylvania Hospital. "Whether or not you have dense breasts isn't something you'd know until you have a mammogram."
While there have been tremendous advances in detection already, Dr. Arnold M. Baskies, medical director at Virtua and surgical oncologist, says the future is even more promising. "In the next decade, PET scans are on the horizon," says Dr. Baskies, who is also a past president of the American Cancer Society of New York and New Jersey. "Currently, screening with digital mammograms is the way to go with MRI used as an adjunct for women in special situations or with greater risk. But in the future, PET scans may supplant MRI."
Advances in treatment
Research is in a place where breast cancer can be effectively battled. "In terms of solid tumors, breast cancer is probably the best example of how investment in research has made major strides," says Dr. Baskies. "If you look back between 2010 and 2005, there is a 50 percent decline in just those five years in the mortality rate from breast cancer. That's an amazing example of how advances in research and treatment modalities have made a big difference in survival."
One of those advances is genetic testing. Doctors now know a woman's risk of breast or ovarian cancer is greatly increased if she inherits a harmful mutation of the BRCA1 gene or BRCA2 gene. Testing can now check for the presence of those mutations. Patients can then consider options to manage their risk factor. Angelina Jolie recently made her decision for a preventive mastectomy public, prompting a dialogue on whether or not it was a radical choice.
Dr. Sataloff, the immediate past director of the Integrative Breast Center, says it's a very individual decision. "BRCA1 confers a very high risk, which is what Jolie had, and it does make sense to do a prophylactic mastectomy; however, I never try to tell my patients what to do," Dr. Sataloff says.
Mastectomy surgery has also made significant advances. Dr. Sataloff says a nipple sparing mastectomy (NSM) has been around for the past five years or so and is an option that entails removing the breast tissue but keeping most of the exterior, including the areola complex, intact. "Not every patient is a candidate [for NSM], and factors like breast size and shape as well as the tumor location play a large role—but the results are tremendous. It's often hard to even tell the patient has had a mastectomy."
The exact options chosen are individualized to the patient but some are also candidates for chemotherapy and radiation. ProCure in Somerset offers one of the new options in radiation therapy. It's a proton therapy that, like traditional X-ray radiation, destroys cancer cells by preventing them from dividing and growing. The difference is that protons deposit much of their radiation directly into the tumor and then stop (reducing damage to surrounding tissues). D'Amato was a good candidate since her breast cancer was on the left side and traditional radiation would expose her heart. She was amazed at what ProCure's treatment did for her.
"There are so many technological advances in medicine and I would tell others to be open to them," D'Amato says. "So often people are nervous about trying something newer, but there are so many benefits to the latest technology."
While one in eight women will be diagnosed with breast cancer in their lifetime, the fact is that the latest advances are incredibly promising. "There are more than 2.6 million breast cancer survivors in the U.S.," says Dr. Greatrex. "There is definitely hope. There are lots of people who are living and who have beat breast cancer. The most important thing to remember is: Don't be afraid. Get your mammogram. It can save your life."
Life after Cancer: Treating Lymphedema
Women who have been treated for breast cancer may be at risk for lymphedema in the arm, breast or chest. This condition is caused by a blockage in the lymphatic system which prevents fluid from draining well and is most commonly caused by the removal of or damage to lymph nodes as a result of cancer treatment. As fluid builds, swelling occurs. Although there is no cure, the condition can be managed.
"Some patients who have lymphedema also experience skin changes or pain," says Elizabeth Craft, a certified lymphedema therapist (CLT) with Marlton Rehabilitation Hospital in Marlton. "They're also at greater risk for infections."
Fortunately, if you're diagnosed and treated early on, it can be more easily managed, says Craft. "It may be as simple as being cautious in order to prevent infection risk," Craft says. "That may mean avoiding sunburns or bug bites—or anything else that can break the skin. Some patients may also wear a compression sleeve."
Craft is also specially trained to perform massage known as manual lymphatic drainage (MLD) in which lymph nodes are cleared and fluid is moved to areas of the body where there are healthy nodes that can process it. For patients living with lymphedema, Marlton Rehabilitation offers a monthly support group. "This is a managed condition but there is no cure and it's something that will affect patients for the rest of their lives," Craft says. "Sometimes it just helps to know you're not alone and to be able to lean on the support of others."
Published (and copyrighted) in South Jersey Magazine, Volume 10, Issue 7 (October, 2013).
For more info on South Jersey Magazine, click here.
To subscribe to South Jersey Magazine, click here.
To advertise in South Jersey Magazine, click here.