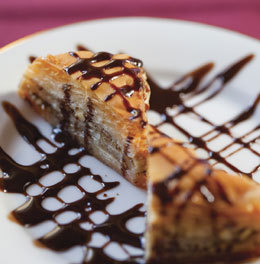 Palate Review: Mediterranean Cafe
Ultimate Authenticity: Mediterranean Café
312 N. Haddon Ave. Haddonfield (856) 433-8984 4 and half forks
While passing through Haddonfield, you might not even spot Mediterranean Café. But tucked into a triplex on Haddon Avenue, is this tiny restaurant, using its limited space to provide big, bold and beautifully authentic Mediterranean food.
On a particularly beautiful end-of-summer evening, the outdoor tables at the BYOB were almost filled with what appeared to be locals and return customers sipping on wine and enjoying the view from the quaint street. Inside the restaurant, guests can take their pick from six small tables in a dining room that gives "intimate seating" a whole new meaning.
Through the open kitchen window I could see one chef—the wife of owner Ali Salavati—working the equally quaint kitchen, waving to guests coming in and out through the evening. Meanwhile, Salavati buzzed from table to table, inside and outside, his smile beaming from ear to ear. It was like being seated at the kitchen table of the Salavati's Mediterranean home, absorbing the lifestyle that has helped inspire the family's menu.
It's a menu inspired by Greek, Iranian and Persian flavors, a small selection of plates featuring healthy doses of hearty spices and fresh vegetables. While the entrée selection was slim—featuring mostly chicken—the list of specials that the Salavatis had prepared was unusually extensive.
We started the night with a plate of falafel, spheres of ground chickpeas and fava beans, breaded and deep fried. They came on a bed of lettuce with a fresh tomato, cucumber and onion salad along with a bowl of their house-made tzatziki sauce. The falafel itself had a crispy exterior and soft, piping-hot interior that was nutty, and spiced with authentic Mediterranean flavors like cumin and saffron. It was made better by the tzatziki, which Salavati seasoned with a heavy dose of chopped dill. The crisp, fresh flavors from the sauce, and the diced veggies also on the plate, helped lighten up the fried falafel to create a really pleasant balance.
Then came a dish of mirza, a cold dip made from roasted eggplant, roasted tomato and onions, blended and drizzled with olive oil. A basket of toasted pita bread, chopped into triangles arrived alongside for dipping. Each flavor worked cohesively but still managed to stand alone and represent individual flavors, while the roasted richness stood out, as well. You could almost ditch the pita entirely, instead opting for forkfuls of this newfound addiction.
The saffron chicken came with a char-grilled breast coated in a saffron marinade and lemon juice, a blend that mixed perfectly with the aforementioned tzatziki sauce, which accompanied both entrées. The chicken breast as a whole was dry, but the flavors were still strong and the outside of the breast was charred nicely. But the accompanying vegetables served on the side could have stood as their own dish. The heaping pile of potatoes, zucchini, carrots, sweet potatoes, broccoli and more were slow roasted and crispy, lightly seasoned and decadent.
Then there was the true star of the night: an unassuming and simple plate of cubed leg of lamb and basmati rice. Chunks of buttery marinated lamb came hot off a skewer, char-grilled with a crispy exterior and bursting with natural juices. It was some of the most flavorful and well-prepared lamb I've ever tasted, and also some of the simplest. The basmati rice with a hint of saffron followed suit. Each bite was a medley of seasoning: salty, peppery, herbaceous. It was a dish that exuded pride and experience, and a genuine knowledge of the ingredients they were using.
There were no dessert options because the daily dessert dish comes out as a complimentary end-of-meal treat. Tonight's option was two generously sized pieces of traditional baklava: alternating layers of phyllo dough and chopped nuts soaked in a sticky honey-based syrup. It came drizzled with chocolate sauce, which distracted from the beautiful natural flavors of this long-standing Turkish treat. Still, the phyllo remained flaky and crunchy and the nutty filling was rich and earthy.
Mediterranean cuisine can take on many different forms, which, when being re-interpreted for our American palates, can sometimes get lost. But this tiny restaurant, stuck in the middle of a town of heavy-hitting chefs, has got it down to a science. From the relaxed and non-showy atmosphere to the subtle but well-executed pairing of ingredients and sides, there's something special about the Mediterranean Café. You just have to find it first.
Published (and copyrighted) in South Jersey Magazine, Volume 10, Issue 7 (October, 2013).
For more info on South Jersey Magazine, click here.
To subscribe to South Jersey Magazine, click here.
To advertise in South Jersey Magazine, click here.