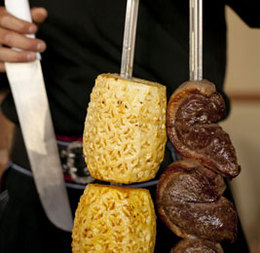 Palate Review: Rodizio Grill
Meat and Greet: Rodizio Grill
13109 Town Center Blvd.
Voorhees
(856) 344-5110
3 forks
I was thrilled when I heard that one of Voorhees Town Center's newest restaurants was going to become a Brazilian steakhouse. Since opening at the end of December 2012, Rodizio Grill is still the only one of its kind in South Jersey, and as the area food scene continues to grow, it only makes sense that we become more adventurous.
So what is a Brazilian steakhouse? Called churrascarias in South America, it's a rotisserie style of eating originating in the Pampa region of Brazil. Meats are slow roasted on swords in a roaring open grill, then served in a rodizio service, straight to your table.
Rodizio Grill sticks to its namesake, with waiters dressed as traditional Brazilian gauchos circling the restaurants in bombacha trousers holding sizzling skewers of meat. Diners are given a wooden toggle, with a green side and red side, indicating when they want to be served or when they want to take a break. From there, gauchos circulate and cut slices for each diner from around a dozen cuts of meats, fish, fruits and vegetables.
While the dining style dates back several generations, Rodizio Grill's interior gives off a more modern look. Clean and simple, it's the staff that breathes life into the restaurant, constantly buzzing around at all times. Gauchos circled around with new dishes, or stood by a roaring kitchen ready to move again. Meanwhile, an equally large waitstaff kept water glasses full and plates cleared.
Before the gauchos started slicing up dinner, we headed to the complimentary salad bar. It was overall fairly unimaginative, featuring lots of mayo-based salads and a limited selection of Brazilian or South American dishes to pick from. But the complimentary appetizers awaiting us made up for the potato salad and chicken soup available at the salad line. Dishes of banana fritas, polenta fries and pao de quiejo—Brazilian cheese bread—were hot and fresh, and could be restocked at any time during the dinner. It was a nice selection of starches to break up the spread of meats that was soon to come.
While the dinner isn't exactly an entrée, there were high and low points to the variety of dishes that came out. The picanha—a lean cut of top sirloin—is the most traditional of meats served in churrasco cooking and was well executed, with a crispy, salty exterior and soft middle. Pork dishes like the marinated tenderloin—or lombo—and grilled presunto ham were also well-cooked and juicy, with delicious seasonings.
Then came a dish of roasted catfish, served by spoon, which was beautifully flaky with well-developed flavors. And of course you can't go wrong with a skewer of bacon-wrapped turkey breast, or Peru com bacon; bite-sized pieces of salty, juicy meat.
But my favorite dish of the night took even me by surprise. I opted for slices of abacaxi, glazed, slow-roasted whole pineapple, as a way to kill time while I waited for more meat, and was taken back by how transformative this familiar ingredient was. The glaze created a crispy, sugary skin where it was kissed by the rotisserie flames, and the fruit itself melted. It was the perfect touch of sweet in the midst of salty and hearty.
While some dishes were prepared well and needed no change, I was disappointed in the lack of cooking temperatures. At Brazilian steakhouses I have visited in the past, the skewers come in temperatures ranging from rare to well done, while at Rodizio, gauchos cut everything to medium. The cordeiro—a boneless leg of lamb- was overcooked before it was sliced, and since I received a piece closer to the middle, I missed out on the seasoning on the outside of the meat. And both chicken breast dishes, spicy frango agri-doce and marinated sobre coax, were painfully dry. As were the coracao—grilled chicken hearts—which I was particularly excited to try. The hearts came chopped into tiny pieces, cooked until rubbery and inedible.
Then arrived a dish of slow-braised assado, which was actually just the gelatinous fatty remains from what should have been a beef brisket. Since you keep one plate the entire evening, I spent the rest of dinner staring at the fatty mass on my plate; not the most appetizing sight.
Through it all, I could see dozens of guests at surrounding tables sipping on milky-looking drinks, which turned out to be Rodizio limeades. It's a traditional Brazilian drink, that mixes limes and cream. I ordered mine with a shot of rum, and received a concoction almost similar to a light smoothie. It was refreshing and crispy; I could see why they kept coming out of the bar by the tray-full.
The night ended with a dessert tray, from which we picked rabanadas and their Brigadeiro royal banana sundae. The banana sundae was a flop. What arrived was a slice of chocolate cake, coated in waxy chocolate sprinkles and served with chocolate syrup, vanilla ice cream, raw bananas and whipped cream. It lacked any effort and seemed thrown together and sloppy. A cooked banana would have helped breathe some life into the plate, but amidst a pile of cold ingredients, no flavor stood out.
But the rabanadas more than made up for it. It's a Brazilian cinnamon-sugar pastry, stuffed with a cream center, fried and served with caramel sauce and a heap of vanilla ice cream. It was mild but rich and flavorful: a warm, creamy cake that seemed to fit the overall flavorful mood of the evening.
Rodizio Grill is a fun concept, and with a limited selection of Brazilian eateries in the Delaware Valley, it hasn't become kitschy or too gimmicky. And judging by the full house around us, people in South Jersey are on board. Of course, it's not for everyone; a vegetarian sitting next to us seemed particularly disappointed by the lack of veggie options, and squeals from children at neighboring tables proved that their younger palates weren't exactly enjoying their meals. I'd like to see a stronger attention to details and cooking technique, but for an adventurous and unique night out, it's certainly worth a try.
Published (and copyrighted) in South Jersey Magazine, Volume 10, Issue 7 (October, 2013).
For more info on South Jersey Magazine, click here.
To subscribe to South Jersey Magazine, click here.
To advertise in South Jersey Magazine, click here.