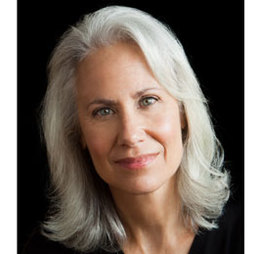 The Good Girl
Editor, author and equality activist Lynn Povich shatters the glass ceiling.
The hit show Mad Men paints a picture of the "Swinging '60s," a time where men reigned and women stood back waiting to help. But Lynn Povich lived that era, working behind-the-scenes as a researcher for Newsweek magazine with little rights and no chance to move up the ranks.
Povich—the daughter of legendary sports reporter Shirley Povich and sister of talk show host Maury—is one of the freedom fighters of that time who, along with a team of 45 other women, created the first female class action suit against Newsweek magazine. In the suit the pushed-aside women demanded equality in the workplace, a movement that spread across the journalism industry until, in 1975, almost 1/3 of reporters in the media were women.
Her monumental story remained relatively untold throughout the years, until Povich took matters into her own hands (once again) and wrote her own non-fiction account. The Good Girls Revolt, released in 2012, tells the story of how Povich's team of women changed the workplace for all.
We spoke with Povich prior to her appearance at the Katz JCC on Nov. 11, where she'll be discussing her book along with its storied history.
SOUTH JERSEY MAGAZINE: What were your goals when writing The Good Girls Revolt?
LYNN POVICH: Our story was really lost to history. Newsweek didn't have a shred of evidence about the lawsuit. Women that were working there in 2010 were shocked to find out that they were working at the spot of a landmark lawsuit. But there was also not a lot of publicity about it in general. Not a lot of people knew that we were the first, and I didn't want my legacy to be lost. I wanted the next generation of women coming up in this career to know who laid the groundwork down for them.
SJM: What kind of reaction do you get from young women in your field?
LP: They're amazed at the truth of the lawsuit. They can't believe that women were told they couldn't write. They are often amazed that they organized under a women's lawsuit right under the nose of their bosses, and how we were very successful. Three months after we filed, the women at Time, Fortune and Sports Illustrated magazines filed their own suits. It had an immediate impact on the journalistic community, and the young women today didn't know it. When I get to speak to young journalists they actually reach out and say 'thank you.'
SJM: How do you think your message impacts younger girls, who haven't had to experience gender inequality at the same level?
LP: Most people in college or university haven't experienced that much discrimination, because they are doing so well in school—more women are graduating with degrees than ever. Schools treat students fairly equally, so you don't feel discrimination, so for me to talk to them about what they may face in the workplace is important. But I also talk about confidence. These young women are very smart, and it just astounds me that they aren't more confident in their abilities. And part of it is because women are supposed to be nice, but I'm surprised that more women aren't more confident in the workforce.
SJM: How have you seen the treatment of women change in your field since your fight in 1970?
LP: It's hard to generalize, because there's been enormous progress. But Nancy Gibbs was just appointed the first female managing editor of Time magazine—that was 43 years after their lawsuit. The last few years has seen a lot of progress for women in the higher positions of news. It's interesting that it's kind of opening up two generations later.
SJM: What would you like to see change today that still hasn't?
LP: I think we need women in leadership positions. I think it's particularly hard in journalism because of the unpredictability of news and the schedule. If you want a family that is where it gets tricky—women don't see how they can be good parents and bosses at the same time. I think that a lot of news organizations are run as old boys clubs and in a very macho culture.
SJM: Your class action suit was a huge step in a time when women weren't known for speaking up about work discrimination. What was that time in your life like?
LP: It was very agonizing. Once you file a lawsuit you are protected form being fired, but here we were organizing in the office, and we figured that if they knew they would fire us right away. We were really nervous about keeping it confidential; that we do this in a very organized, strategic way. And we succeeded because we managed to time our lawsuit at the same time as Newsweek was publishing an article called "Women in Revolt." But a lot of the men who were the writers and reporters who we worked with every day were very supportive. They knew we were smart and they knew what we were capable of.
SJM: Does the TV show Mad Men get that generation right?
LP: I've been watching Mad Men and I really like it. I think they do a really good job representing the advertising industry. I feel lucky that the book came out after Mad Men, because it brought back—in a very entertaining way—that time. The women that I talk to that like Mad Men don't just watch it for the clothes; they watch it so they can see what it's like in that workplace. They identify with the women in that workplace, and I think it set the ground for having my book, a real life workplace story, come out after that.
SJM: How much did your father inspire your path to journalism?
LP: My father was such a wonderful writer that I actually avoided it! I felt that I couldn't live up to his writing, and I got into journalism accidentally. If I had gotten a job any other place who knows where I would have ended up; I think it was fated to be. My strengths were more as an editor than as a writer, and he was a better writer. But he had a great appreciation for good writing: He would often bring home great columns that he felt were well-written and read them at the dinner table. In my life, he was very much somebody who fought for the underrepresented, especially in sports. The Washington Redskins was the last team to integrate in the [National Football League], and he pounded the owner of the team to integrate in his columns all the time. That was very influential when it came to my own fight.
SJM: What was it like growing up in the Povich household?
LP: It was all about sports. I grew up with two older brothers, so it was very much about sports, so they could a lot that I couldn't do. They were bat boys for the teams, but my dad was very good about supporting me as well. While the boys were in the clubhouse, he would get one of the Washington Senators to come out and have a catch with me.
SJM: What do you want to share with your guests at the Katz JCC?
LP: I talk about the story of our lawsuit, and conjure up what the '60s were like. I talk about the book, and then I talk about where we are now, what's changed and what hasn't in today's generation.
Published (and copyrighted) in South Jersey Magazine, Volume 10, Issue 7 (October, 2013).
For more info on South Jersey Magazine, click here.
To subscribe to South Jersey Magazine, click here.
To advertise in South Jersey Magazine, click here.