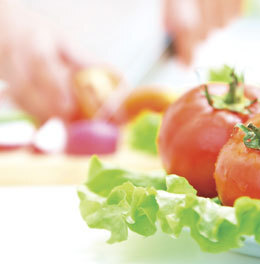 Side Dish: Getting Personal
Is hiring a personal chef something to consider for you and your family?
You've heard of personal chefs before. Maybe you've seen them on television, cooking up a dish for a stubborn celebrity or serving a party of high-profile housewives. But have you ever imagined bringing a personal chef into your own kitchen?
These days, South Jersey residents are embracing the service. Whether it's to ease the burden of a busy family or to make that difficult switch toward a healthier lifestyle, we uncovered the perks of local personal chefs.
What they do
So what can you expect from a personal chef?
"We do everything we can from scratch and everything is customized," says Nadine Manning, chef and owner of the Medford-based Truly Unique Personal Chef Service. "We cool it, package it, and put it right into the fridge or freezer."
But first, chefs will meet with each new client for an initial consultation to get an idea of who they are cooking for, including allergies, portion size and preference, and dietary restrictions. "After the consultation, before I come to cook for them, I'll put together a menu for them to review that will line up with what they're trying to accomplish and what they enjoy eating as well," says Fran Davis, chef and owner of The Flavorful Fork out of Marlton.
The chefs create a customized menu, go grocery shopping for ingredients, and prepare gourmet meals with cooking instructions. The food is prepared right in your kitchen, and cleanup is handled by the chefs when done, typically on a bi-weekly basis.
"In one day, we cook two weeks' worth of food," Manning says of the typical personal chef's model. "So clients don't have to go shopping. There's no drive time."
Making life easier
Riverton's Lora Dunnigan and her husband first decided to try a personal chef almost 15 years ago.
"At the time, we were a young family and we were just starting a new business, so time was limited," she explains. "We were eating a lot of takeout, not eating as healthily as we should. It was always stressful: At five o'clock, the kids were hungry and we were exhausted, but we still had to get home and get food on the table."
So Dunnigan reached out to Manning and the chefs at Truly Unique for help. They conducted an extensive interview and, from there, a personal chef would come by every three weeks to prepare frozen dishes to last until their next visit.
That also rings true for Heidi Fraley. "Like so many others, I'm a busy mom trying to eat healthy," says the Collingswood resident. "We were tired of ordering take-out. It's so unhealthy, and even then it takes a long time to order and you still have to run out and pick it up."
"Most of our clients are busy working professionals with kids who are just as busy," says Manning. "Now, they can just pop our food in the oven and have a home-cooked meal."
The gift of gourmet
Personal chefs are also around to provide catering for dinner parties that allow clients to bring their celebrations right into the home. The chef will cook specifically for a celebration, like a birthday or anniversary, and serve anywhere from two to 20 guests.
"I find that people really love being able to have that at home, and be able to linger as long as they want with their guests without having to worry," says Davis, who explains that these intimate celebrations are some of her most popular services available.
Dunnigan says she's been using the personal chef service as a gift for friends and family, buying one day of service for parents with new babies and, most recently, for her father-in-law post-surgery.
"We bought the service, and now that he's had the surgery, he has a few weeks of healthy dishes ready for him," says Dunnigan. "It's just one less thing he has to worry about while he's recovering."
Fraley received her first week of dinners from The Flavorful Fork as a Christmas gift from her husband. "My husband saw this and got on the Internet and really did his homework, and he found Fran."
Since then, Fraley and family have revisited Davis' services.
"It was really exciting coming home for dinner. We looked at the options and could pick from these fun choices right at home. It was like having a restaurant in your house, but everything we had were things that we picked and that we liked."
Fraley says she too plans on gifting the service out to a friend in need. "I have a high school friend who was just diagnosed with cancer, but she's not close enough that I can bring meals," she says. "This is perfect, and so easy."
A new diet
A new menu can also mean a new diet, and a chance for some struggling clients to find healthier futures.
"It really can keep you on target with your diet and your healthy lifestyle needs," says Davis. When she first meets with clients, they talk about issues they might be struggling with. Whether it is a recent diagnosis of a gluten allergy, a child with a nut allergy, or weight gain, dishes are created around the client's diet. It's a sense of relief most can't find on a restaurant menu.
Some clients don't even know they are making such significant health changes when they start utilizing personal chef services.
"We have clients that weren't looking to lose weight but they did once they got onto our program because they stopped going out to eat all the time and ate our customized meals," says Manning.
Personal service
So why not just go out and buy some frozen dinners? As Manning explains—and as picky eaters understand—the personal touch can make all the difference.
"I know a lot of people say we can go to Wegmans and get prepared foods that you just have to bring home and heat up, but everything we make is custom," she says. "So if you like Mexican food, but you don't like bell peppers, we can do that. Or we can make half spicy and the other half mild."
Fraley, a pescatarian, likes that each plate can be customized to whoever is eating it. "She gave me the menus and she'd modify things to our individual tastes," she says.
"If there was a menu with chicken in it, she would make one serving with fish for me, one serving with chicken for my husband, and deconstruct it for the kids."
Dunnigan says her personal chef service has allowed her diet to change with the habits of her growing family.
"We tried things that we probably would have never thought about trying," says Dunnigan. "And over the years as things changed, they would change for us. As the kids got older we could be more adventurous about what we wanted to try, add more spice or try new things."
For Dunnigan, it's a service you can't replicate and one her family plans on keeping for a while.
"We've gone through struggles with the economy, too, and we've had to sacrifice things in our lives like many other people, but this is one thing we just won't give up," she says. "It makes such a remarkable difference in our daily lives."
Published (and copyrighted) in South Jersey Magazine, Volume 10, Issue 7 (October, 2013).
For more info on South Jersey Magazine, click here.
To subscribe to South Jersey Magazine, click here.
To advertise in South Jersey Magazine, click here.