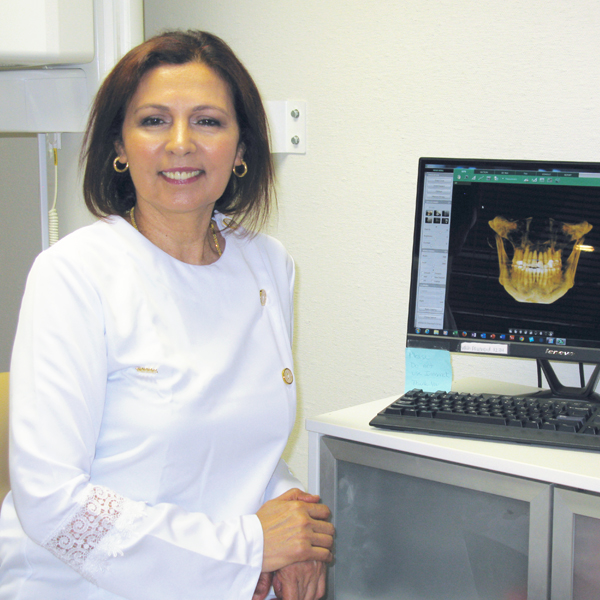 Sponsored Content: A Dentist who Gets to the Heart of the Problem
Treatment at Dental Excellence of Cherry Hill and West Deptford, goes well beyond the basics of dental care and cleaning and has proven life saving for at least one patient.

Four years ago, AlexKasprowicz went to see Dr. Zahra Afsharzand ("Dr. A" to many of her patients) for a routineteeth cleaning and his life changed drastically. Her keen observations led her to emphatically let him know that he was in dire need of seeing a medical doctor for a heart condition. Had he not heeded her advice immediately, the results could have been fatal.

Dental hygienist Julie Defeo noticed Kasprowicz's pulse was extremely low while checking his vitals—a policy in place for all patients coming to Dental Excellence of both Cherry Hill and West Deptford. After taking his pulse several different ways, the concern deepened. At the dental staff's urging, Kasprowicz and his parents went to the doctor the next day where they did an EKG and discovered a blockage. Further testing during a week's stay in the ICU revealed he had a genetic heart disorder— hypertrophic cardiomyopathy.

This condition often goes undiagnosed for a majority of people. Unfortunately, the disorder is typically uncovered after a sudden death. Kasprowicz, who had led a very active life playing lacrosse and swimming, was putting his life at risk withouteven realizing it. The fact that Dr. A's practiceis interested in the health of the whole patient, and not just their teeth, was the reason Kasprowicz and his family are forever grateful to Dr. A.

Kasprowicz underwent surgery and had a pacemaker defibrillator implanted. As a result, he can no longer play any heavy active sport, including his beloved lacrosse with which he was an avid and accomplished athlete, but he is alive. We caught up with Kasprowicz recently. He is now 28 years old and his life has found some new meaning thanks to Dr. A's life-saving diagnosis.

"I love playing lacrosse, and I miss it," admits Kasprowicz during a phone interview from his home in Seattle, Washington. "But I found a way to enrich my life in a way I did not expect." Because he can no longer play the high-contact sport of lacrosse, he moved into coaching. He is now the head coach of a state championship high school team, and also coaches a youth group of fifth and sixth graders. "There is a whole new level of rewards in coaching. I get to see immediate results from my suggestions, watch these young people grow in skill and character and stay connected to a sport and activity I love and give back to the community. I never would have gotten thatopportunity had it not been for Dr. A."

Dr. Afsharzand is a dentist and a prosthodontist, which specializes in the restoration of oral function by creating prostheses and custom restorations. She completed her graduate training at Temple University and taught for many years as an adjunct professor at University of Pennsylvania. Both of her practices in New Jersey provide general and specialty prosthodontic dental treatment, as well as treatment for periodontal disease, orthodontics and cosmetic and implant dentistry. She is a member of the American College of Prosthodontics, the American Cleft-Palate Craniofacial Association and the American Dental Association.

A holistic approach to care with an emphasis on prevention has been a part of Dr. A's philosophy since she established her practice more than 15 years ago. "I look at the whole patient so I am aware of any health concerns they might have," she says. "I felt it was a good idea to have a blood pressure protocol in place. If a patient's blood pressure is too high, we will make a note in their chart and recommend for them to see a physician. This also gives us a baseline blood pressure that we can monitor in their future visits." Dr. A says she has noticed an increase in patients with high blood pressure and for some of them, they weren't even aware. "Blood pressure will also help us determine the proper anesthetic for dental procedures which is extremely important in the treatment of a patient," explains Dr. A.

Dentists can recognize other health issues as well, such as obstructive sleep apnea and temporomandibular joint disorder (TMJ). Those suffering from TMJ clench and grind their teeth while sleeping, leading to headaches, jaw and ear pain which could potentially degenerate the joint. Dr. A offers appliance therapy and Botox injections which work well for her patients.

Sleep apnea is a potentially life-threatening sleep disorder characterized by repeated pauses in breathing during sleep, lasting anywhere from several seconds to minutes. This ongoing disruption causes an imbalance between the carbon dioxide and oxygen levels in the bloodstream; not enough carbon dioxide is exiting and not enough oxygen is entering the body.

During an exam, Dr. A may notice if a patient has a larger tongue, low palate or big tonsils, making them more prone to have obstructive sleep apnea. She also asks a series of questions about how well rested the patient is, looking for signs of sleep deprivation. From there, she may recommend an ENT for further evaluation to confirm if it is sleep apnea. "Once diagnosed by the physician, we will recommend they be fitted for a sleep appliance, which could eliminate the need for a CPAP machine, and may be more comfortable," she says. These appliances are custom made in Dr. Afsharzand's office.

Comfort and safety are a main concern at Dental Excellence. "We know there is often a stigma about going to the dentist," observes Dr. A. "We keep our atmosphere warm and relaxing with cool colors and a friendly staff. Each practice is also metal free and all composites are BPA free. For patients referred by a physician with mercury toxicity, we have a special protocol that protects them from any increased toxicity while removing old fillings. We have them use a charcoal rinse ahead of time, which lines the mouth and absorbs the mercury. We then place a special vacuum and suction near their mouth to extract any fumes," she says.

Dr. Afsharzand's holistic approach to treatment has made her so popular with patients. "We don't just look at our patient's teeth," she says. "We consider the greater issues a patient may have, whether anatomical problems in the mouth/throat or underlying medical concerns. We view the body as a whole, of which the patient's mouth is a part of, and understand that altering one tooth may have an effect on their overall health. There is a great responsibility when treating a dental patient, one we don't take lightly. We form lifelong relationships with our patients and their families, and we appreciate their trust in Dental Excellence."
Dental Excellence of Cherry Hill
31 Covered Bridge Road
856-428-2550
CherryHillDentalExcellence.com
NewJerseySleepSolutions.com

Dental Excellence of West Deptford
800 Jessup Road, Suite 805
856-845-4390
WestDeptfordDentalExcellence.com
To read the digital edition of South Jersey Magazine, click
here
.
Published (and copyrighted) in South Jersey Magazine, Volume 16, Issue 3 (June 2019).
For more info on South Jersey Magazine, click
here
.
To subscribe to South Jersey Magazine, click
here
.
To advertise in South Jersey Magazine, click
here
.