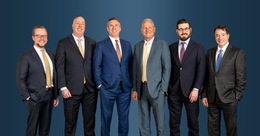 Giving Clarity to Financial Planning
At Claritas Financial Partners, putting the client first and supporting the community are always priorities.
At Claritas Financial Partners, clients come first.
"Our main focus is the client," Jim Pacheco says. "We want to make sure that with every client we see, their goals and objectives are met based on what they want."
Pacheco, Brian M. Lynn and John Fessler are the three partners leading the way at Claritas Financial. The Marlton-based company grew out of a desire to better serve clients after Pacheco and Lynn felt the firms at which they were previously employed were falling short. And despite opening its doors not long after the start of the pandemic in May 2020, the decision to do so was clearly the right one.
"It turned out to be a great time to do it," Pacheco says. "People still needed to do their planning, and at that point they really needed to talk to somebody."
The clientele base has continued to grow over the past three-plus years. This is no doubt in large part due to the firm's client-first mentality, but the wealth of experience and knowledge the Claritas Financial team brings to the table doesn't hurt either.
While the firm may have only just started, Pacheco himself has been in the industry for more than 30 years. He worked for a few firms before starting Claritas Financial, and the fact that he has clients that have followed him from the beginning is a testament to how he does business.
"Claritas means clarity, and that's a big thing for us," Pacheco says.
The goal at Claritas Financial is to bring clarity to clients' financial lives. The team, which also includes wealth advisors Peter Berlin and Nick Bevad, does this by guiding clients to what will work best with their future.
"Not tell you what to do," Pacheco stresses, "but give you guidance."
Transparency is also a big thing at Claritas Financial. The team is upfront about costs and how they work from the get-go, building a comfortable rapport and trust with clients from their initial consultation.
There is no limited focus at Claritas Financial either. The firm offers a wide range of financial planning services, from college to retirement, as well as wealth management advisory programs.
"We do custom planning," Pacheco explains. "Any time anybody comes in or talks to us, it's all custom-based on what their goals and objectives are."
Pacheco adds that Claritas has "plenty of resources" for all types of planning, and there is the option of fee-based planning, too, for those who want to go that route.
"I like having the ability to have all the products and services that we can offer. Not everybody wants the same thing or needs the same thing," Pacheco says.
He's also proud of the collaboration among the firm's partners, which he believes gives clients even more options. The strength behind the team is helpful for bigger clients as well, such as with setting up a company's 401K plan.
While ancillary things have changed in the financial planning industry over the years—such as fewer companies offering pensions, more clients seeking long-term care planning for aging family members and tax bills evolving—the basics have stayed the same, according to Pacheco.
One of those big "basics," Pacheco says, is retirement planning.
"People want to have a plan so they can retire. That hasn't changed," he says.
While it's never too late to start preparing for one's golden years, the earlier the better mentality is best when it comes to retirement planning. When Pacheco holds 401K enrollment meetings for a company client, for instance, he will tell the 22-year-old employee to start saving now.
"There's never a wrong time to start planning retirement. It's just a matter of expectations," Pacheco says.
The Claritas Financial team doesn't look to only support its community with financial planning. Supporting nonprofits, volunteering and helping their neighbors is a passion for everyone on the team, too.
The company has continued to build upon this mission since opening its doors, having supported notable organizations like Samaritan Hospice, Operation Yellow Ribbon and The Joseph Fund along the way. Pacheco recently took part in the 22nd annual Ride to Remember in honor of firefighters and police officers who have fallen in the line of duty. As a volunteer firefighter for more than three decades, this cause is especially close to Pacheco's heart.
"It's a passion," Pacheco, who served in the past as both battalion chief and deputy chief, reflects. "I have thought about saying, 'Hey, I'm done.' But I can't do it. It's something that's borne into me, I guess."
When looking at his life—his family, business, financial situation—Pacheco recognizes that he is blessed. He views volunteering and supporting his community simply as his way to say thanks, and he's proud to further this outreach with Claritas Financial Partners.
"We formed this not only to help our clients, but we want to be very big in the community base," Pacheco says. "We want to be part of the community and give back."
Claritas Financial Partners
Marlton
(609) 888-6779
ClaritasFinancialPartners.com
Securities and advisory services offered through LPL Financial, a registered investment advisor. Member FINRA/SIPC.