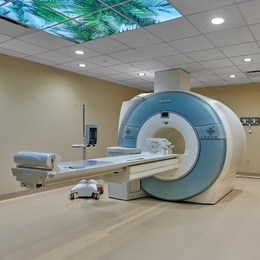 Where Evolving Technology Meets Empathetic Care
The comprehensive, innovative suite of radiology services at Jefferson Outpatient Imaging provides South Jersey residents with high-quality, compassionate treatment options right in their own backyard.
Jefferson Health's radiology department is one of the largest in the Greater Philadelphia region, leading in innovation and comprehensive diagnostic radiology services while offering a full range of imaging services using state-of-the-art equipment at hospitals and imaging centers throughout Pennsylvania and South Jersey. With a rich history spanning several decades, Jefferson Radiology has earned a reputation for its exceptional patient care, cutting-edge technology, and commitment to advancing the field of radiology, among many of its services and treatments.
To ensure patients receive the highest quality care, Jefferson's Department of Radiology has nine subspecialties with experts who perform and interpret imaging studies of specific areas of the body. That includes 3T MRI, arthrography and MSK ultrasound, which help to diagnose and treat common injuries.
Jefferson Health was founded with the vision of revolutionizing outpatient medical imaging and radiology services. Over the years, the practice has grown to become a trusted name in the medical community, serving patients across Greater Philadelphia and South Jersey. With a reputation for putting patient care at the forefront of its services, the jump in subspecialty treatment was a natural progression. In radiology, a subspecialty means that the clinician has received special training in imaging a particular area of the body, such as the brain or vascular system.
Dr. Evan Rochlis, a South Jersey native who graduated from the Cooper Medical School of Rowan University in 2017, specializes in diagnostic radiology and internal medicine. "This type of care really affects everyone in the population. At some point in life, you're going to injure a bone or have issues in your joints. For most of us, it won't be a sports injury but more everyday mishaps," he explains.
Musculoskeletal (MSK) injuries result from the damage of muscular or skeletal systems, which usually occur due to strenuous and/or repetitive activity—and aren't limited to sports-related damage, though Jefferson's MSK radiology department does serve as a consultant to Philadelphia's professional athletes and even visiting sports teams. This means they perform imaging for the Eagles, Phillies, Flyers, Sixers and the Pennsylvania Ballet.
MSK injuries are among the most common work-related injuries, and include several disorders involving the muscles, bones, tendons, blood vessels, nerves and other soft tissues. Commonly referred to as repetitive strain injury (RSI), some examples of musculoskeletal disorders include carpal tunnel syndrome, tendonitis, tenosynovitis and bursitis.
"I am specialty trained in musculoskeletal imaging, especially sports injuries, which is something I truly enjoy. I see patients from amateur high school athletes to weekend athletes, to professional athletes. It's my job to understand the mechanism of the injury, what the orthopedic surgeon will need to know, and the implications of the injury," Dr. Rochlis explains. "In addition to interpreting the image, I can perform procedures in the office, which a lot of radiologists aren't able to perform, due to the lack of specialization or the availability of time. So if I have a patient who comes in with arthritis, or tennis elbow, I can give them joint injections at the visit, which will help make them feel better over time."
In addition to offering subspecialty care, Jefferson Outpatient Imaging recognizes its role as a health-care provider within the community, putting patient convenience and satisfaction at the forefront. With two convenient South Jersey locations, located in Marlton and Washington Township, each facility offers friendly staff, easy and direct scheduling, same- and next-day availability, state-of-the-art equipment, and—most importantly—hours on most evenings and weekends.
"We realize that anytime a person needs to see a doctor, they aren't having the best day, so we keep that in mind when we are treating our patients. We offer things that keep it convenient," says Dr. Rochlis. "My mother was diagnosed with cancer when I was young, and I remember how important it was for her and my entire family to be treated by specialists, and most importantly, with empathy. It is something that matters to me, and I use it as a reference when treating my patients."
Looking ahead, Jefferson Radiology aims to continue pushing the boundaries of radiology by adopting emerging technologies and methodologies. Jefferson Outpatient Imaging is dedicated to providing exceptional patient care in a comfortable, convenient outpatient environment. In addition to MSK imaging, other services available in South Jersey include CT lung cancer screenings, cardiac CT calcium scoring, x-ray, 3D mammography and DEXTA bone density scans.
Jefferson Radiology stands as a testament to the pursuit of excellence in the field of medical imaging, offering not only accurate diagnoses but also a compassionate and patient-centric approach to health care.

Jefferson Outpatient Imaging
Serving South Jersey
(215) 503-4900
JeffersonHealth.org/JOI