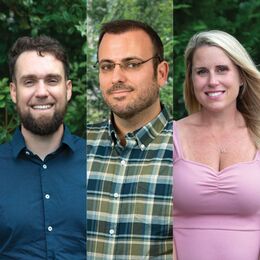 A Comprehensive Approach to Wellness
Utilizing an evidence-based model of care, Beautiful Minds can help individuals, youth and families experiencing mental and behavioral health challenges.
When Jeff Cox founded Beautiful Minds, a mental health agency geared toward individuals, children and families, in 2016, he had no way of knowing the monumental changes that were to come a few years later as a result of the COVID-19 pandemic. Of course, some of those issues still linger today in the form of depression or anxiety that many continue to experience, but there is one positive development that has happened, at least in Cox's eyes: The stigma surrounding mental health has started to lift, and those in need of help are more open to asking for it.
"The pandemic made a lot of people aware of mental health challenges and how they can affect people of all ages," he says. "And with New Jersey changing their focus with a new initiative called NJ4S—which is essentially a program the state developed to assist schools in addressing the mental health crisis—there's a lot more focus and a renewed vision of what mental health services are, and the fact is now we feel more supported than ever in our efforts."
That progress is crucial because, as Cox notes, "the need for services has skyrocketed" since the pandemic, particularly in regard to children and young adults. Beautiful Minds is here to assist, offering clinical assessments, rehabilitative in-home services, outpatient services, special education advocacy, all that improves one's level of functioning at school, at home and in the community.
Beautiful Minds has locations in Sicklerville and Linwood—with another soon to come in Cape May Court House—but can also provide its vital services throughout the state via telehealth, an option that Cox says has increased dramatically and is especially welcoming for busy families. No matter how clients receive services, they can expect a multidisciplinary approach that embraces a wide range of evidence-based modalities guided by the latest in scientific research.
"I wholeheartedly believe that utilizing evidence-based approaches is beneficial to every client that our organization works with," says Jenny Beasley, Manager of Outpatient Services. "The amount of time and energy that our clinicians put into becoming certified and keeping up on their education is insurmountable and shows in their work with clients, and something I feel our agency places much emphasis on. It's so important to remember that we are whole people, and all aspects of our health need to have support and connection—the mind, body and spirit. Clients are met with not only evidence-based models, but empathy and patience in each encounter."
"Using evidence-based approaches is statistically the most effective when providing therapeutic services, which is why Beautiful Minds is so adamant on implementing them," adds Nick Maccarone, Manager of In-Community Services. "Strengthening the mind, body and spirit is a three-headed monster, similar to the Cognitive Triangle, in that bringing your attention to how all three are interconnected can bring valuable insight into the presenting problem."
When first meeting a new client, the Beautiful Minds staff will ask plenty of background questions to determine the exact nature of the problem, the intensity, and the frequency. Several different modalities may be utilized for treatment, including Applied Behavior Analysis (ABA); Trauma Focused Cognitive Behavioral Therapy (TF-CBT); Attachment Regulation and Connection (ARC GROW); Parent-Child Interaction Therapy (PCIT); Child-Parent Psychotherapy (CPP); Infant and Early Childhood Mental Health; Attachment-Based Family Therapy (ABFT); and Social Emotional Learning (SEL).
"We use a lot of positive psychology," Cox says. "We like to use evidence-based practices that are based on research in terms of neurocounseling and a brain-based approach."
And that approach is very much built on the needs of the individual and includes collaboration with other providers to gain a deeper understanding of how to best treat a client.
"Our therapists are not one-size-fits-all, meaning we have therapists from all races, ethnicities and backgrounds, and they all have specialties. You need a therapist to be passionate about what they practice; if they're not, then you're not going to see a positive outcome."
Cox, who has close to 20 years of experience in the field, built into the Beautiful Minds approach a collaborative model which supports the use of community partnerships such as care management organizations (CMO), mobile response (MRSS), school districts and health care providers. "Most schools are not equipped to handle the mental health concerns of their student bodies," Cox says, which is one reason why Beautiful Minds' services are so in demand.
That may especially be the case as a new school year begins and students are adjusting to new teachers or other authority figures, different bus routes and a modified schedule, leading to anxiety-driven behavioral issues.
"Any time is a great time to check in with children and make sure they have confidence and are prepared for success in all aspects of their lives," Beasley says. "But absolutely, beginning a new school year can cause an increase in stress and anxiety in many children, adolescents and young adults. … Each grade has new and exciting changes, but everyone can use a little support, even for the changes we are excited for. Adults can also meet with our clinicians in learning how to support their child in every aspect of their life, and working together to achieve greatness."
Maccarone, a parent himself, adds that constant dialogue is key in addressing any difficulties that may arise from changes like puberty, social pressures or academic challenges. "Sitting with your child once a month to have a mental health check-in can help you be proactive to reduce any difficulty from gaining steam and spiraling out of control," he says.
For the Beautiful Minds team, there is no greater reward than seeing positive outcomes for individuals, youth and families.
"Families are always going to be in some type of need, because growth and change are part of what a family does together," Cox says. "But that growth and change shouldn't create instability."
Beautiful Minds
(609) 350-5007