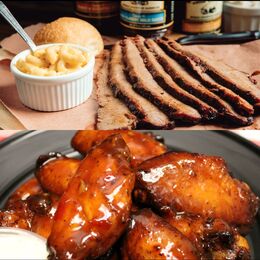 A South Jersey Staple
What started as a hobby for three men from Arkansas led to feeding thousands of starving children around the world.
While the world-class barbecue and charitable wings of Whole Hog Cafe and Wing It Forward are local favorites for Medford and Cherry Hill residents, the delectable and philanthropic journey didn't start in South Jersey.
Flashback to 2000, when three men from Little Rock, Arkansas, decided to enter their ribs in the annual Memphis in May World Championship Barbecue Cooking Contest. The team of Mike "Sarge" Davis, Ron Blasingame and Steve Lucchi took home second place in the highly acclaimed competition.
Just two years later, they entered the contest again, reclaiming the second-place title for their ribs while also becoming World Champions in the "Whole Hog" division.
"And that's when we became Whole Hog Cafe - World Champion Barbecue," explains Chris Maynes, President of Whole Hog Cafe and Wing It Forward. The award-winning trio opened the original Whole Hog Cafe in Little Rock in 2000, adding the Championship title to its name two years later.
The original restaurant became an instant success, and the Whole Hog brand was growing quickly. Then, in 2009, Blasingame passed away, and his wife Kathy asked her younger brother, Chris, to take over Ron's duties as the "business guy" of Whole Hog Cafe. Chris Maynes, who was working in Philadelphia at the time, took a leap of faith and joined his sister with plans to bring Whole Hog to the East Coast.
The Cherry Hill location opened in August 2013 and became New Jersey's first official introduction to Whole Hog's mouthwatering barbecue. Three years later, a second location popped up, this time in Medford.
While Whole Hog continued to grow in South Jersey, another business was sprouting, again as the result of another winning recipe and some Arkansas inspiration. Just months before the Cherry Hill location opened, the Whole Hog team entered their wings into the Memphis in May wing competition.
The wings placed first out of 123 submissions and were immediately added to Whole Hog's Cherry Hill menu. While they did well there, Maynes knew that the wings could be the foundation for another great brand while creating an even greater impact.
In July 2020, at the height of the COVID-19 pandemic, the team started that other brand. Wing It Forward, a virtual storefront that ran through Whole Hog's Cherry Hill location, was born as an outlet to sell those world-class wings. Maynes credits his wife for the clever name, which incorporates the savory food and the "pay it forward" aspect that the restaurant embodies.
With every 10 wings sold, Wing It Forward donates one meal to Feed My Starving Children. The Christian nonprofit organization was founded in 1987 and provides nutritional meals to starving children in over 70 countries around the world.
Maynes says he got the idea for the philanthropic addendum from a past dining experience. "There's a chain in Arkansas that does the same thing, and I'd eaten there and was like, 'Wow, this is pretty cool,'" Maynes explains. Now, he can give his customers the same soul-feeding satisfaction that he garnered inspiration from back in Arkansas.
According to Feed My Starving Children, MannaPack meals were created by food-science and nutrition professionals. While there are now three different meal formulas, the original MannaPack Rice was created by Cargill food scientists and Pillsbury and General Mills colleagues in 1993 specifically for malnourished children, as it's rich in vitamins and minerals.
Wing It Forward has donated over 8,000 of those nourishing meals since joining Feed My Starving Children's efforts.
In July of 2021, Whole Hog Cafe and Wing It Forward made even greater strides in the restaurant scene. With Whole Hog Cafe's Medford lease coming to an end, the team decided to move the location to another part of town: The Feed Mill, where there's room for both Whole Hog Cafe and Wing It Forward storefronts. The restaurants' neighboring brewery even adds a bonus to the move and subsequent expansion.
"King's Road Brewing Company is right next door, which is very complementary to our business. We're good for each other. They can't sell food, we can't sell beer, but you can take our food to the brewery or bring cans of their beer to our restaurant," Maynes explains.
Since opening up two Whole Hogs and one Wing It Forward in New Jersey, Maynes hasn't returned to compete at Memphis in May, which he admirably regards as "the Super Bowl of barbecue." However, sending thousands of meals to children across the world is even more rewarding than any first-prize trophy.
"For me personally, the business has taken over my life," Maynes says. "We're looking forward to possibly opening up more of these dual concepts and trying to grow the Wing It Forward brand."
Whole Hog Cafe
and Wing It Forward
Medford:
67 N. Main St. | (609) 678-1808 | (609) 451-5851
Whole Hog Cafe | Cherry Hill:
1811 Route 70 W. | (856) 910-8060