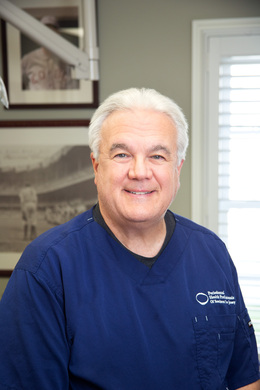 Oral Health to Smile About
A trip to the dentist doesn't have to result in anxiety: With new technology available, a preventative check-up or treatment can be a life-changing visit.
Routine oral care includes maintaining not only your teeth but also your gums. Without healthy teeth and gums, one can have trouble eating, speaking or even smiling. And of course, gum disease can have a deteriorating effect on teeth.
Gum disease can be caused by a variety of common lifestyles and habits, such as smoking, stress, taking medication, teeth grinding and poor nutrition; other natural occurrences such as menopause, puberty and pregnancy can also be the source of periodontitis. As a result, non-oral complications may arise—making it even more vital to address dental problems early.
But with the professionalism of Dr. Gail Childers' periodontal care, his patients have no problem showing off their beautiful smiles.
"Optimizing your oral health affects so much more than your mouth; periodontal disease has been linked to major systemic illnesses from heart disease and diabetes to preterm birth and Alzheimer's. The practice focuses on exceptional care using precise, effective treatment," says Dr. Childers.
Dr. Childers has practiced periodontics in South Jersey for 30 years after receiving his B.S. in pharmacology and DMD from Temple University, as well as his license for pharmacy and specialization certificate in periodontology. He is board-certified as a diplomate of The American Board of Periodontology, and has received the HARCO award for periodontics. As yet another testament to his expertise and reliability, Dr. Childers was the former president of the Northeastern Society of Periodontology and a fellow of the International Team of Implantology.
He frequently shared his knowledge and worked as a clinical assistant professor at University of Pennsylvania School of Dental Medicine (Department of Periodontology and Periodontal Prosthesis). In addition to specializing in periodontics, he has consulted manufacturers of dental implants with his extensive knowledge in both niches; therefore, Dr. Childers recommends the PerioLase as an alternative to dental implants—which are increasingly failing. It can also provide a solution to the problems caused by dental implants.
"Dental implants will age, and they do build up disease over time in the tissues affecting the bone for the same reasons their natural teeth failed to begin with to put them in dental implants … We need to suppress the disease, disinfect the implant and allow for the energy to offer rapid wound healing," he says.
With LANAP laser treatment technology—also known as the PerioLase—periodontal disease can be reversed. This innovation provides for a procedure that is non-surgical, whereas surgery was once required to diagnose periodontitis. Dr. Childers has three decades of experience with LANAP's minimally invasive protocol, which is the only FDA approved laser treatment for periodontal disease. The procedure regenerates destroyed bone and tissue, saving teeth without the pain of surgery. Dr. Childers emphasizes that patients choose this procedure because there is minimal pain and recovery, as well as "no foreign body materials [and] no sutures."
"Near infrared light energy promotes faster wound healing and induces stem cells promoting regeneration of the bone and tissues lost to periodontal disease or peri-implantitis," he says, adding that it is considered a "more holistic approach for treatment."
Needless to say, this procedure is revolutionary, and it is an appealing option for a pain-free approach to healthy and cosmetically attractive results. Patients also do not need to stop taking blood thinners or medication to receive LANAP treatment. The outstanding treatment that is provided by the practice takes everything into account for total and complete care, and to improve a patient's overall quality of life. Each patient is given a "personalized treatment plan crafted on each patient's unique needs."
"[Patients] see immediate health benefits with their medical condition by suppressing the pathogens in their gums with the laser, opposed to cutting and trying to use traditional mechanical instrumentation and invasive surgical options," says Dr. Childers.
The innovative LANAP treatment in accordance with Dr. Childers' innovative practice yields long-lasting results when compared to conventional treatment. Patients are guaranteed to experience minimal discomfort during the procedure and after. The treatment not only is highly effective in restoration, but also makes it easier to complete everyday functions like eating or brushing one's teeth. Stop suffering in fear of surgical procedures, and consult with Periodontal Health Professionals for the most up-to-date periodontal health.
Periodontal Health Professionals - Dr. Gail Childers
Marlton: 48 South Maple Ave., Marlton
(856) 983-5593
Turnersville: 900 Route 168, Suite B-6, Turnersville
(856) 228-4141
DrGailChilders.com