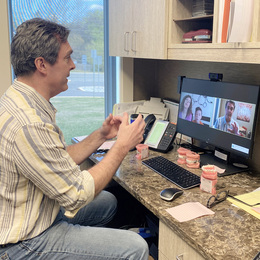 Kadar Orthodontics: 30 Years of Awesome Smiles
Over the past 30 years, Kadar Orthodontics have brought beautiful smiles to South Jersey.
Having a great smile is an asset both personally and professionally. But achieving it comes down to selecting the right orthodontist. Making the wrong choice can result in permanent damage to your teeth and to your wallet.
For the past 30 years, Dr. Tom Kadar has created thousands of awesome Kadar smiles. His focus is on providing top-notch care that's affordable, fast and easy. That's why Dr. Kadar is consistently voted as one of South Jersey's top orthodontists.
Making orthodontic treatment affordable is a priority for Kadar Orthodontics. Their budget-friendly payment plans include no-interest options and down payments as low as $250. You simply choose the down payment, monthly payment amount, term and date of payment that work for you.
The Same Day Start Program at Kadar Orthodontics can get your new smile started in a single day rather than weeks later. Utilizing virtual technology, Kadar Orthodontics performs a remote consultation before a patient visits the office for the first time. This allows Kadar's board-certified orthodontists to create your custom treatment plan and to prepare everything before your first in-person visit.
Throughout the process, the team of professionals at Kadar Orthodontics monitors and adjusts your treatment plan based on growth, development and tooth movement. To make it easier on your schedule, both in-office and virtual appointments are available throughout the day, including early mornings and evenings.
Over the past 30 years, Kadar Orthodontics has treated multiple siblings and multiple generations within families. "We have never forgotten the importance of our patients and treat them like they are our family," says Dr. Kadar. "Putting our patients first is why we have flourished in South Jersey and been able to grow with our community."
By combining their budget-friendly payments plans and proven processes with the latest in virtual technology, Kadar Orthodontics can create the awesome smile you've always wanted. It's never been faster, easier or more affordable. Let's get started today!