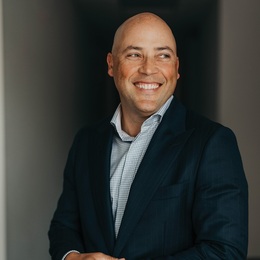 A Bold Step Forward
Financial advisor Jason Braatz and his team at Braatz Wealth Advisors are offering their clients comprehensive services thanks to a recent alignment with Pine Valley Investments.
"The best way to find yourself is to lose yourself in the service of others."
This compelling quote from Mahatma Gandhi details the inner reward that comes from helping others, especially within your community. Fueled with a deep passion to connect with people and believing in the importance of serving the community, Jason Braatz knew very early on what he wanted to do with his career to merge these ideals. Laser-focused on the bigger picture, Braatz decided the best way he could improve the lives of others was by helping them have financial freedom through educated and well-advised financial decisions in a fully transparent way.
"Truthfully, I knew as early as high school that I wanted to work with the community through the finance industry as an advisor," explains Braatz. "I committed to pursuing my education with the goal to land a career at Morgan Stanley."
And Braatz went on to do just that.
With a bachelor of science in business from Nyack College, Braatz's two-decade career did in fact begin at Morgan Stanley, where he honed his expertise in client development, asset management and financial planning. He further solidified his skills through mergers and acquisitions, including a partnership with the renowned Citi Family Office, serving ultra-high-net-worth families.
"It has always been my priority to guide my clients toward financial prosperity and empower them to embrace a secure and abundant future. If you look at the average American family, one of the leading causes of divorce is the mismanagement of finances. With the right financial guidance, that can not only be avoided but to the contrary, wherein you are reaching your financial goals," Braatz says. "I have always been passionate and interested in the human connection of this industry. Sure, we all work to make a living, but getting to truly know my clients, understanding what is most important to them and assisting them in reaching lifelong goals is the real passion behind what I do."
New Beginnings
---
With a deep understanding of the financial landscape under his belt, Braatz recently made the bold move to leave his long-standing career at Merrill Lynch to pursue his dream of starting Braatz Wealth Advisors.
"I had great experiences and am thankful for my time at Merrill, there are great people there and a storied history, but I made this decision because I felt it was truly best for my clients. As a fiduciary, I thought it was important to truly be a full fiduciary. I didn't want to have hidden agendas that sales organizations can have like commission or sales goals to create conflicts of interest. As a fully independent registered investment advisor, I can offer full fiduciary, unbiased advice in a fee-based asset management structure," he explains.
Braatz and a few of his recent colleagues, who also believed in the same transparency, joined Pine Valley Investments (PVI) and have quickly built a reputation for integrity in the wealth management arena. "Many advisors will move firms and, in the process, receive large signing bonuses for the transition. In joining Pine Valley Investments, I passed on a large signing bonus and went where I thought my clients would do best. I believe that to take a client-first approach, it can't be just words: You have to demonstrate that commitment with your actions. Fortunately, my whole operations team saw that commitment and joined me on the move," he explains.
So, Why Pine Valley Investments?
---
"When starting a new venture, there's always a learning curve. I joined PVI because they are tenured, established money managers that can dramatically decrease my curve and give me in-house operations, HR technology and proprietary trading and research. They were also recently ranked in USA Today* as one of the top 500 RIAs in the country and one of the top 12 in New Jersey," Braatz says. "PVI provides me with the best technology and most resources to focus on my clients' investment and planning goals as they built a turn-key solution for experienced and proven advisors."
With the new structure at Braatz Wealth Advisors, Braatz and his team are no longer restricted to one institution or solution. "I now have the option to engage with various institutional partners for custodial or investment solutions such as Schwab, Raymond James, LPL, Goldman Sachs, etc.—solely based upon Pine Valley Investments, and I believe they offer something better for the clients."
A Cut Above the Rest
---
At Braatz Wealth Advisors, Braatz specializes in income generation and asset management for retirees and business owners. He excels in retirement planning, creating sustainable income streams, and providing virtual CFO services tailored to business owners' needs. Braatz has also developed a unique specialty in asset management and protection for professional athletes. Leveraging his experience, he navigates their financial complexities, safeguarding and growing their wealth throughout their careers and beyond.
At the core of his approach is his dedication to building deep relationships with his clients. He maintains constant communication and collaborates with industry specialists to ensure outstanding outcomes. "I've been very fortunate to have the majority of my clients follow me on this new chapter of my career. I truly believe it's a reflection of how much I care about them and their needs. All of my clients are treated with the same respect, time and attention, no matter how large or small their investments are," Braatz explains.
"Every day I'm here I get more excited for the flexibility this move has given me. It has been a clear confirmation that the extensive due diligence brought me to the best possible team for my clients to achieve their goals. This truly is a place that is one robust ship going in the same direction and trying to 'do the right thing,' as opposed to a bunch of loose boats tied together. There are many well-intentioned advisors out there and some very good ones. But very few are in a place that is built to truly put the client first. It's been everything I have hoped for and more."
Braatz Wealth Advisors is working with new clients every day. They have clients in many states across the U.S. as well as international clients. The headquarters are currently in Marlton, and they have a very robust clientele in the South Jersey area.
A happily married family man and father to two daughters, Braatz understands just how important financial security is for the family unit and keeps that in the forefront of his mind when working with his clients. When outside of work, he enjoys music, golf, fitness and passionately supports Philadelphia sports.
Braatz Wealth Advisors
10 E. Stow Road, Suite 200, Marlton
(609) 206-5370
* USA Today's Best Financial Advisory Firms – 2023. Pine Valley Investments did not compensate USA Today for this award. For more information about this award please visit https://www.pinevalleyinvestments.com/post/pvi-recognized-as-one-of-usa-today-s-best-financial-advisory-firms