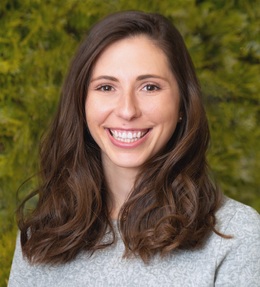 Seeing the Right Eye Doctor
Kresloff Eye Associates welcomes new doctor from Wills Eye Hospital, Dr. Anna Neff.
Dr. Anna Neff's patient-focused approach in eye care has made her a perfect fit for Kresloff Eye Associates' family practice in Collingswood. Dr. Richard Kresloff opened the business 45 years ago, and works alongside his son, Dr. Michael Kresloff. With Dr. Neff's own immersion in the medical field from an early age—her father is a physical therapist and her mother runs his practice—she always knew that she wanted to do something medical, as well.
"I just didn't know what, so I shadowed a million different things in high school, and just kept going back to my optometrist, and, you know, I haven't regretted it since," Dr. Neff says.
She received a bachelor of science in biology from Gettysburg College, and also attended Salus University's Pennsylvania College of Optometry, graduating with a doctorate in optometry. In addition to completing training in low vision at The Eye Institute, she also has specialty practice in ocular disease and contact lenses at the Lewiston, Maine, Veterans Administration Hospital, Wills Eye Hospital, and a private practice in North Carolina. Most importantly, she has a stellar reputation for compassion toward her patients.
After commuting to Philadelphia for her former practice, Wills Eye Hospital, she joined its affiliate, Kresloff, in April so that she could be more local. Living and working in South Jersey, Dr. Neff says, allows for more engagement in the community. And with caring for patients as her priority, her favorite part about her job is guiding them in the right direction for their health. Everyone agrees that Dr. Neff's addition to the team has been a great fit from the start.
"She is always patient-first. She doesn't just treat the illness, she treats the individual as a whole, really taking her time to listen and get to know the patient. Fundamentally, that's who we are and being able to bring Anna into our team … and [the fact] that she embodies that same philosophy and that same way of practicing medicine has been really, really important to us," says Randi Kresloff, owner of Kresloff Eye Associates along with her husband, Michael.
Michael enthusiastically agrees, adding, "She's an excellently clinically trained physician who dispenses her care in a really kind, caring and compassionate way."
When a patient is anxious, Dr. Neff makes them comfortable by talking to them, checking in and even doing breathing exercises. Monitoring the ocular health of patients also requires continuous management and adjustments in treatment, if needed. Dr. Neff makes sure to explain everything that she is doing along the way. Forming trust allows for her to better assess each patient's individualized needs. Whether it's a patient's first visit or 50th, nerves while visiting the eye doctor are not uncommon. And at Kresloff, Dr. Neff's people-oriented approach has been able to thrive.
"It's definitely a family environment with everybody that works there, and that's what I care about. I really want to take care of the patient. I want to take care of their whole family, and Kresloff has let me do that. They let me really focus on the patient and care for them the way that I would like to: active listening, managing any disease, or just giving them a pair of glasses, and learning about the patient as well. I really like that I can get to know them and care for them over the years," says Dr. Neff.
In a way, the patients at Kresloff are also a part of the family. From urgent eye concerns like diseases to primary care, Dr. Neff has examined patients of all ages, all backgrounds and all levels of ocular health. With a dilated eye exam, 240 different diseases like glaucoma, corneal issues and macular degeneration can be diagnosed in the office through examinations of the back of the eye. This makes Dr. Neff a part of her patients' ocular health and also their systemic health as she helps them to take charge of their medical care.
When asked for her most commonly given advice, Dr. Neff says to "just give your eyes a break, especially with the digital age that we live in." When screens are a major part of work and relaxation, rest from devices can help eyes to relax, and to inhibit drying.
A trip to the eye doctor no longer has to be avoided or feared, as Dr. Neff's kindness radiates and provides a relaxing setting. It is important to keep up with optical checkups, but also to expect a pleasant experience. For full professional service with recent technology and an assortment of glasses and contact lenses, Kresloff Eye Associates is a vision of the future.
1055 Haddon Ave., Collingswood