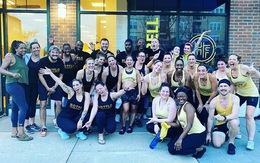 Bring on the Heat
Whether you're into hot yoga, spinning or endurance training, HOTFLO Studios is here to take your exercise routine to the next level with heated workout programs that appeal to students and athletes of all ages and abilities. ­­­
Christina Flory Lahn wants women leaders, entrepreneurs and stay-at-home moms to know success is doing what you love every day, living with purpose and making a positive impact, without sacrificing your own self-care. After all, the proud mother of two—with a third on the way—has successfully balanced a career in investment banking and, in recent years, run a successful fitness studio during her "off" hours.
Her secret?
"I like to be busy," Lahn says. "If you find the facets where you're most passionate, you can do it all—but you have to have the perseverance to do it all well."
Lahn never intended to own a studio, but the opportunity presented itself when the hot yoga studio she both attended and taught at never reopened after lockdown restrictions were lifted. Lahn wanted the community to be able to use the space and come together like they had for 10 years prior, which was the inception of HOTFLO Studios. Today, the studio also offers a variety of strength-training workouts to appeal to a broader client base.
Setting HOTFLO apart in a region "saturated with yoga studios" was especially important to Lahn, as she knew offering something a little different was crucial in making sure that her business stood out in a crowded market.
"I knew I had to differentiate," she says. "Today, people want more variety and you have to be able to appeal to many different demographics. HOTFLO doesn't just have avid yogis that practice at the studio, they have some students that just do cycle and some that just do yoga, and some that do both."
HOTFLO's class offerings take inspiration from Lahn's love for Bikram, a style of hot yoga, as well as being an avid Peloton rider who would crank up the heat in her hot-paneled basement on the days when she couldn't make it into the studio for a workout. The only thing at-home workouts lacked was in the in-person aspect and accountability. Lahn took that same concept and now offers Hot Cycle classes as well. They roll the bikes into the hot room and provide that same sweat effect you can expect from a traditional Bikram class. In addition to hot yoga and hot cycling, the studio's nearly 40 weekly classes also include Pilates strength-training with kettlebells.
No matter the workout, though, it's guaranteed to take place in a state-of-the-art, eco-friendly heated room that delivers all the benefits of sweating it out during classes of varying intensity.
"Our room is typically 100-105 degrees with 40% humidity—sometimes hotter depending on outside factors," Lahn explains. "HOTFLO uses infrared heating technology to heat the room, which provides the maximum level of detoxification benefits. Training in the heat boosts athletic performance, improves the skin's elasticity, improves blood flow and circulation, improves digestion while eliminating metabolic waste, releases endorphins, strengthens the immune system and increases the oxygenated blood in the body. Many students with regular practice report rapid weight loss due to enhanced awareness of their diet."
In addition to supporting one's fitness journey with a community of like-minded individuals, HOTFLO has 27 instructors who bring their unique approach to every workout session, guaranteeing a little variety while following a familiar format, using dashes of individuality like curated playlists and infusing their own personalities to avoid "the monotony of doing the same thing every day." Lahn's specialty is identifying talent and providing her instructors the space to share their passion with autonomy.
"Our instructors are top-notch, and really are the heart and soul of this studio—they're the reason why we're so successful," Lahn emphasizes. As HOTFLO Studios is a Registered Yoga School with Yoga Alliance, designating that its teacher-training program adheres to the alliance's standards, training each and every instructor is paramount in ensuring the studio continually offers the high-quality classes students expect. "I encourage anyone interested in becoming a teacher to come in, take a class, make sure it's a good fit and they like the vibe. It's an organic vetting process to make sure that all of our instructors have incredible respect for each other.
"It's all about the students and the community," she adds. "The best compliments are the genuine ones, where people tell us they enjoy coming to this space and that this is the best studio in the area."
HOTFLO Studios
9107 Town Center Blvd., Suite 3097, Voorhees
(856) 888-1766
HOTFLOStudios.com