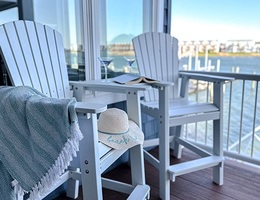 Shore to Please
Amanda McNally and her team at Vacations by Coastal Haven help clients get their beach homes rental-ready with guidance on marketing, branding, direct booking and much more.
Making memories "down the Shore" is an annual rite of passage for residents of South Jersey that usually starts at a young age and continues well into adulthood. From the smell of the salt air to the sights and sounds of the boardwalk and the warm feeling that arises with the return to familiar restaurants and shops, it is a trip worth taking summer after summer, and even during the off-season months.
Of course, a blissful getaway to the beach can start on the wrong foot when a rental property turns out to not be what it appeared. Dirty rooms, a misrepresentation of the space and an overall lack of hospitality are common pitfalls that vacationers run into.
Amanda McNally and her husband Brian regularly found themselves in that situation when paying their yearly visit to Ocean City with their children, which led to them saving up for their own Shore house. That's when they discovered the beauty of Brigantine.
"It was New Jersey's best-kept secret: really wide beaches, very uncrowded, extremely family-friendly and obviously close to Atlantic City but also close to Ocean City, Margate, Ventnor and Long Beach Island," Amanda says. "We fell in love."
After purchasing their home in 2017 and enjoying everything the area had to offer, an idea suddenly came to Amanda one day during a bike ride on the island. "I said to myself, 'Gosh, I want other families to be able to experience this,'" she recalls. "I had an overwhelming sense that we needed to buy a rental property."
They were able to find a two-bedroom, two-bathroom condo just a few blocks from their home that they named Coastal Haven. With Amanda's marketing ability from her family background and career as a bank executive, they established a brand, created a logo, and developed relationships with local businesses and the chamber of commerce. The result was a 90% yearly booking rate for the property, with 70% coming through direct booking, saving the couple around $10,000 a year in profit that otherwise would be shared with an online travel agency like Vrbo or Airbnb.
Because of that success, Amanda soon found herself getting bombarded with requests from neighbors and colleagues for tips on how to position their rental properties—so much so that she decided to launch a business, Vacations by Coastal Haven LLC, in September 2022. In just a short time, she has helped numerous clients from Brigantine to Margate with consulting, branding, advertising, social media campaigns, logos and custom merchandise, all with the goal of standing out in a competitive vacation market.
"We make your property rental-ready without the work," she says. "We get you started and coach you along the way, and once your contract ends, we're not going anywhere. If you need our support down the road, have questions, need something modified, we're always there to help and we don't charge anything additional unless it's something extensive."
Amanda is the owner and primary consultant, and her daughter Madison has been a major asset in providing video editing for virtual tours of each property along with graphic design. Other services they offer are staging—including vignette-style staging to help potential guests envision themselves in the home—photography, social media analytics (particularly for Instagram) and tips on safety measures.
While Amanda also sets up direct booking websites and recommends that route, she is happy to meet customers where they are and work with Vrbo and Airbnb or a realtor as well. The ultimate goal is to help clients stand out, especially since the number of available properties is up and rates can vary.
"If you're going to price your property way out of the realm and you're not going to be mindful of the competition's pricing, you're not going to be successful no matter what I do. You have to be realistic with pricing, and as long as you are, we can get you where you need to go," Amanda says. "One of my very first clients, we took her pictures, posted them online and within two weeks, she was fully booked for the summer."
Amanda also stresses the need for a reliable cleaning company or possibly even an onsite inspector prior to a guest's visit to ensure everything is organized and working, such as TVs. That is especially helpful to an owner who lives a few hours away.
She is clearly tuned into the rental industry, and her consulting has taken off so well that she decided to leave her job in banking this past spring and devote herself fully to Vacations by Coastal Haven. She is open to expanding to more Shore towns from LBI to Cape May, but never wants to take on too many customers to the point where she can't provide the attention to detail she has become known for.
"This all happened very quickly and it was very terrifying, but I'm much happier," she says. "This is a unique niche, particularly in the Jersey Shore market, and we're thrilled to be helping people."
Vacations by Coastal Haven
Amanda@coastalhavencondo.com