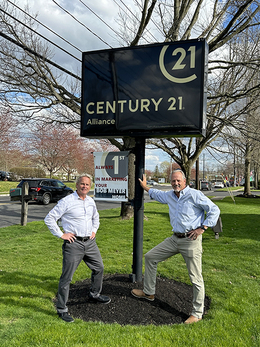 Meyer: The First Name for Real Estate in Medford
Now more than ever, it matters who you do business with, and one local family has maintained a stellar reputation in the South Jersey market for more than 70 years.
While most best friends who have been close for decades can tell an interesting story about how they first met—and probably have, over and over again through the years—chances are their tale can't hold a candle to the one that cousins Chuck and Mike Meyer are prone to sharing. Their bond started not at a family party, as first grade classmates or on the football field, but rather in the same South Jersey hospital room in 1961, when they came into the world just six minutes apart from each other.
More like twin brothers than cousins, Chuck and Mike enjoyed an idyllic childhood swimming in the lakes of Medford, catching turtles and playing sports together. Not surprisingly, they ended up in the same business after college, both getting their real estate licenses at age 22 and entering an industry in which the Meyer family was already well established. They have spent most of their careers working side by side, and after a stretch at different companies, they recently joined forces again at Century 21 Alliance in Medford to continue the work that their grandfather started when he opened the first family real estate office on Frankford Avenue in Philadelphia.
"One of the great joys since I've been back in this office is getting to work with Chuck again," Mike says. "We've always been very close. At this stage of our careers, we're going to spend our remaining working days—however many that is—together."
Although the family's roots in real estate took hold across the bridge, the Meyers also have a rich and influential history here in South Jersey. Edward H. Meyer, the grandfather of Chuck and Mike, sold Edward H. Meyer & Son Realtors in 1949 and moved his family to a small, relatively unknown town in the Pinelands known as Medford.
He and his wife Helen raised their five sons there, two of whom went on to play professional baseball: Jack pitched for the Philadelphia Phillies and Jim, Mike's father, played for the Philadelphia Athletics. Their three other sons, Ed Jr., Dick and Bob, went to work in the family business, and now, more than 70 years later, the Meyer family continues to dominate local real estate, with nine members of the family working in the business in some fashion: In addition to Chuck and Mike, the group includes Bob, John, Brian, Jim, Kohl, Eric and Skylar.
The construction firm, now known as Bob Meyer Communities, has built over 2,200 homes, while the real estate office has had its hand in the transactions of more than 56,000 homes throughout Medford and the surrounding communities.
"We are now in the fourth generation of Meyers working in real estate," Mike says. "We live in this town, we have raised our children in this town and we are proud to say that our reputation today is as strong as it has ever been.
"In addition, we have an office full of agents that are trained and well versed in Meyer history and the current availability of new and existing homes for sale."
Chuck and Mike share the philosophy that they are real estate consultants, not salespeople. They strive to find their clients a home in the best condition at the best price, and their family background in construction allows them to look for flaws that the average realtor might not be aware of. They enjoy working with people of all ages, from first-time homebuyers to those looking to downsize in retirement, and encourage anyone thinking of buying, selling, building or investing to give them a call.
"Now more than ever, who you work with matters," Mike says. "People buying or selling the biggest investment of their lives obviously want to work with someone they're comfortable with, someone who has a lot of knowledge and someone who has been there for years and will continue to be there for years to come.
"We have been doing business in this town for over 70 years. We not only stand by our customers, we work hard for every customer. The Meyer family has been there for your family in the past and we are ready to be there for you and your family when the need arises."
Century 21 Alliance
400 Stokes Road | Medford
(609) 654-8797