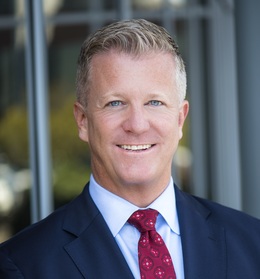 Warmhearted Warrior
No one ever plans on getting divorced. However, when a marriage breaks down, it may be the only solution. The team at Weinberg, Kaplan & Smith is committed to providing its clients with caring, top-notch legal representation throughout the entire divorce process. 
Ending a marital union can be a difficult decision with a variety of challenges, particularly when children are involved. It is often a stressful and complicated process that requires the intervention of a skilled divorce attorney. The experienced legal practitioners at Weinberg, Kaplan & Smith focus on matrimonial law and have the resources and know-how to ensure the best possible results for their clients.
Located in Marlton, the firm is composed of seven dedicated litigators who work collaboratively as a team. Michael Weinberg is a key member of that team, having joined the practice several years ago. A seasoned and accomplished attorney, Weinberg was recently named "Lawyer of the Year in Cherry Hill, N.J." by Best Lawyers in America 2022. He truly understands the gamut of emotions involved with a divorce, saying, "As a counselor at law, it is important to remember that you are dealing with individuals who are going through an incredibly difficult and challenging time in their lives. It is essential that the attorney be sensitive to that while also helping guide the client to navigate through the myriad of issues that arise during the course of the matter."
While Weinberg's thoughtful demeanor is essential to his interaction with clients, it is by no means a sign of weakness as he is always prepared to fight the good fight through even the most challenging of cases to the benefit of his clients and their families.
"Emotions often run high, and there is no one-size-fits-all approach for any divorce," he says. "Often a client will initially feel tremendous unease as everything they hold dear is potentially in jeopardy. A divorce can be one of the most difficult, if not the most difficult, periods in one's life. Many divorce clients will experience a variety of emotions. The role of the matrimonial attorney is to be sensitive to that while maintaining focus and assisting the client to achieve a favorable outcome through negotiation and/or litigation."
He adds, "The key is to remain strong and focused upon what is important to the client. The attorney should be there to advise, inform, and guide the client through this challenging period of time to make informed decisions. While input and recommendations should certainly be provided by the attorney, I do not believe that it is the role of the attorney to make the decision for the client."
Under the New Jersey rules of court, attorneys are required to make their clients aware of dispute resolution alternatives at the beginning of the divorce representation. One of these options is mediation. Weinberg explains, "mediation is a voluntary settlement process whereby the individuals meet with a neutral third party who is there to facilitate negotiation while not providing legal advice." Weinberg says the mediation process can take different forms and is sometimes not a viable option. "Mediation can be an effective way to lessening conflict and narrow or resolve the issues in dispute. An essential component to mediation is full and complete financial disclosure by both parties. However, mediation would not be appropriate in matters involving domestic violence or emotional abuse, or in circumstances where there is unequal bargaining power between the parties."
Weinberg notes that the New Jersey family court system is designed to facilitate resolution, and the vast majority of divorce cases will settle at some point in the litigation process. "Some matters resolve relatively quickly; while others may not reach a full resolution until the eve of trial," he says. "If custody, support, and/or property distribution issues cannot be resolved through negotiation, each party has the right to have a Judge decide the issue or issues in dispute at trial after considering the testimony and evidence presented."
Though every divorce case is unique in terms of what the main issues are and how both parties address these concerns, there is a time frame that must be adhered to. Weinberg explains, "The preference of the court system and administrative offices is that divorces be concluded within one year of the complaint filing." This process can be a bit confusing as well as draining on someone who is already dealing with heartache and uncertainty. Having the right attorney on their side can make all the difference from the onset of filing to the final outcome.
Weinberg and the entire staff at Weinberg, Kaplan & Smith are ready and able to provide solid legal representation and advice that will protect their clients while offering the support and guidance each client needs and deserves.
Weinberg, Kaplan & Smith, P.A.
8000 Sagemore Drive, Suite 8301 | Marlton
(856) 795-9400 | WKSNJLaw.com