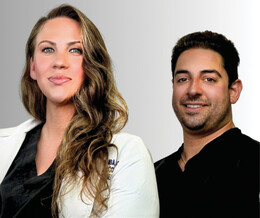 Welcome to a New-Age Medical Sanctuary
At Triada Integrative Medicine and Wellness, an all-encompassing approach to health care is used to treat the whole person—mind, body and spirit.
The medical industry is often viewed as a sterile environment, where patient health is compartmentalized into specific categories with little consideration of the deeper needs or perhaps crossover care that could benefit the patient's long-term health.
That's where Triada Integrative Medicine and Wellness breaks away from the traditional mold of health practices and takes on an encompassing position, with emphasis on individualized and integrative treatment plans, which address the whole person, mind, body and spirit. South Jersey Magazine sat down with the husband and wife team, Dr. Robert and Krystal Briglia to understand more about their progressive practice.
Both Robert and Krystal have been in the health care industry for several decades. Krystal has an extensive background in various areas including emergency and critical care, trauma, hospital administration and aesthetic dermatology. She even spent some time teaching at the graduate level. Meanwhile, Robert has an extensive background in mental health and spent many years working in emergency care, which is where the couple first met.
With both Krystal and Robert having both such diverse medical backgrounds and real-life experiences, it gave them a clear perspective on the type of practice they wanted to offer the community. "Working in the ER, Robert and I saw how much people were suffering, especially with mental health issues and we were inspired to do more. We took all our collective experiences and thought wouldn't it be great if there was a place that encompassed taking care of the whole person and helping someone reach their optimal level of wellness as a whole person, instead of addressing individual issues," explains Krystal. "In the ER, we would see patients come through with significant gaps in care within the mental health system. It's really unfortunate, but a lot of mental health care practices tend to be segregated from primary care to emergency care, and you have to seek different doctors to get one result."
Robert continues, "An example we would often see in mental health cases is that vitamin deficiencies can mimic depression. Most psychiatrists aren't going to draw blood and will refer you to a primary care physician. So instead of prescribing an antidepressant, maybe your body is lacking the proper vitamins it needs, triggering a depressive response. Krystal and I want to help eliminate the gaps and provide patients with an overall healthy lifestyle and wellness journey, all under one roof."
With a focus on improving and reaching optimal health for every one of their patients, the practice also offers weight loss treatments, the aesthetic dermatology component—assisting in antiaging treatments, acne scarring and skin laxity treatments—and IV infusions for vitamin deficiencies.
"We really want to help people reach their goals of feeling like the best versions of themselves without having to go to multiple places. Our mission is to build relationships with our patients and help them to reach a healthy and happy lifestyle. We believe addressing the patient as a whole person, in an individualized fashion, promotes the most optimal patient outcomes, which facilitates overall well-being and sustainable health," says Krystal.
Another unique service to Triada is their specialty facial services. "We have specialty facial services for patients with cancer, autoimmune conditions and compromised skin issues such as eczema. These patients normally would not be able to receive facial treatments at traditional locations due to the complexity of their issues and medications. Because we have a medical foundation and nursing staff with oncology and immune issue experience, we can provide services that these patients normally would have a hard time receiving," Krystal adds.
The practice, which is now taking patients, is a beautiful, friendly and welcoming space, inclusive to anyone that books an appointment. "We want our patients to feel like this is a medical sanctuary. Whether you're here for weight loss treatments, a counseling session, or Botox; we are here for you on this medical journey. We want you to feel confident that Robert, myself, and our entire staff want to help you achieve your goals in the areas you need the extra help," Krystal says.
"We know that we can't fix the world in a day, but you have to start somewhere," Robert adds. "We can't change the entire health care system, but we hope to change the way we look at it. Each day, we hope to take a step closer to improving someone's quality of life by improving their overall health."
Triada Integrative Medicine & Wellness
1300 Liberty Place | Gloucester Township
(856) 818-4054 | TriadaIntegrativeMedicineAndWellness.com