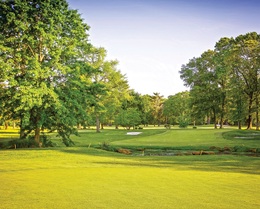 The Ultimate Escape
With a stellar course, dedicated staff and an array of top-notch amenities, Medford Village Country Club continues to provide a first-class experience for its members.
The late, great golfing legend Arnold Palmer once said, "Golf is deceptively simple and endlessly complicated; it satisfies the soul and frustrates the intellect. It is at the same time rewarding and maddening—and it is without a doubt the greatest game mankind has ever invented."
And for the millions of folks who are passionate about the game, truer words have never been spoken. But as challenging as the game can be, the love affair many have with golf has only grown stronger in recent years as there has been a noticeable spike in players hitting the links to enjoy some fresh air and some friendly competition.
Of course, with that increased level of interest comes great responsibility to not only meet expectations, but also exceed them. At Medford Village Country Club, they understand this full well, having solidified a reputation of providing top-notch service and amenities for more than five decades.
The management team consisting of Bob Doria (general manager and PGA director of golf), Bruce Rickert (superintendent), Dan Kunze (food and beverage director) and Gary Miller (executive chef) make it their mission to create an unparalleled atmosphere that is welcoming, inspiring and inclusive to all while also continuing to challenge the status quo and stretch the limits of customer service.
Helping this dedicated team lead the charge is Christian Simms, who joins Medford Village as its new head PGA golf professional after previous stints at Tavistock Country Club here in South Jersey and Overbrook Country Club across the bridge in Villanova, Pa.
The club also recently welcomed back PGA pro Adrienne Hogan as its teaching professional after she most recently headed up Cherry Valley Country Club's women's and junior programming.
Another new face joining Medford Village's management team is Wayde Wilson, who has taken over as assistant food and beverage manager. Wilson's background includes time spent at The Chart House in Philadelphia and he will now focus a large portion of his efforts on member dining events throughout the season.
Over the winter, because the weather was mild and there was no snow, Medford Village remained open and saw record amounts of play throughout the season. But that doesn't mean there weren't lots of improvements still being made during this time. In fact, under Rickert's guidance, the course saw several updates, including the rebuilding of tee complexes on three holes. What's more, the practice facility was enhanced with the inclusion of a teaching and learning facility complete with Trackman technology to help members get fit as well as improve upon their game. In May, Medford Village will debut its new and highly anticipated Teaching and Learning Center, located at the back of the current practice facility.
All of these exciting changes will be on full display as Medford Village hosts the USGA Local U.S. Open Qualifier on May 1. Over 80 local, regional and tour professionals will attempt to make it through the first stage of qualifying in hopes of punching their ticket to the U.S. Open being held at Los Angeles Country Club June 15-18. The public is invited to attend what is sure to be an exciting event.
Away from the course, there is also great buzz being generated as the pool and tennis facilities are undergoing some minor renovations as well. And the patio is where members will want to gather on Friday evenings to catch some of the area's top talent filling the air with live music.
Of course, Medford Village also continues to be an attractive venue for parties, events, weddings and more, whether in the ballroom that can accommodate up to 175 people or outdoors under the covered patio area.
With such a high level of enthusiasm surrounding the upcoming golf season, the skilled team at Medford Village is already busy thinking about further improvements that will carry the club well into the future. And while there's currently a waitlist for golf membership, folks are encouraged to take advantage of the many amenities as swim, tennis, social and dining memberships remain available for 2023.
For those looking interested in the "best of everything," they need look no further than Medford Village.
Medford Village Country Club
28 Golfview Drive| Medford
(609) 654-7541 | MedfordVillage.com