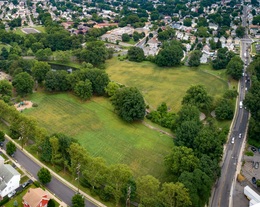 Worth the Trip
South Jersey residents of all ages are encouraged to visit the family-friendly Passaic County Book Festival this June to stoke their passion for reading and discover the hidden gems in that part of the state.
Even in a time when just about any television show or movie imaginable is available with the push of a button from the comfort of one's living room, there remains no escape quite like the one provided by a great book. From mysteries to legal thrillers, biographies to historical accounts, and young adult fiction to children's stories, books have the ability to transform readers to a different world and help them leave stress behind as they excitedly turn each page.
The staff at the County of Passaic's Department of Cultural and Historic Affairs (DCHA) certainly feels that way about reading, which is why they decided to add an exciting new event to their calendar in 2022. The Passaic County Book Festival at Weasel Brook Park was such a rousing success that it will now be held yearly, with the second annual festival scheduled to return on Saturday, June 10.
Held in conjunction with PALS Plus—a consortium of 30 public and academic libraries in Passaic, Essex and Hudson counties—the all-day outdoor event featuring more than 50 writers will include author meet-and-greets, moderated author panels, child-friendly activities, food trucks, live music and much more.
"It's a nice afternoon with a little bit of everything," says Nicole Colosimo, a museum specialist at the DCHA and one of the organizers of the festival. "Last year, we had a fantastic turnout and everyone had a great time. It was especially nice having so many kids in attendance, because kids reading is always a good sign. The county board of commissioners just passed a resolution making this an annual event, so we have plenty more to come."
The DCHA is responsible for implementing a variety of public programs throughout Passaic County. Since many on the team share a passion for reading, it made perfect sense when they were brainstorming for new ideas to try out a book festival, and PALS Plus turned out to be the perfect partner.
"We couldn't do this without them," Colosimo says. "Luca Manna, their executive director, and Linda Hoffman, their president, have been phenomenal partners and we're really lucky to work with such good people. We're all book lovers in this department and we know the importance of your local library. That's the goal of this, to inspire a love of reading and a love for your local library. Patrick Byrnes, our department librarian, and Kelly Ruffel, our director, have also been instrumental to the success of the festival."
Having such a positive response from authors has been key, as well. Within weeks of putting out the call for writers to participate last year, there were dozens volunteering. The best part was that they represented a wide range of interests.
"It was incredible," Colosimo says. "It took off pretty quickly, and we were still taking calls from people asking to join us right up to the day of the event. We were up to about 70 registered authors already this year as of late March.
"We welcome authors, scholars and creators of every genre. There will be wellness, mysteries, romance, children's books, young adult—everything you can imagine. It's exciting to be able to offer all of these different kinds of authors to the community. After all, once you find that one book, your life is changed forever."
The authors will have books for sale and there will also be poetry sessions, which were wildly popular last year, in addition to the author panels. As for the kids, two activities that were a big hit at the inaugural festival will be returning.
"We're not only going to be doing story time like last year, but we're also going to bring back reading to dogs," Colosimo says. "As they're learning to read, kids sometimes feel very self-conscious, so that program where kids read to dogs is such a lovely environment, and the dogs just love having someone to hang out with. We'll have bounce houses and food too, and we're also hoping to do arts and crafts again."
Walking tours of Weasel Brook Park will be offered as well, focusing on the contributions of landscape architect Frederick Law Olmsted and his sons, John and Frederick Jr.
"This park is beautiful but there's also a rich history behind it," Colosimo says. "We wanted to do an outdoor book festival and this is the perfect setting. You can read a book, sit down and take in a beautiful landscape and see a brook in the distance. It's almost picture perfect, really."
Colosimo, who lived all over the country before settling in Passaic County almost 10 years ago, raves about all the area has to offer. She encourages residents of South Jersey to take the ride up north for the festival and stay for the entire day or even the weekend. Whether they're stopping for coffee at Qahwah House Clifton, grabbing a bite to eat at Angelo's Italian Restaurant and Pizzeria or shopping for clothes and home décor at PerL'amore Store, they will surely not be disappointed.
"It would be fantastic to have people explore Passaic County," she says. "They can learn about history, art, literature. It's close to New York City, there's a lot of beautiful parks, a lot of great food, wonderful breweries and distilleries. There's everything you could want in this area."
Passaic County Book Festival
Weasel Brook Park | Clifton