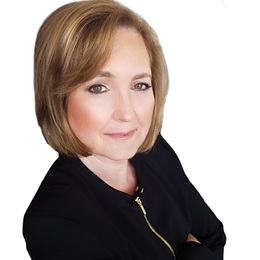 Adapting With the Times
In over three decades as a realtor, Patricia Fiume has always thrived because of her customer service and her willingness to try new things, like her recent forays into television and podcasting.
When Patricia Fiume started out in the real estate industry 36 years ago, the internet and email were still a few years away, smartphones were not even on anybody's radar yet, and offers on homes were hand-delivered in sealed envelopes rather than digitally. Fiume can only laugh when she thinks back on those early days, but to her credit, she has always managed to look forward instead of dwelling on the past. Perhaps her ability to adapt is why her career just seems to get better with time.
Fiume not only has embraced communication through text messaging like many of her clients and colleagues, but also is now regularly appearing on the television series American Dream Selling South Jersey; most recently, she even became the host of her very own podcast show. Clearly, she has combined an ability to relate to people of all ages with the knowledge and experience that few other professionals can boast.
"I feel you have to treat people how you want to be treated, No. 1, and you have to continuously learn things," Fiume explains about her approach to real estate. "I didn't even know what a podcast was, and I still don't fully understand it, but I'm doing it. I already blew people's minds by being on TV, and now I'm doing a podcast, too, and they're loving it. It's a lot of fun."
Fiume has overcome the odds at every stage of her career, starting with breaking into the business as a single mother of four kids between the ages of 3 and 8. "Luckily, I was naïve enough not to know how bad my situation was," she says. "I had a lot of help, and thankfully it worked out."
Her support system included friends who would babysit her kids while she was working late nights and early mentors like Connie Maffucci, her first boss at Maffucci Realty who she feels gave her all the tools to succeed. Fiume moved to RE/MAX of Cherry Hill in 1992, which continues to be her professional home, and she has consistently been one of the most productive realtors in the region ever since, having been selected for South Jersey Magazine's Top Realtors every year of its existence.
Fiume concentrates much of her business on being a listing agent but also is happy to work with buyers of all backgrounds. She believes the top-notch service she provides all of her clients helps set her apart, along with her understanding of how to read the ups and downs of the market.
"I think it helps to be established," she says. "This is not meant to be a part-time job. There are agents who come in, hit the ground running and do fantastic, but there are others who really struggle. It just isn't for everybody. They say one out of 10 people who go into real estate end up making it. Everybody thinks it's so glamorous, but they don't see the stress and the late-night phone calls that are part of the job."
Fiume also stresses the relationship aspect of the business. She has seen seasoned agents miss the mark by not keeping in touch with past clients, but that is a mistake she will never make.
"If you consistently keep in touch with your clients, the majority of them are going to come back to you," she says. "I have clients, including several right now, who I'm working with for the third or fourth time."
Fiume has never been shy about sharing that kind of advice with fellow agents, many of whom will shadow her seeking tips on how to increase their listings. In fact, that was her motivation for starting her podcast, Is This For Real Estate?, which just launched and has new episodes available every Monday and Thursday on YouTube.
"I started the podcast because I want to help other agents," she says. "At this point in my career, that's really important. I've always helped people because people have helped me, and I believe that we all have to work together."
She was invited to audition for American Dream Selling South Jersey and was one of the local realtors hired to host segments. She enjoys getting the chance to see hidden gems in the area.
"It's actually making me fall in love with South Jersey again," she says. "It's giving me the opportunity and the courage to go outside my comfort zone and call people I would never think about calling and interview them. I'm really starting to enjoy it, and I'm enjoying the podcast even more."
These endeavors into media have not meant Fiume has slowed down her business—quite the opposite, actually. A few years ago, she got involved in new construction for the first time, working with Costa Homebuilders on a development known as The Estates at Oldman's Creek in Salem County's Pedricktown. The luxurious homes have been a hit with buyers and Phase 2 of the project recently kicked off.
"They build an absolutely gorgeous home," she says. "I've learned a lot, because I had never done new construction. I'm doing it all: the estimates, the floor plan and any changes, I help the homeowners with any upgrades, I help them pick all the selections from the cabinet knobs to the roof. It's a lot of work but it's been interesting."
1736 Marlton Pike E. | Cherry Hill