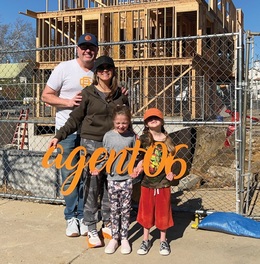 From the Ground Up
With Agent06, Angela Barnshaw has built a real estate company that truly offers unmatched service to its clients, in more ways than one.
If Angela Barnshaw had not lived the tale, she might not believe it herself.
About seven years ago, she and her husband Bill were laser-focused on growing the real estate company she founded, Agent06, into a flourishing business unlike any other of its kind. Utilizing an innovative, collaborative approach called the Power Six Program, they were well on their way to becoming a difference-maker in the South Jersey market. Suddenly, the principles that served as the cornerstones for Agent06—superior customer service and treating clients like family members—were put to the ultimate test, and the couple could not have handled the challenge any better.
A client they were close to had just become a grandparent to twin girls, but the babies' mother was in the throes of substance addiction and was unable to care for the children, who were in the NICU at Cooper University Hospital as a result of the drugs in their systems. The client asked the Barnshaws if they would be interested in a kinship adoption—a process in which relatives or others closely associated with the family can legally adopt children—and they did not hesitate for a second at accepting the responsibility.
Although told their approval for adoption was a long shot, they followed through with the extensive paperwork and background checks nevertheless, and much to their surprise, were approved after a short two weeks. Angela will never forget receiving the phone call one afternoon while driving to an appointment, announcing she and Bill were needed at the hospital the next day at noon to become parents overnight.
"We didn't have anything for a baby—nothing," she says. "We were up all night and converted my home office into their nursery. Then the next day, we went to the hospital and they kept us for about five hours. They trained us and taught us how to feed them, how to change them, how to bathe them. It was an amazing experience and then the babies came home with us that night. Nothing has been the same since."
While Angela was initially worried about the possibility of Agent06 not surviving, it did not take her and Bill long to adapt to their hectic new normal and the company, in fact, grew even stronger. And now they have a funny anecdote to show just how committed they are to their clients.
"We often joke when we tell the story of the adoption that we go the extra mile and we consider our clients family, and we can prove it because we even adopted our client's grandchildren," she says with a laugh.
Angela studied advertising in college but eventually found her way into real estate in 2007 after moving to South Jersey from her native Virginia. Although she didn't know a soul in the industry in this area, she quickly established herself in the field with a go-getter's attitude and built important relationships through creating and building the SJYPA (South Jersey Young Professionals Association), an organization she founded and still serves South Jersey today.
Convinced she could offer something the traditional real estate firms could not, she acquired her broker's license and opened Agent06 in 2012. The Power Six Program she developed aims to simplify the complicated real estate process by dividing the transaction into six phases—sales, analytics, marketing, compliance, processing and settlement—having a department for each stage takes the pressure off the agent and allows them to focus on what they do best.
"The Power Six Program is the lifeline of who we are and what makes us different, and I only learned that through failing," Angela says. "I'm a hardworking, smart and honest person, and I just don't know how any agent can properly do all that's required of them. It's a job of multiple people so I created an assembly-line approach."
"When I look someone square in the eye and say, 'I'm going to do an excellent job for you, protect your family, take good care of your single greatest asset and ensure that we sell it for the highest price possible,' I have to know that I can actually pull that off. With the Power Six Program I'm more focused on serving the client than selling the client, because now I know I've got a way to serve you to the best of my ability."
Each Agent06 client receives the benefit of specialists in every stage of the process, and Angela oversees the vision and growth as CEO and Broker of Record. Bill had foreseen great things for her way back when they were dating, long before Agent06. On a date in 2005, he predicted he would one day join her to scale whatever business she started. Two years after she launched, he left his high-profile position in the financial services industry and now manages all Agent06 operations as COO.
Now they are thrilled to raise their daughters, Frankie and Charlie, in the family business, which is about to move into a brand-new office in June. Whether or not they one day follow in their parents' footsteps, she is hoping the first decade of Agent06 is just the beginning for the company.
"My dream is for Agent06 to live and thrive long past my lifetime," she says. "I hope that it will provide these amazing services to people and for this beautiful culture to support agents and be the wind beneath the wings of their success, for generations. There is so much depth to our commitment. We're not just trying to sell your house. We're small but we're mighty, and the level of dedication and heart that we put into what we do is huge. I can't measure it."
13 Tanner St. | Haddonfield