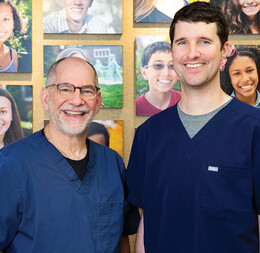 Something to Smile About
With two South Jersey locations, the team at Morrone, Kaye & Yucha Orthodontics ensures that the field's still-growing demographic of adult patients receives personally tailored, cutting-edge orthodontic care delivering million-dollar results so affordable that parents and children can undergo treatment together. 
It's never too late to get the smile you've always wanted.
And, according to the team at Morrone, Kaye & Yucha Orthodontics, it's neither a cost-prohibitive nor an inconvenient process—but rather one that yields some incredible results for adult patients who are unhappy with their crooked teeth, over- or underbites, gaps or other imperfections they're ready to change.
Dr. Richard Kaye and his wife Dr. Mary Beth Morrone founded the practice in 1995; Dr. Benjamin Yucha joined them as a partner in 2018. They've all noticed that since Invisalign burst onto the orthodontic scene at the outset of the new millennium, there has been a marked uptick in adult patients, whether they're finally addressing long-untreated problems or correcting issues like the shifts that come with age, use, tooth removals, not wearing their retainers after having traditional braces in their youth.
"Adults have been living with their current bites for a long time, and they just have a couple select teeth that are the reason they're coming in to see us," explains Dr. Kaye. "More and more adults have gotten interested since the advent of clear plastic."
With plastic trays presenting an invisible option for achieving a straighter smile, the pandemic encouraged many to take the plunge of investing in themselves. Over the past 20 years Invisalign's popularity has kept growing, and the technology behind the product has advanced by leaps and bounds.
Nowadays, Drs. Kaye and Yucha say that they can focus on adjusting just a few select teeth per each patients' wishes—something that Dr. Yucha notes "even the most skilled orthodontists can't do with traditional braces."
"Now, the scope of treatment reflects what the patient's main concerns are, allowing us to only move certain teeth. The ability to address specific, limited problems for adults has opened up a lot of potential ways to help people."
Targeting select teeth means patients benefit from not only a highly individualized treatment but also an affordable one, making it similar in price to the riskier but also persistently popular DIY services that might seem like a bargain but orthodontists strongly caution against.
"There are a lot of dangers with going that route: There's no proper diagnosis, there's no follow-up," says Dr. Yucha. "But a lot of people are drawn to it because it's a shorter treatment, it's convenient and it's cost-effective. With our limited treatment, we've removed a lot of the negative barriers. We're able to offer pricing that's comparable to the mail-order services, but you're getting direct oversight—and a better result—with orthodontic specialists the whole time."
Having straightened smiles throughout South Jersey for nearly 30 years, Morrone, Kaye & Yucha Orthodontics is used to welcoming generations of families to its practice. While still seeing former patients return with their own children years later, the team is also increasingly treating Mom and Dad at the same time as their kids. It's a trend that has ushered in all kinds of modern benefits.
"Parents love being role models to their children," says Dr. Kaye. "A lot of times, parents will basically sit down with their children and say, 'Listen, let's do this together. It becomes a family affair. Children see that it's not that scary, and it's a wonderful opportunity to develop these family relationships and keep seeing these families as the kids grow up."
No matter the age of a patient, the team loves sharing in those long-awaited "after" moments when children and adults alike are dazzled by how good their newly straightened pearly whites can look.
"Most of the time, patients have a vision when they come in as far as how they want their teeth to look. When we're finished, they say 'Wow, that's even better than I expected,'" Dr. Kaye notes. "Every day, we look forward to coming in and seeing people smile. It's a wonderful field to be in."

Morrone, Kaye & Yucha Orthodontics
Moorestown: 99 West Main St. | (856) 234-4044
Mount Holly: 120 Madison Ave., Suite F | (609) 267-1221
MorroneKayeAndYucha.com