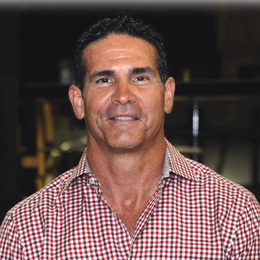 Lasting Impact
November 2017
Despite suffering at least five concussions as a college and professional football player, the one that stands out the most from Bill Osborn's career happened during his senior season at Wildwood High School.
He remembers the start of the game against Oakcrest very clearly, because Bruce Arians—the head coach at Temple University at the time, and now a head coach in the NFL—was there to recruit Osborn. But the senior quarterback endured a hard hit to the head in the first quarter and stayed in the game, gradually becoming foggier by the minute.
"It got really scary," Osborn recalls. "I could not gather my thoughts, I didn't know what was going on and I couldn't even remember my mom. The next thing you know, I was in the ambulance headed to the hospital and I had to stay overnight."
Osborn's oldest son, Billy, is now a freshman football player at Cherokee, and just like his dad, he's a high school quarterback. Osborn knows that Billy will take his share of hits; it's inevitable in a violent game. But he also feels confident that he will be able to withstand those collisions thanks to a revolutionary new helmet that Osborn helped bring to the market.
With head trauma becoming a major issue in recent years at all levels of football— especially the NFL—a startup company named VICIS has developed the ZERO1 helmet with the backing of the NFL and NFL Players Association. Although VICIS does not claim that the helmet will prevent concussions, it does say on its website that the technology behind the ZERO1 "is showing significant reduction in impact forces."
The ZERO1 made its debut in the NFL during the preseason, with players from about half of the teams strapping it on, including such well-known names as Seattle Seahawks quarterback Russell Wilson and Kansas City Chiefs quarterback Alex Smith. A number of major college football programs and a select group of high school players, such as Billy Osborn, are using the helmet as well.
"It's a very exciting time for everyone at VICIS, and we're all proud to see the helmet on the field," Osborn says. "It's extremely rewarding for all of us. We're a driven and passionate team that continues to push forward to develop better protective equipment to help make football and other sports safer."
VICIS was founded by CEO Dave Marver, who has held a series of leadership positions in the medical technology industry, along with neurosurgeon Dr. Sam Browd and Per Reinhall, Ph.D, whose background is in mechanical engineering.
So how did Osborn get involved in the Seattle-based company? His long, eventful journey to VICIS actually started at the Jersey Shore.
A three-sport star
Osborn grew up in Wildwood Crest, a block from the bay and a block and a half from the beach. He excelled in every sport he played, eventually becoming an all-state player in football, basketball and baseball in high school.
"I always used to say that the sport I was playing at the time was my favorite," he says.
A top recruit for football, Osborn chose the University of Pittsburgh over Penn State and Boston College and had a standout career at wide receiver. He also played baseball for the Panthers, and for one season he was the rare three-sport college athlete, joining the basketball team at the request of coach Paul Evans, who was low on numbers.
That was a memorable year for Osborn, even though he was constantly shuffling from one activity to the next.
"We had to do some jockeying around, but it worked out pretty well and I had a great time," he says. "I made some great friends and I have some great memories from that time. [Former Pitt basketball star] Charles Smith and I still keep in touch. We won the Big East that year—I say we, but I didn't play a lot—and it was Pitt's first Big East championship."
Still, Osborn's main focus was football, and it was clear he had a future on the gridiron. A broken collarbone in his final college football game led to him going undrafted, but he signed a free agent deal with the Eagles and went to training camp with the team.
Osborn went on to play Arena Football with the Pittsburgh Gladiators and in NFL Europe with the Barcelona Dragons before a neck injury ended his playing days. But he stayed in football as a scout with the Kansas City Chiefs before transitioning to a new endeavor.
Joining the health care field
Osborn left the NFL to take a job in medical sales at Ethicon, a subsidiary of Johnson & Johnson. He was based in Indianapolis and stayed close to the game as a broadcaster for Pitt football games.
He came back to South Jersey in the late 1990s to be close to his ailing father and settled in Marlton. It was around that time that he was recruited to join another medical company.
"A headhunter called me out of the blue, asking if I wanted to work at Medtronic," Osborn recalls. "I really wasn't looking to, because my dad was sick, but they said, 'This guy saw your résumé and he would like to meet you.' So I said, 'What the heck?' That's how I met Dave Marver."
Osborn and Marver instantly clicked during a meeting at the Philadelphia airport and worked together at Medtronic for years. They remained friends even after Marver left the company, and reunited when Marver brought Osborn to VICIS. Osborn has been part of the helmet development since the early stages and now serves as the vice president of business development.
"We always talked about finding something to do together," Osborn says. "I never thought it would have something to do with football but I'm thrilled that's how it turned out.
"I have two young boys who play football and love the game. I was motivated to do anything I could to make the game safer for the good of the game and for my kids. That was a big reason I was excited to get involved with VICIS."
The ZERO1 helmet
The development of the ZERO1 helmet was a three-year, $20 million project. It was a collaborative effort between neurosurgeons, engineers and athletes, and this past spring it ranked first in the NFL/NFLPA helmet performance testing, beating out helmets from established providers like Riddell and Schutt.
"The ZERO1 helmet has multiple layers that work together to slow impact forces," Osborn says. "Unlike traditional helmets that have a very hard outer shell, the ZERO1 is designed to yield upon impact like a car bumper, slowing impact forces before they reach the head. Of course, unlike a car bumper, the ZERO1 is designed to absorb thousands of collisions without a trip to the body shop."
Among the NFL players who have used the ZERO1—which carries a price tag of $1,500—are David Johnson of the Arizona Cardinals, Jadeveon Clowney of the Houston Texans, Golden Tate of the Detroit Lions and Seattle Seahawks wide receiver Doug Baldwin, who is working with VICIS in an advisory capacity.
Several members of the Chiefs organization have also used the helmet and talked about its attributes.
"Even for those subconcussive hits—the repetitive ones—it helps a ton," center Mitch Morse told The Kansas City Star. "And in the long run, I think it will help with mental clarity throughout the season, and just overall feeling better."
Chiefs linebacker Frank Zombo told The Star, "(Y)ou still feel the initial hit, but the days of kind of being dazed for maybe a play or two after that, I didn't have any of that. So I did notice the difference. I truly did."
Osborn says the feedback has all been positive and more and more NFL players are reaching out every day to try the ZERO1. Right now, the helmet is designed only for people over 150 pounds, but VICIS hopes to introduce a product for younger players in the next year or two.
"I'm so passionate about this because I love the game and the game has been so good to me," Osborn says. "To be able to impact the game this way and help individuals— even my own kids—is really, really exciting.
"The only thing better than seeing my son wear our helmet is when he gets hit, seeing him get up and get back in the huddle. He and the other kids won't know it, but that will be the result of years of intense research and testing."
Published (and copyrighted) in South Jersey Magazine, Volume 14, Issue 8 (November, 2017).
For more info on South Jersey Magazine, click here.
To subscribe to South Jersey Magazine, click here.
To advertise in South Jersey Magazine, click here.