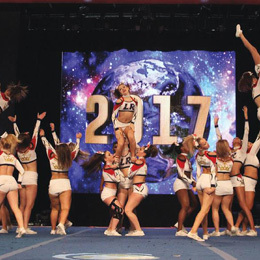 Spreading Cheer
November 2017
For Meredith Sorbello and her three daughters—Sophia, 12; Carmela, 10 and Alba, 9—their lives revolve around cheerleading, and not on the sidelines at football games. They live for two minutes and 30 seconds on the mat performing stunts, doing backhand springs and twisting their bodies in every direction, all with a smile on their faces in front of 500 to 2,500 spectators and judges at competitions all over the country. This is a similar story for many other cheerleaders in the South Jersey area who dedicate their lives to cheerleading.
"You see them on the mat only out there for two minutes and 30 seconds, and when they come off, they are exhausted. You can tell they put their whole heart into the routine," the East Greenwich resident says. "We've had kids that have thrown up all weekend long and they are still competing. It's amazing."
Cheerleading is a $2 billion industry and has not only evolved over the years; the popularity has risen—quickly. According to the Sports & Fitness Industry Association, there were 4.03 million cheerleaders ages 6 and older in the United States in 2016. Devon Bobe, owner of Cheer Force Elite in West Berlin, says cheerleading has become more popular in South Jersey in recent years because athletes thrive on the competitiveness the sport brings.
"I think the athletes love the challenge," she says. "I had someone tell me recently how their daughter isn't into the rah-rah stuff, and that's not what we do. We condition them and spend two-anda- half hours a night working on stunts, routines and drills for competitions. They train hard; they push their bodies to the limit and reach new heights with each new routine. They are some of the most athletic kids I have ever seen."
The Evolution of Cheerleading
Karen Cardillo, owner of Magic Cheerleading in Mount Laurel, has been in the cheerleading industry for over 20 years and has seen numerous changes over those years, specifically the growth of All Star cheerleading, which focuses on athletic training and competition performances and consists of five skill levels. Level 5 is the highest level an athlete under 18 can reach and those teams are able to go to the Cheerleading Worlds competition and compete against teams from all over the world.
"Let's just say I've seen cheerleading when it wasn't even considered an All Star sport," Cardillo says. "There were very few competitions to go to, there really wasn't any traveling and there was no government body of the sport. From 1997 when it just started to evolve to what it is today, is extreme."
What has evolved even more so during that time is the level of safety, which has improved tremendously thanks to the U.S. All Star Federation (USASF) implementing strict safety rules to All Star cheerleading, including levels of progression each athlete has to go through in order to get to the next level.
"It's gotten to the point where it's a lot safer for kids," says Jenna Varano, owner and program director of South Jersey Storm All Star Cheer and Dance in Washington Township, who has athletes travel from Pennsylvania and Delaware to practice at her gym. "They didn't always have levels 1 through 5; they used to have beginner, intermediate and advanced. They (USASF) have gotten quite strict as far as the guidelines with what you can and can't do so the kids are learning in proper progression. … When I cheered, it wasn't that way. There were kids that were better than me and others who were not as good as me and we were all expected to do the same thing. It was dangerous."
Practice Makes Perfect
Nayda McKain's daughter, Sarah, had been cheerleading for five years before expressing interest in doing more cheerleading competitions. After researching other programs in the area, McKain came across All Star cheerleading, which she soon realized is on a completely different level.
"There was some competing in our prior program, but Sarah wanted to compete more often and take her skills to the next level," the Marlton resident says. "All Star cheerleading is very demanding, competitive and she wanted a program that could challenge her."
At South Jersey Storm, Cheer Force Elite and other All Star gyms in the region, athletes perform in up to 10 competitions each year. Between four and six hours of practice— depending on the age of the athlete— is mandatory and they are only allowed three unexcused absences during the main competition season between September and April. On top of that, the majority of the athletes also take at least one extra class such as stunt or tumbling to further improve their skills. The mandatory practices originally surprised Haddonfield resident Christina Dunne, whose 8-year-old daughter, Maggie, was just starting competition cheerleading after doing town recreation cheerleading for three years.
"At first when we saw that we thought it was a little much, but realized unlike any of the sports she's ever done, if one person is missing, they can't practice an entire stunt sequence. If they are a base, the stunt can't go up and if they are a flyer, the bases can't practice," Dunne explains. "What I've been surprised to realize is the level of commitment it's taught her and the level of not only showing up, but giving 100 percent is vital to her entire team being able to succeed."
And the constant rides back and forth to the gym are well worth it to Dunne, who says Maggie looks forward to Tuesdays more than any other day of the week.
"On Tuesdays I drop her off at school at 8:25 a.m. and right from school I take her to the gym for a private lesson from 3:30 to 4:30 p.m.," Dunne says. "When the lesson is done, she does homework and eats a packed dinner before her next practice from 5:30 to 7:30 and gets home around 8 p.m. She is gone for literally 12 hours and every Tuesday I ask her how it goes and she's so positive about it. She keeps saying how Tuesdays are her favorite day."
The Sorbello family's practice schedule is even more grueling between three girls practicing at least six hours each week, not including additional tumbling and stretch classes, and organizing rides while Sorbello works a second job at night to put her daughters through cheerleading. "It's a big commitment," she says. "The girls work out five days a week."
As if that amount of hours in the gym isn't enough, Sorbello says her daughters want to spend even more time working on perfecting their skills. "Ever since third grade, Sophia wanted to be homeschooled because she wants to be in the gym," Sorbello says. "It's nearly impossible for me to home school since I teach at a public school. She knows that's not an option, but almost every week she asks. She gets straight A's and has plenty of friends—there are no social issues. She just wants to put more time in the gym because she 100 percent could continue cheer in college."
Although certain practices are mandatory, South Jersey Storm excuses athletes from practices when there is a school function that requires a grade. All other activities, however, are unexcused absences. "School always comes first at our gym," Varano states. "This isn't the endall be-all of their lives, so we want to make sure our kids are getting good grades and school is a priority, but if they are playing any other sport, All Star cheer is expected to come first. Missing All Star cheer practices for other sport practices or teams is not excused at our gym."
Extensive Travel and Commitment
Texas, Georgia, Nevada, Florida, Connecticut and South Carolina are some of the states 16-year-old twins Kylie and Kenna Quinn of Medford have traveled to for All Star competitions, and that doesn't include the numerous local and regional competitions they have to attend as well. These competitions require them, along with other All Star athletes who travel to the same or similar competitions, to arrive Fridays and sometimes not be able to leave until late Sunday nights or Monday mornings. This causes the athletes to miss school days throughout the year, especially if the competitions are far enough distance away they have to fly to get there.
"It does become difficult because there are two to three times a year athletes miss at least one or two days of school. We don't want that to happen, but it's out of our hands and more in the hands of the producers who run the competitions," Varano says.
Kylie and Kenna's mom, Jenn Quinn, isn't exactly keen about her daughters missing school days, but says it's worth it in the long run. "I'm fortunate they can catch up and get work done, and they know they have makeup work to do when they get back," Quinn says. "They don't like to miss school and as much as I hate it, especially since I work at a school, this is something I think is going to stay with them."
Before the athletes make their way toward the mat when it's their time to shine, there is quite a bit of preparation that goes on in the backroom to get ready, sometimes starting as early as 4 a.m. This includes numerous cans of hairspray to help get the perfect high ponytail or bun with a bow to complete the look, hair extensions, a full face of makeup and the athletes fully dressed in their uniforms.
"It's organized chaos. It's like the movie Bring It On; that's what goes on in the back room," Sorbello laughs. "I'm spending anywhere from 12 to 18 hours between all three girls getting them ready and being at the competition all day."
Between the airfare, hotels, uniforms, makeup, classes and other expenses, it is quite costly, and Sorbello says her daughters know the sacrifices she makes in order to see them fulfill their dreams.
"They are aware the reason why mom works a second job is so they can cheer and travel," Sorbello says. "Two years ago all three of them needed new uniforms which usually range from $450-$500 each. All together, my monthly fee for them to cheer is close to $900, which includes their classes and other fees. That doesn't include traveling, all of our airfare and hotels."
It's all worth it to Sorbello, who everyday sees her girls gain confidence, learn how to be responsible and work as a team and be 100 percent committed, all while making lasting friendships and having fun at the same time.
"I'd do it all again in a heartbeat because they love it. They work their butts off and they are amazing athletes; they truly are."
Published (and copyrighted) in South Jersey Magazine, Volume 14, Issue 8 (November, 2017).
For more info on South Jersey Magazine, click here.
To subscribe to South Jersey Magazine, click here.
To advertise in South Jersey Magazine, click here.