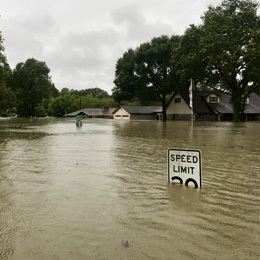 A Whirlwind of Relief
November 2017
On Aug. 17, Aug. 30 and Sept. 16, residents throughout Texas, Florida and Puerto Rico woke up to the bone-chilling reality of three back-to-back-to-back hurricanes— Harvey, Irma and Maria—forcing them out of their homes, which they questioned if they would ever see again.
Worrisome residents were left stranded along dilapidating rooftops, watching muddied water pour into once tastefully furnished homes; numbers of household pets were aimlessly swimming the streets now disguised as bodies of water, in search of land and their families; and many frantic cries for help boomed in the midst of disaster. Our area heard those familiar cries and took action.
Such as the motto "Jersey Strong" suggests, South Jersey residents, businesses and organizations stepped up and relived a strength once used in the wake of historic Superstorm Sandy—this time, putting it toward those who incurred the wrath of the treacherous hurricane trio. Camden County Freeholder Bill Moen is among those who helped.
Moen and friend Michael Vernamonti were ready to jet off to Houston for a 30th birthday celebration for a childhood friend. Harvey's sudden disturbing presence, however, created an interesting turn of events for the two. Moen received a call from Southwest Airlines regarding the cancellation of their flight, noting the Houston airport still remained under water. But that didn't dissuade Moen from his original plans. In fact, it generated new ones.
"I spoke with Southwest and they offered to fly us to Dallas for no additional charge," he explains, "so [Vernamonti] and I flew to Dallas. Our friend Andrew, who lives in Houston and survived the hurricane on a third-floor apartment, drove four hours to the airport to pick us up." While the three traveled to Houston the next day, Moen noticed roads still retaining anywhere from 6 to 7 feet of water and a once vibrant city that now appeared depressing.
"We made the best of it regardless," he adds, "and ended up going to an Astros game. It was the first game back after the hurricane. … There was a lot of pride and momentum at the stadium, which was great to see."
But something was still missing.
"For me, there became a point in time where I realized we were going there to celebrate a birthday, and I couldn't enjoy myself knowing there were people suffering, who really needed our help," Moen says.
Service is within Moen's blood. The son of a Vietnam Marine Corps veteran, Moen quickly took action and reached out to the New Leaders Council Houston chapter. He was later directed to a website, offering a map which had pinned homes nearby that were in need of servicing. It was from there that Moen and his friends found the home of a single mother with three children—one with severe autism—and a dog, who were all sharing one mattress to survive the rising water.
"We got all necessary supplies from Home Depot and spent about five hours pulling damp drywall off the side and helping out in all areas where we could," Moen recalls. "By the time the flood water receded, you could see on the wall where the water was, and it was a little over 3 feet high."
Five hours and a colossal pile of debris later, Moen couldn't help but notice the lack of debris on other properties.
"One of the locals told me there was a solid chance those homes without debris outside, that those homeowners are living and sleeping in it—wet mattresses, wet couches, everything. That helped me understand the magnitude of the damage done by this flooding."
"New Jersey—specifically South Jersey— has had much experience with flooding and water damage, due to the fact that the state floods fairly easily," says Laura Connolly, public information officer for the New Jersey State Police, who worked closely with NJTF-1 to provide water rescue for those in Texas. She says among the 28 urban search and rescue teams that exist within the national system, New Jersey remains one of them.
"Certain states are known for certain specialties," she adds, "and we specialize in water rescue because of that vast experience we have as a state with flooding. We are very often called upon just for that specialty of water rescue."
When the team arrived on the premises in Wharton County and in the surrounding areas in proximity to popular university Texas A&M, they encountered severe widespread flooding in places generally not known for retaining water. Because of this, Connolly says there were a number of nearby residents who were unfortunately unable to evacuate in a timely manner.
"There were homes that had water up to the roof in some areas, and some highways near Texas A&M had about 5 to 6 feet of water," she states. "We worked closely with the state department of transportation to decipher which routes were passable and which were impassable, in addition to finding places for fuel stops."
Connolly also mentions that the team worked alongside Arizona's urban search and rescue hazmat team, which was hired for purposes of controlling water contamination. Due to the state's abundance in farming resources, the contamination levels in the water from farming chemicals were dangerously high.
"The water was one of the worst instances the team has ever seen because it was pooling instead of rushing in and out," she explains. "When our team came back from that operational period, they were decontaminated and had medical checks." Among other unusual findings, Connolly recalls the team's arguably most interesting find still to date.
"The team came across a large amount of livestock and house pets," she says. "I think in New Jersey, we're used to the pets when doing water rescue, but not so much a large herd of cattle." Fortunately for the team members, between the technology on board and the assistance from both the ASPCA and the National Park Service, Connolly says it allowed them to successfully gather animals to safety—cattle included.
Voorhees Animal Orphanage is among several animal groups taking in animals displaced by Hurricanes Harvey, Irma and Maria.
"The first flight of dogs from Texas came in on Aug. 29, and that day we had committed to taking seven dogs from that batch alone," notes Jennifer Bailey, marketing director at Voorhees Animal Orphanage. "We had several other animal groups with us, and a group called Wings of Rescue—pilots volunteering their planes and time to saving animals. Seeing those dogs coming off the plane when they first arrived was really emotional."
The orphanage began treating several dogs that arrived with upper respiratory issues, kennel cough and in some instances, heartworm, by placing them in a voluntary, full 10-day quarantine and going through all necessary medical procedures.
Bailey notes their first—and possibly, most famous—dog received on Aug. 30, renamed Antonio after the major Texas city. Just a week after becoming available, the orphanage received an immediate adoption from a small family. But Antonio was not the only dog to find their forever home. In fact, all dogs from that group were adopted by loving locals seeking an additional family member.
"The public's response has been absolutely amazing," she continues, regarding the shelter's ongoing efforts for dogs from Puerto Rico. "We've had people coming in with donations of all types, because they are so happy to see that we were able to help. … It makes everyone proud to be a part of something like this."
Among other South Jersey institutions leaving a remarkable impact on hurricaneinflicted communities is none other than the 305th Air Mobility wing at Joint Base McGuire-Dix-Lakehurst. Captains Matthew Bolado and Stefanie Culp are two of six crew members who assisted in the base's mission working with FEMA personnel, to provide resources and help to those without either.
"When we arrived at St. Thomas, the airfield itself did not have any communications or lighting, and the airport facility and terminal also showed damage to the buildings as well," Culp describes. "It was pretty terrible to see small airplanes turned over, and the airport will have a lot of work to do regarding the repair of their facilities."
"The overall objective was to rapidly secure FEMA support equipment and to also deploy that equipment to St. Thomas and San Juan, but our biggest goal in our mission was to offload the support equipment for FEMA so they could stand up communication systems again and bring in other aircraft and support for those still on the islands," Bolado adds. "Our piece of the puzzle was providing that logistical support needed and trying to get the airfield back online."
While many South Jersey residents and organizations provided a bounty of medical, nutritional and logistical services, one business owner provided a more intangible service—giving distraught hurricane victims a glimpse into life's happier moments. That business owner happened to be JulieAnn Morris, president of FotoBridge in Berlin.
Within the first week, Morris says she received over 5,000 images alone that were in desperate need of drying, and has had packages pouring in ever since.
"We've been working around the clock trying to preserve people's images and memories," she says, adding that the team's normal 14-hour days have increased by five extra hours. "What's been happening is that as families were getting back into their homes, they were finding old family photos in random places, and then were [sending] them up here as soon as they had entry back into their homes."
Upon opening the stacks of saturated packages, Morris unveiled generations of cherished family photos, which she and her team worked diligently on getting dry. FotoBridge is one of only a select few photo preservation companies in the country that possesses this capability.
"When photos get wet, people don't think there's anything you can do and [the photos] are instantly ruined," she explains. "When a photo gets wet, it's not as big of a deal as you would think— it's when it gets squashed or wiped, and that only happened to a select few. On older photos, none of those were damaged because the finish was different."
The impact these honorable South Jersey residents made on the lives of these hurricane victims has extended well past the storm's aftermath. Surely residents of Texas, Florida and Puerto Rico will wish to forget the destruction brought on by these unprecedented natural disasters—but they will never truly forget the charitable efforts given on behalf of South Jersey residents who lent a much needed, comforting hand.
"This experience reaffirmed my beliefs in that we're all in this together," Moen says. "I think New Jersey residents know all too well from Superstorm Sandy that we could very well be in a situation where we're on the receiving end of the assistance. There's going to come a point in time where we all need that helping hand."
"You can lose furniture and easily replace that," Morris adds. "But photos and those cherished memories aren't replaceable. So if we were able to make some happiness in the midst of this disaster and preserve family legacies, then we have by far succeeded on doing the most important job."
Published (and copyrighted) in South Jersey Magazine, Volume 14, Issue 8 (November, 2017).
For more info on South Jersey Magazine, click here.
To subscribe to South Jersey Magazine, click here.
To advertise in South Jersey Magazine, click here.