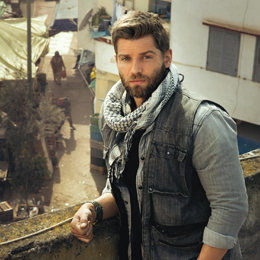 People
Home of the Brave
When Mike Vogel was growing up he wanted to become a U.S. Air Force fighter pilot, following in the footsteps of his true-life heroes.
Growing up in the Philadelphia suburb of Warminster, Pa., he had family friends in the military, as well as his two grandfathers, both World War II veterans.
Vogel yearned to combine his love for flying with his enthusiasm for physical and mental fitness, and his great appreciation for U.S. troops.
While he changed his career course when he was given the opportunity to first become a model, and later an actor, his passions for aviation and honoring the nation's military never waned.
In fact, Vogel, now 38, was hopeful that all of his passions could converge … and then he received a call about the leading role of Cpt. Adam Dalton in The Brave, a new NBC series about America's undercover military heroes in the Special Operations Unit.
This is the dream role of his acting career; punctuated by his hit CBS television show, Under the Dome and two dozen films—including Sisterhood of the Traveling Pants, The Help and Cloverfield.
"The Brave is one of those opportunities where you feel like you've been preparing for your entire adult life," Vogel says. "I've been fortunate enough to hang with a lot of guys who do this work, and so I just understood them."
While Vogel has been training with military tactics throughout his life, The Brave required him and his co-stars to undergo "extensive physical, mental and tactical training for the show," he explains. "It is ongoing throughout the filming, and includes hand-to-hand combat and firearms training."
The brainchild of creator Dean Georgaris (The Manchurian Candidate and Lara Croft Tomb Raider), The Brave reveals a complex world of extraordinary heroes who save the lives of innocent people while carrying out missions in the most dangerous places in the world.
The Brave also stars Anne Heche, who plays Deputy Director Patricia Campbell. Speaking of Vogel, she says, "Mike has got such an amazing soul, and I appreciate the care, compassion and true connection that he has to this character."
The show's technical advisor, Mikal A. Vega, who spent 22 years as a Navy SEAL, inspired Vogel to get involved in Vital Warrior, the nonprofit that Vega started, to help soldiers with traumatic stress upon returning home from war.
Vega says because of Vogel's background, he required the least amount of hands-on training, and has been a true role model for the rest of the cast. "Mike is such a good dude," Vega says. "The guy is very respectful to the military and wants to honor those who serve."
Vogel is so immersed in the world that he is portraying on TV that he wanted to share The Brave with one of his close friends, U.S. Army Col. Jason Bryan, who is stationed in Stuttgart, Germany, so Vogel pushed NBC to set up a special advanced screening of the pilot.
"All of us have gone to painstaking levels to make sure that we've kept this show as authentic as we can, within our means to do them justice and honor," Vogel says, "so it's a chance to give back, and get their blessing going forward from the real men and women."
Vogel's character of Cpt. Dalton is considered to be the embodiment of resilience, a warrior who never quits and always believes there is a solution, as well as a great teacher and a stellar leader. These are the same qualities his co-stars see in Vogel on the New Mexico set, which involves 12-to-14- hour days of intense work, often in the scorching heat.
While the actors are trudging up the foothills of the Sandia Mountains while wearing a 45-pound vest, so they can emulate their real-life military counterparts, Vogel is the last to complain.
When Vogel is not working on a TV or film role, he is home, on the Nashville farm he shares with Courtney, his wife of 14 years, and their three children: daughters Cassy, 10, and Charlee, 8; and son Gabriel, 4, along with 40 chickens, three horses, a dog and a cat.
So what is his favorite part of being a father? "You never know what it's like to want to fiercely protect someone until you are a dad and you have a daughter," Vogel said. "The best thing is just them running up and throwing their arms around me and calling me 'daddy.' To have that responsibility and honor, for someone to call me daddy and depend on me, is awesome."
Closer to home, he has fond childhood memories of spending time with his family in Ocean City. "For a week, the whole extended family would go down together, so it was the cousins, the aunts and uncles. I remember the rides at Wonderland, Kohr Bros. ice cream and Johnson's popcorn; these were staples. Jillian's Arcade was my jam. My brother and I would literally save up quarters for months in advance so we would have money for Skee Ball and pinball," he says.
In fact, after he earned some money on the TV show Miami Medical, he took the family to Ocean City for a memorable vacation.
"When I was a kid we always had a house way back by the bay, because we couldn't afford to be closer. So I rented a house right on the beach so we could literally just go out and into the water, and it was a cool little luxury," Vogel fondly recalls.
While Vogel hasn't been back to Philadelphia or the Jersey Shore for a while, both are near and dear to his heart. He says once he is able to put his "strict diet" aside, "I will annihilate a Philly cheesesteak." He also plans to attend his 20th high school reunion next year.
He credits his parents for preparing him well to make his way in the world by providing unconditional love and support every step of the way, as well as lasting life lessons to dream big, never give up and do the work that is needed to reach your goals.
Although Vogel attributes his strong work ethic to his father, Jim, who recently retired after decades running a local plumbing business, Vogel believes that his mother, Kathy, instilled in him the confidence to go on auditions, face rejection and continue to pursue an acting career. "Her optimism in face of all of the rejections," recalls Vogel, "and her faith and belief in me often kept me going."
Kathy recently moved with her husband to Tennessee to help out with the grandchildren, and while she is proud of her son's movie and TV success, her biggest reward is that "Mike is a kind and caring man. I am happy that Mike is having the opportunity to honor the military, and his grandfathers, in this way, because this is such a passion of his."
Published (and copyrighted) in South Jersey Magazine, Volume 14, Issue 6 (September, 2017).
For more info on South Jersey Magazine, click here.
To subscribe to South Jersey Magazine, click here.
To advertise in South Jersey Magazine, click here.