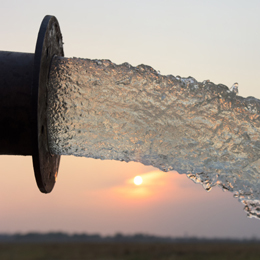 A Fluid Situation
When Michael Babcock and his wife Kristen moved into their Moorestown home 14 years ago, the occurrence of brown water coming out of the faucets didn't immediately concern them. "We knew the pipes were old, so we installed a sediment filtration system to help and figured it was what it was," he says. "But that was long before the things we now know. No one had any idea of the other things going on."

Although not connected with brown water caused by iron and manganese stirred up in old pipes underground, Moorestown residents have been dealing with other water-related issues in recent years, namely the fallout from a 2013 water quality report that revealed the existence of 1, 2, 3-Trichloropropane (TCP)—a man-made chemical normally found at industrial sites—in two wells located on North Church Street. TCP is unregulated, meaning there is no MCL (maximum contaminant level) standard set by the EPA in order for it to be considered unsafe to consume. Yet, the EPA classifies TCP as "likely to be carcinogenic to humans."
Babcock, who is also a Moorestown business owner and a member of the Moorestown Water Group—an organization of concerned citizens—claims that it wasn't until October 2014 when the NJ Department of Environmental Protection (NJ DEP) advised Moorestown to shut down the wells while it addressed the TCP levels.

Once the wells were shut down, another problem related to infrastructure was exposed. Moorestown's other two water treatment plants were not functioning at full capacity, which meant they could not handle the demand of water needed for residents. "The township had no other option but to buy water from NJ American Water at an additional cost," says Babcock. "A town with such means should not be dealing with this."

It's not until we physically see a problem with our infrastructure that we pay attention. Highways laden with potholes are visible eyesores that wreak havoc on our vehicles. Visible cracks in a bridge will prompt it to be shut down while it's inspected. But when it comes to the infrastructure that lies underground— our water pipes—those problems, those warning signs, are not always so easily spotted.

However, it's those invisible dangers that have brought the water crisis to a national stage. Just say the words "Flint, Michigan" and try not to think of lead. It's impossible. Lead is known as a silent epidemic for children. Over several years, exposure can build up in a child's body resulting in physical ailments such as abdominal pain, headaches and fatigue or mental disabilities including growth delays or behavioral issues. People in Flint didn't know the water they were drinking, bathing in, cooking with contained lead. Approximately 102,000 people—9,000 of them children—were exposed to the contaminant when the city switched water sources. When this new water source was not treated with an anti-corrosive agent— as required under federal law—the lead from aging pipes leached into the water, and officials didn't alert residents until the damage was done. Flint has evolved from a matter of public health to a full-blown criminal investigation as just last month several officials were charged with multiple offenses, including involuntary manslaughter.

NEW JERSEY'S cRISES
When it comes to upgrading our nation's infrastructure— roads, bridges, waterways, etc.—it's not entirely clear on whom the manpower and economic burden should be placed. President Trump has proposed a $1 trillion infrastructure overhaul funded through tax breaks over the course of several years, but he has also proposed cuts to Environmental Protection Agency (EPA) funding— funding that is used to help local agencies defray the costs associated with testing water systems. States like our own are beginning to realize that the onus to act is on them.

While lead may be the word that grabs headlines, the problems go deeper, right down to the pipes—which, in the Northeast, can be more than 100 years old. Just like anything else that ages, their performance lags. Water can escape the pipes. In some areas of New Jersey, upwards of 30 percent of potable drinking water is lost before it can be delivered to a home or business. That percentage is lower in newer communities and suburbs, averaging 10-15 percent. Water main breaks become more common, prompting boil water advisories and inconveniencing residents. In cities like Camden and Gloucester City where stormwater and sewage run in the same pipe, a flood on a rainy day can increase the likelihood of contamination entering the clean water infrastructure. And, like in Babcock's experience, old pipes have become corroded and are tainting the water traveling through them.

In the 2017 Infrastructure Report Card released by the American Society for Civil Engineers, New Jersey's overall infrastructure received a grade of D, and under the category of "Drinking Water," it received a C. The report card cites critical issues, such as the lack of funding to invest in upgrading the assets, which can lead to more costly emergency repairs and increased risk to public safety due to pipeline breaks.

A study done by the EPA in 2012 found that it would cost New Jersey approximately $8 billion over the course of 20 years to replace the pipes delivering residents clean drinking water. "That's commonly believed to be an underestimate," says Christine Sturm, managing director, policy and water for New Jersey Future, a nonprofit, nonpartisan organization that examines ways to improve infrastructure in communities. "That estimate is on top of money already being spent to operate and maintain the systems. The good news is that long-term costs are lower once you invest in modernizing them."

Sturm says people care about clean drinking water, but they take it for granted. "It's a process to educate the public and local officials and build support for underground investments," she says. "We can't afford not to fix these systems, but we don't expect it to happen overnight."

NJ Future helps facilitate a group called Jersey Water Works (JWW), a collaborative of different organizations, regulating bodies, government agencies and a range of companies united in an effort to create cost-effective solutions. Jane Kenny, a member of the JWW steering committee, is a founder and the managing partner of The Whitman Strategy Group. Kenny was a regional administrator for the EPA under Christine Todd Whitman. "When I was at the EPA we saw more nuisance flooding [happening], which showed that the infrastructure was not working," she says. "We formed JWW three years ago to build a consensus to start looking at infrastructure. It's not a partisan issue. It's something that is necessary if you want communities to be healthy."

But it still doesn't answer the questions of funding. "Funding is the biggest problem we face. Water has been so cheap," she says. "We're paying for it one way or another, by buying bottled water or making repairs when floods happen." Kenny believes change will happen on a state and local level and from a legislative perspective the state government does seem to be taking action on the issue.

Assemblyman John McKeon (D) is a member of the Joint Legislative Task Force on Drinking Water Infrastructure, which was formed just about a year ago to study and report on New Jersey's water resources. "We have 60,000 miles of pipes under our streets, 50 percent of which were built before 1930," says McKeon. "They are beyond their useful life, and we need to find out what's going on underneath."

The Task Force is expected to release its findings in a few short weeks, and part of the directive is making decisions on how to pay for this and there isn't a one-size-fitsall answer. "There is a whole array of things in play," he says. "[Some] of the water systems are publicly owned, others are through private companies that can choose to raise rates to fix things, and the other [percentage] of the pipes are run by local municipalities, and no local official wants to raise rates on taxpayers. There are a few ways we can do this, which is to put local authorities in a position where they have to deal with the issue, or push for federal money through the infrastructure plan [or] the third piece is a bond referendum. We have to make the state understand."

McKeon says there is danger to delaying a resolution. "The danger is in the quality of the water and our personal safety," he says. "Providing potable water is a basic government service and it doesn't happen by magic, but we've allowed it to get to this point where it's a crisis."

As mentioned, it's hard to pinpoint one group to take up the cause and price tag of upgrading our pipes. Most might think it should fall on the NJ DEP, but in this case, the NJ DEP doesn't own the pipes. "Traditionally, state environmental agencies and the EPA are focused on the quality of the water in the tap as opposed to regulating the pipes themselves," says Sturm. This doesn't mean they aren't contributing to the conversation, however. The DEP is a member of JWW and has also assisted the Task Force with any information it needs. "I think the NJ DEP is becoming a leader in thinking about the risks of not paying more attention to the pipes and is focusing on helping the communities manage those assets better," Sturm continues.

Dan Kennedy, assistant commissioner for water resources at the NJ DEP, says the state of New Jersey is not blind to the issues. "We see this as a high priority, but it's going to take time to have the solutions in place to deal with longstanding issues," he says. "We have testified and participated with the Task Force and contributed ideas and we've been at the table with JWW since the start. We are encouraged by the work being done, but the DEP can't drive all of this itself. Partnership is key."

With the diversity of assets running underground, Kennedy says long-term capital investment is needed. "We can bite off meaningful parts of those assets, accomplishing a little at a time, prioritizing what's critical," he says. "New Jersey is just like other states in the Northeast, struggling with upgrading its assets, and all states have some trust capacity—grants or loans—to invest and New Jersey has one of the best."

Kennedy is referring to the New Jersey Environmental Infrastructure Trust (NJEIT), an independent state financing authority that provides low-interest loans to local, county or regional authorities for water infrastructure projects. "The trust offers zero interest loans and grants for projects not just related to the assets, but also water quality and treatment. We can't just set aside the issues of pipes losing water; we have to address water resources comprehensively."

The Camden County Municipal Utilities Authority (CCMUA) is one such entity that took advantage of a loan from NJEIT for construction of its regional wastewater facility which needed to come into compliance with the EPA's federal Clean Water Act. According to Andy Kricun, executive director of the CCMUA, before this facility was built, the county's lakes and streams had 45 million gallons of inadequately treated sewage leaked into them per day. The new system cost an estimated $850 million.

"Within one year, bacteria levels in the streams and rivers dropped 90-95 percent. They became fishable and swimmable again," says Kricun. "Infrastructure is something that's costly to replace if it fails, and if you choose to replace something on an emergency basis, it will cost five to 10 times as much as a planned repair."

Repayment of the loan to the NJEIT is spread over 30 years, and rates for county residents increased only slightly, says Kricun. "In 1996 [before the system was built], we charged $337 per household, per year. Now we charge $352, but we've had a reduction in annual maintenance and electricity, so there is a greater operational savings with new equipment."

Kricun, who is also a member of JWW, says he supports sharing information with other municipalities and making the public aware of the poor condition of water infrastructure. "With continued help of the NJEIT, it can be upgraded and preserved without significant rate impact. It must be done," he says.

Those who get their water from a private company such as New Jersey American Water, for example, may see upgrades happening at a faster rate. David Forcinito, senior director of operations for the Southwest region (Burlington, Camden, Gloucester and Salem counties), says NJ American Water is investing millions in this region to upgrade its assets.

"Aging infrastructure is a national issue facing the country," Forcinito says. "Typically as mains get older the water quality may become rustier, or mains can break lowering pressure, which can cause an impact in the event of fire protection, and it can cause disruptions to customers." He says NJ American Water spent $350 million across the state in 2016.

Currently, there is a five-year infrastructure plan in progress. In May, the company announced a $690,000 installation of 3,700 feet of new water mains around Cherry Hill and Stratford. Funding for this is through a separate fee paid by customers in each bill for all services provided by NJ American Water: pumping, testing, safety, but it is not included in any rate adjustment. "We keep it separate so we can keep renewing pipes on a quicker basis," says Denise Venuti Free, director of communications and external affairs. "We also coordinate with municipalities' paving programs so roads are not being dug up twice. Last year, we saved $2 million by following those programs."

Moorestown Township has begun updating water mains in certain areas of town, which will continue through 2019, but it doesn't account for all of them. Flushing of the water mains, which is recommended every six months, according to Moorestown Township Manager Tom Merchel, is expected to be back on a normal schedule, occurring every April and October. "The brown water residents were experiencing was an issue when were turning treatment plants on and off, but since we've done the flushing [in April], it's dropped to a very low occurrence," he says. "It's more of an aesthetic issue, not a health issue, when it does happen."

TESTING THE QUALITY
While the brain trusts of infrastructure tackle what lies underground, New Jersey residents remain slightly in the dark when it comes to knowing what's in the water they drink.
But in gaining that awareness, people have to be ready for the results.

In 2016, Gov. Christie mandated all schools test for lead in their water. Lead is not commonly found in the source of water, but instead can leach into water if it's passing through a pipe or faucet that was installed before 1986, when lead was outlawed. "There are two places you might be concerned about testing for lead," says NJ Future's Sturm. "If you live in an older home, it's possible the older plumbing could have lead, and in schools, where water sits in the pipes all weekend and at night, that allows more opportunity for lead to get into drinking water. "

After tests were conducted, many were shocked to see they not only showed positive results for lead, but results well over the 15 parts per billion (ppb) limit. Some of the districts in South Jersey included Lenape Regional, where several outlets—including hallway drinking fountains—tested above the limit; Evesham and Cherry Hill, which included five elementary schools on its list of elevated lead levels.

Schools were required to take immediate action to amend these issues. Those water outlets were immediately shut down until new fixtures could be installed, or signs were posted noting the water was not for drinking. Although addressed, the issue did hit too close to home for many families.

Rowan University was not mandated to conduct lead testing, but last year, complaints from employees regarding discolored water prompted tests. Joe Cardona, vice president for university relations, says the water came back high in iron and silt, but also lead.

"Lead is not easy to test for and it took a long time to test all of the buildings on campus," Cardona says, adding that the students and community were aware of the whole process. "We were able to quickly rule out that the lead was coming from the wells in Glassboro. The issue is the old pipes on a campus built in 1923. Even some of the newer buildings renovated in the '90s still had lead, so the question becomes even though lead wasn't in the plumbing, is it the faucet, or the solder in the pipes? Could it be a valve? How do you figure that out? It gets complicated."

Filters were installed on faucets inside residence halls, and water bottle filling stations have been converted to a filtration system that shows green, yellow or red, depending on the water's safety. If it turns red, the system turns off and won't dispense water.
It hasn't been cheap for Rowan to remedy these issues. "We weren't required to do this testing, and other colleges have said
they won't do it," says Cardona. "It's an expensive issue, but there's no going halfway down the path. You have to be fully committed to fixing the issue."

The NJ DEP urges residents to look at the consumer confidence reports posted by their individual water provider or visit NJWaterWatch.org. If lead has been detected in the system, there are specific protocols in place for notifying the public and to allow it to be corrected.

In Moorestown, the township has temporarily amended the situation with the TCP and the treatment plants are being repaired. Merchel says Moorestown was never in violation for the levels of TCP (and other radiologicals found at North Church Street), but the treatment plants were not allowed to be re-opened until a carbon filtration system was in place. "Since putting that temporary treatment in place, all water is testing excellently and is being treated for TCP," he says. "We are aggressively testing and reporting to the DEP and we have partnered with them on all of our projects to make sure we satisfy their requirements."

Merchel says all three of the town's water treatment plants will be upgraded. Kings Highway is estimated to be completed in November 2017. "The current township council is committed to making infrastructure improvements and spending the capital necessary," he says. "The council is committed to providing the safest and cleanest drinking water."

But people like Babcock are not entirely satisfied. "We could test for the cleanest
water with no harmful contaminants, but the cast iron water pipes underground are going to get older and more corroded and
the water will be brown any time a water main breaks, until they are all replaced," Babcock says. "Not everyone can afford a filtration system for their homes, or afford to have bottled water delivered to their house for bathing and cooking. Who wants to use brown water, even if they say it's safe?
"I feel disappointed to be in a town with plenty of money and to be in a situation where we have to redo all of the water infrastructure all at once," he continues. "Money should have been put aside to keep up with these assets."

Last month, legislators in Trenton approved the Water Quality Accountability Act, which requires water companies to conduct annual assessments of their assets and make repairs. The bill will head to Christie's desk while New Jersey residents hold their breath for some much-needed accountability.
Published (and copyrighted) in
South Jersey Magazine
, Volume 14, Issue 4 (July, 2017).
For more info on South Jersey Magazine, click
here
.
To subscribe to South Jersey Magazine, click
here
.
To advertise in South Jersey Magazine, click
here
.