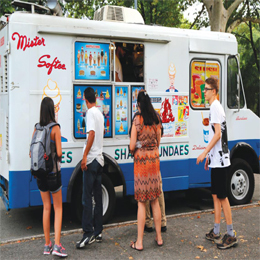 Palate: Homegrown
Philly can lay claim to cheesesteaks and New York can have their bagels. South Jersey brings plenty of its own flair to the table. Vast farmlands, proximity to seaports and a diverse population gave birth to some of the brands that really shaped this nation. In addition to generating household names like Campbell's Soup and Welch's, South Jersey is also the place where many of our favorite foods originated. Here's a closer look at some of the more iconic brands and foods that lay claim to our area.

Campbell Soup
In 1869, Joseph A. Campbell, a fruit merchant from Bridgeton, and Abraham Anderson, an icebox manufacturer, started The Joseph A. Campbell Preserve Company in the city of Camden, producing canned tomatoes, vegetables, jellies, soups, condiments and minced meats. Today its products, which include much more than soup, are sold in 120 countries around the world. But, when the company had the chance to grow elsewhere, they doubled down on South Jersey, opening a new headquarters in Camden in 2009.
Did you know?: A 1933 print ad for Campbell's featured 21 varieties of soup at 10 cents a can.

Johnson's Popcorn
In 1940, Johnson's set up shop on the Ocean City Boardwalk. Some 34 years later, a school teacher named John Stauffer purchased the business despite never having heard of the product—his wife, a fan of Johnson's, convinced him. The gooey treat is still hand mixed to the original recipe in large copper kettles and Stauffer remains the owner, but the business has ballooned and now has multiple locations on the Boardwalk in Ocean City and Wildwood.
Did you know?: Johnson's decided to offer customers the choice of having the "lid off" to not only give them some extra popcorn with their order, but to also speed up the long lines that were forming as workers tried to snap the lids on.

Mister Softee Inc.
Brothers William and James Conway founded this iconic brand in 1956 in West Philadelphia. By 1958 the company outgrew its facilities and moved to Runnemede, where it is still based and run by Vice President James Conway Jr. The franchise organization has grown year by year and now has over 600 trucks operating in 15 states as well as China.
Did you know?: The instantly recognizable jingle actually has words and can be downloaded as a ringtone.

Panzarotti
Pauline Tarantini learned how to make these doughy pockets filled with mozzarella and sauce from her mother when she was a child in Brindisi, Italy. Living in Camden in 1960, she began frying them by hand and selling them to local establishments for 25 cents each. Thanks to the buzz she generated, her family purchased their first store three years later and today the creation is a staple across South Jersey.
Did you know?: The Panzarotti has been featured on Food Network's The Best Thing I Ever Ate.

Pork Roll
This South Jersey favorite was introduced by John Taylor of Trenton back in 1856 who called it "Taylor ham." It wasn't until competitors got into the act that food labeling regulations required it be designated as pork roll, but as far as locals are concerned, that is the definitive name. Trenton even holds an annual pork roll festival.
Did you know?:President Obama mentioned the Taylor ham versus pork roll debate in his commencement speech to Rutgers grads in 2016.

Saltwater Taffy
There's some debate as to who really created this particular taffy product, but there is little doubt that it originated along the Shore in Atlantic City in the late 19th century. The most popular tale involves a shop owner whose store was flooded during a storm, contaminating everything with salt water, including the taffy.
Did you know?: Before the process was mechanized, the taffy required a team of two to pull it by hand. Today, the machines used can pull in excess of 100 pounds and wrap approx 300-400 pieces per minute.

Welch's Grape Juice
One of the most wellknown brand names in the world started right here in Vineland in 1869 when Dr. Thomas Bramwell Welch successfully pasteurized Concord grape juice to produce an unfermented sacramental wine for fellow church parishioners. At the 1893 Chicago World's Fair it became an instant national hit. Today its vineyards stretch across North America.
Did you know?:In 1918, Welch's developed its first jam product, "Grapelade." After the Army purchased the entire initial quantity, soldiers who fell in love with the product began demanding it when they returned home.
Published (and copyrighted) in South Jersey Magazine, Volume 14, Issue 4 (July, 2017).
For more info on South Jersey Magazine, click here.
To subscribe to South Jersey Magazine, click here.
To advertise in South Jersey Magazine, click here.