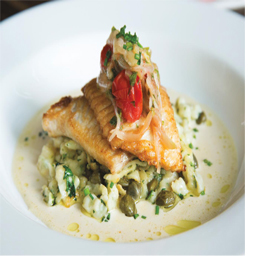 Palate: Fresh Catch
I'm the first to profess my love for the old-school seafood shacks that dot the Jersey Shore. There's really nothing that compares with a summer sunset, just a touch of sunburn and some deep-fried fish with a cheap beer on the side. But laidback beach bites have a time and a place, so on my latest search for a seafood fix I found myself drawn to one of Haddonfield's newest spots on a mild summer evening.
The BYOB Two Fish, located just off the Kings Highway hubbub, opened its doors last fall, with the promise of creative twists on the catch of the day. The small space is dotted with modern touches, from the industrial light installations to the bathroom floors coated entirely in pennies, set against a simple and clean gray backdrop. It was romantic and intimate, crafted to embrace its setting in a way that still provides privacy for each table.

Modernity also makes its way into the menu, which infuses flavors from around the world into a selection of seasonal seafood. Italian and Mediterranean cuisine combine with Asian inspirations to create a diverse selection that still remains cohesive. A starter of panzanella salad featured house-made bread served with wedges of heirloom tomato, red onion and roasted garlic, finished with a mound of peppery arugula. I imagine this dish will truly shine in just a few weeks when tomatoes are at their peak freshness and bursting with sweetness, but even with a slightly outof- season variety it was still a fresh and flavorful dish, which was made even more satisfying with the help of high-quality ingredients.
Possibly the most memorable dish of the night was the appetizer of chargrilled octopus. The tender tentacles were perfectly blistered, and it had just enough acidity to absolutely burst with flavor. It was served with a poached egg vinaigrette on a cold bed of diced potato, which would have fit in better if it was hot—mixing cold potato with hot octopus seemed strange.

First-timers should not miss the skate wing entrée, head chef Mike Stollenwork's signature dish that has followed him through almost a decade of fine dining in the Philadelphia area. Stollenwork takes two filets of the pan-seared fish, served crispy on the outside but still flaky and buttery, and plates them over a bed of lemon späetzle, sautéed with briny capers and a rich black garlic sauce. The combination of savory, earthy and sweet flavors is completely enticing and is a shining example of the experience behind Stollenwork's food.

The Hawaiian waloo dish added a touch of Asian flair to the evening, featuring flaky white fish over top of cold soba noodles dressed with shredded savoy cabbage and carrots and finished with a roughly chopped peanut and chile vinaigrette. The vinaigrette stood out on its own, and the rich flavor of the peanut melded surprisingly well with the fish.

Attention to detail followed into dessert, as the entire dessert menu is crafted inhouse and served with a variety of ice creams that included cinnamon and cherry flavors. The cherry ice cream came alongside a fluffy chocolate cake and a spoonful of macerated cherry sauce, the chef's own spin on traditional black forest cake. Ordering dessert isn't always a must, but the creativity behind Two Fish's options made diving into this cake a fun way to end the meal.

Upscale eating is not hard to find around the Haddonfield area, but Two Fish sets itself apart thanks to its polished take on seafood. With a menu that changes fairly regularly and plays to the seasons, this is one spot that will keep gourmands' interest piqued.
TWO FISH
26 South Haddon Ave., Haddonfield
(856) 428-3474
Published (and copyrighted) in South Jersey Magazine, Volume 14, Issue 4 (July, 2017).
For more info on South Jersey Magazine, click here.
To subscribe to South Jersey Magazine, click here.
To advertise in South Jersey Magazine, click here.