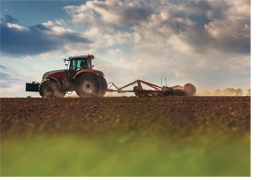 Down on the Farm
Freshly tilled fields and perfect lines of green growth. Newly opened farm markets on every corner. Local produce signs at the grocery store. Make no mistake about it— it's officially growing season in New Jersey.

While the tell-tale signs are readily apparent that it's time for Jersey-fresh produce, the underlying story about how it got from farm to table may have a little more behind it this year than years past.

Beyond the obvious that farmers are a dying breed and it's a profession few young people are choosing to pursue— that's another story for another time—simply finding the help to get the crops from field to families has become an undertaking in and of itself.

And though one might point to our current administration's effort to address the country's immigration system—thus reducing the number of migrant workers available to work in the state's fields—the fact is Washington may not be the only reason there is a shortage of farm workers.

"In general, labor availability for farmers in the region has slowly declined over the past decade and American citizens, for the most part, are not willing to work on farms," says Michelle Infante- Casella, an agricultural agent with the Rutgers Cooperative Extension of Gloucester County.

That and, it takes more than just knowing how to simply pick vegetables to work in a field, she says.

"Just because people are willing to work on farms, it takes some knowledge, skills and willingness to undergo training to know how to properly plant, trim, tie, stake, maintain and harvest different crops," Infante-Casella says. "To just walk on the farm and begin working without skills or training is not what farmers are looking for to be successful. This is another reason why migrant, skilled labor is important."

These reasons may be why a vast majority of the field workers in the state—and country—are foreign born, though there is a lack of reliable data to suggest how many are employed, according to Infante-Casella.

With that being said, the possibility of immigration changes has put farmers on alert, says Ben Casella, field representative for the New Jersey Farm Bureau, but not to the point of distress yet.

"The perception of increased enforcement by the current administration may cause some farmers to adjust their operations to try and streamline some activities to limit the number of employees needed," he says. "The problem with agriculture is that there is so much planning needed in the spring, so farmers are forced to plant the crops needed to supply their customers and then rely on their [seasonal] help that returns year after year.

"So, we may have to wait to see if there are any effects from immigration changes," he continues, "but currently the industry looks status quo for the season." For the most part, the farms in the South Jersey Magazine readership area report being unaffected because they are family-run and rely on those families to help get the work done in the fields.

Edward Cuneo, who owns Spinella Farm in Waterford Works, says there was a point in the farm's 100-year history when hired labor was employed, but that was over 30 years ago.

"All of our labor is done by our family now," he says. "But I think [changes in immigration regulation] will impact the state's growing season. I think there will be farmers, if they haven't done so already, that will be scrambling to make sure [their employees] are properly documented. For some farmers, it will be a hardship."

Cuneo notes a recent Immigration and Customs Enforcement (ICE) raid in Chester County, Pa., had a few local farmers especially concerned. Ray Samulis, agricultural agent at the Rutgers Cooperative Extension Service in Burlington County, says some of the farmers who may be most affected are those who grow blueberries.

"If the workers are not coming like they normally do, they could have a problem," he said. "The workers will be needed and if they don't have them to pick, it complicates things."

Because of the nature of the berry, if the fruit is going to fresh market, being hand-picked is preferred, Samulis explains. If they're going to be frozen, the berries can be mechanically harvested, but that's obviously not always an option.

"It's hard enough to get workers in general," he adds. "There just aren't enough of them. And one of the things that will happen is they'll start at the farms then go start working at the Burger King because obviously, they're not working out in the heat all day and they can make more."

Some farmers have opted to utilize the H-2A temporary agricultural worker visa program to help alleviate undocumented worker difficulties, but that program has a few kinks to work out, Casella says.

"That is a program with its own problems and hurdles," he says. "The H-2A program needs to be revamped to adequately serve the agriculture industry. The program experienced significant delays last year with processing of paperwork, causing workers to arrive late to their expected employment. Delays are unacceptable when you are dealing with perishable crops."

"When farmers use this program to hire labor, hourly wages are much higher than minimum wage and it leaves farmers at a disadvantage," Infante-Casella adds. "When labor wages are significantly lower, it is difficult for farmers to compete in the marketplace, where their commodity prices cannot be set and they are at the mercy of the marketplace.

"Unlike other goods and services, crops, livestock, milk, etc., do not have set prices," she continues, "and farmers often have many years of profit losses due to weather damage, higher labor costs, higher input costs (like fuel, seed, fertilizer, equipment, packaging, etc.) and competition."

While there are a number of uncertainties this year, as the growing season continues to progress, Casella says the hope is that everything will settle into place.

"Growers are cautiously watching the immigration issue but are operating as usual as there are not many alternatives currently available," he says. "The optimistic side of the story is that the issue of immigration reform has been brought to the forefront of discussions in Washington, D.C. There have been a couple of immigration bills introduced recently, so the hope is this will force Congress to address the immigration issue," thus providing a clearer picture for the future of the farming industry.
Published (and copyrighted) in South Jersey Magazine, Volume 14, Issue 4 (July, 2017).
For more info on South Jersey Magazine, click here.
To subscribe to South Jersey Magazine, click here.
To advertise in South Jersey Magazine, click here.